Famous and Fascinating Women in History
The World's Greatest Composers
Generals and other Noteworthy People from the Civil War
The Presidents of the United States
The First Ladies of the United States
Homes and Monuments of and to Famous People
Historical People and Events by Month for Each Day of the Year!
Famous Figures in Black History
The Calvert Family and the Lords Baltimore
Understanding the American Revolution and its People
Famous Figures in
Black
History
by John T. Marck

Although most people know that February is the month that celebrates Black history, but do you know why February was chosen?
February was selected by a man named Carter Goodwin Woodson, who was a noted historian and publisher, and who was a pioneer in American Black history. He selected February for several reasons, in that this month has an enormous significance in Black American history. First it is in celebration of two historical figures who had a great impact on the Black population. They are Abraham Lincoln and Frederick Douglass.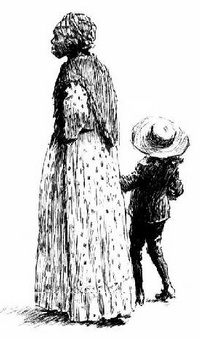 Harriet Tubman, an outstanding lady who worked tirelessly on the Underground Railway.
Frederick Douglass, the life of the former slave, abolitionist and journalist, who emerged as a major anti slavery force, and supporter of women's rights, and who was an outstanding orator and writer.
Before Dred Scott, a lady by the name of Mum Bett sued for her freedom in 1781. Learn all about her here.
In 1822, a man named Denmark Vesey planned a slave uprising in Charleston, South Carolina. Was his plan successful? Learn about the man and his plan here.
Dred Scott was a black slave from Virginia, who ended up in Missouri, and who made legal and constitutional history by suing for his freedom. Here you can learn about Dred Scott, his case that went before the United States Supreme Court in may 1857, and the Missouri Compromise.
Important to Black History is the story of John Brown. This abolitionist and fanatical anti slavery fighter led a famous raid on Harpers Ferry, and who became a martyr in parts of the North. Included here is Brown's last speech before he was led to the gallows.
Copyright © 1990-2022 By John T. Marck. All Rights Reserved. This article and their accompanying pictures, photographs, and line art, may not be resold, reprinted, or redistributed for compensation of any kind without prior written permission from the author.