Historical People and Events by Month and Day
by John T. Marck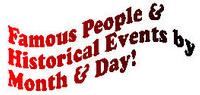 If you ever wondered what happened on a certain day in history, or maybe your birthday or another special occasion, you'll find some of the more important events listed here. An excellent way to learn about Famous People and Historical Events. Makes a nice trivia game too! Looking for a certain month? You'll find them all here!
Monthly Historical Events
Isn't it fun and interesting to learn about Famous People and what happened in history on a given day? Here you will find numerous historical and important events for each day of the year. This makes a great learning tool and fun trivia game for the entire family.
Click on the links below to look at those events for a given month. It's also fun to look up that special day to you, such as a birthday, anniversary or any other special day to see what else happened.
Copyrightę John T. Marck. All Rights Reserved. This article and their accompanying pictures, photographs, and line art, may not be resold, reprinted, or redistributed for compensation of any kind without prior written permission from the author.