The Home and National Historic Site of Franklin D. Roosevelt
By John T. Marck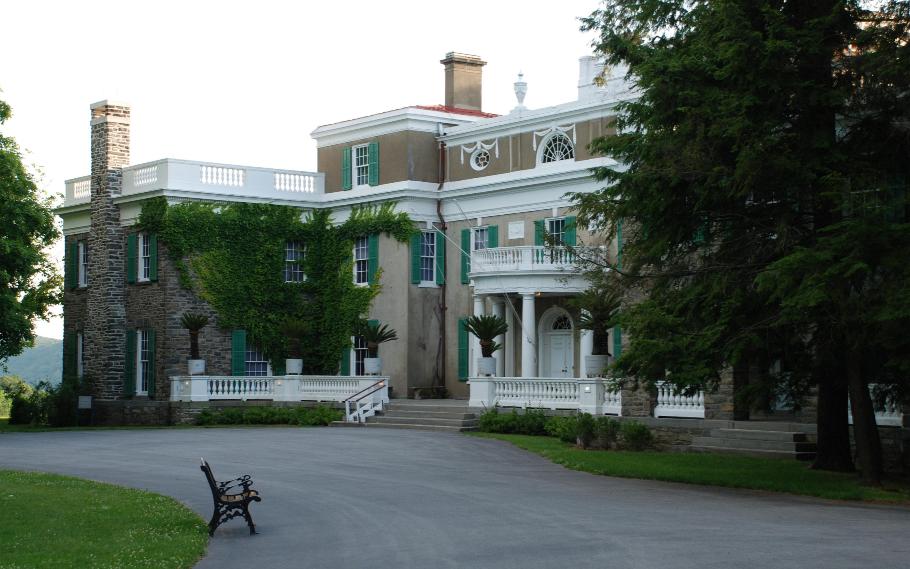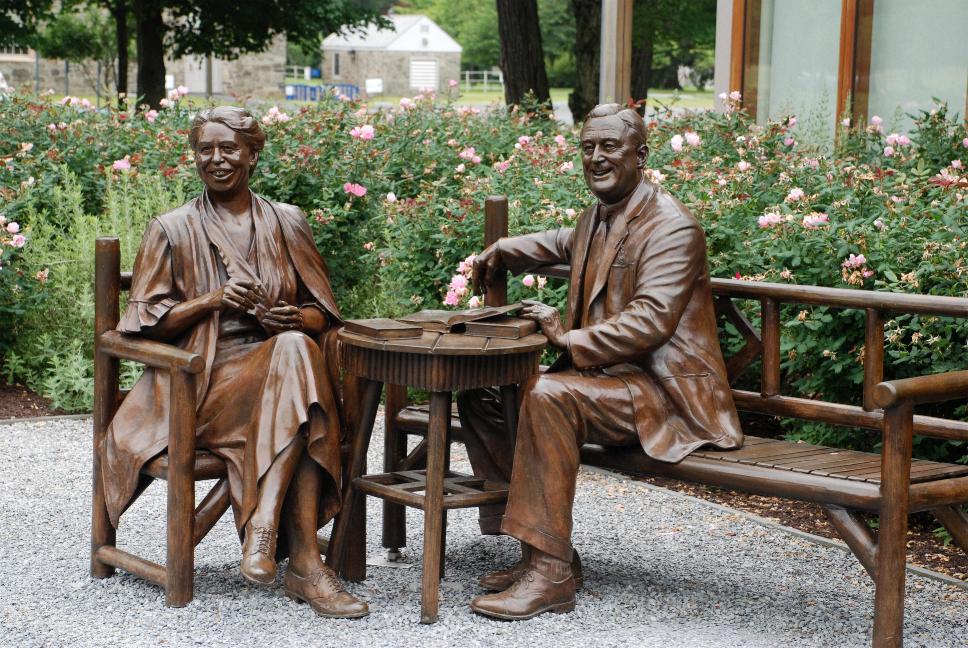 Known as the Springwood estate in Hyde Park, New York, this was the birthplace, home and burial place of Franklin Delano Roosevelt, the 32nd President of the United States.
James Roosevelt, Franklin's father, purchased the estate in 1866 for $40,000. At that time it had been remodeled from the original farmhouse that has been built about 1800. By the time the remodeling was completed, the house consisted of 15 rooms. The grounds also consisted of a stable and horse track, which was important to James who had a great interest in horse breeding. Over James 34 years at the estate, he made numerous other improvements to include a servants' wing and an additional two rooms, along with a carriage house built nearby.
FDR was born on January 30, 1882, and was the second child to James and Sara Delano, his second wife. The Roosevelt family had another home in New York City, and would spent summers on Campobello Island in Canada. But still, they loved their Springwood home, and its peaceful setting overlooking the Hudson River.
FDR was educated by private tutors as a child, and at age 14, left home to attend preparatory school. He went to Harvard, graduated in 1904, and married Eleanor Roosevelt, a distant cousin in 1905.
In 1915, FDR and his mother Sara made the final preparations for enlarging and remodeling Springwood. As the family was growing in size, this became necessary. FDR also cared about the landscape and its appearance, and planned for the extensive planting of trees. Between 1911 when the planting began, to 1945 upon his death, more than 400,000 trees were planted on the estate.
As you approach Springwood, you are met by two flags that fly over the front entrance area. One is the American flag, consisting of 48 stars that was such when FDR lived there, and the other the Flag of the President of the United States, with four stars, the only such flag in existence, as FDR is the only U.S. president to serve four terms, each star representing one term.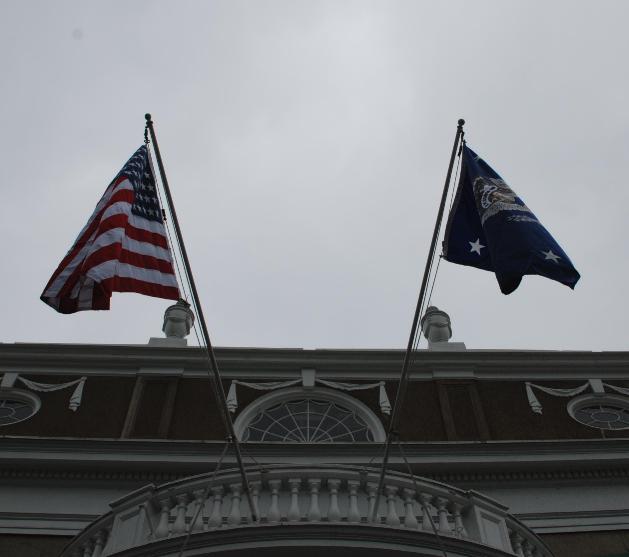 The room shown here below, which is to the right of the entrance, is the room that FDR discussed the Manhattan Project.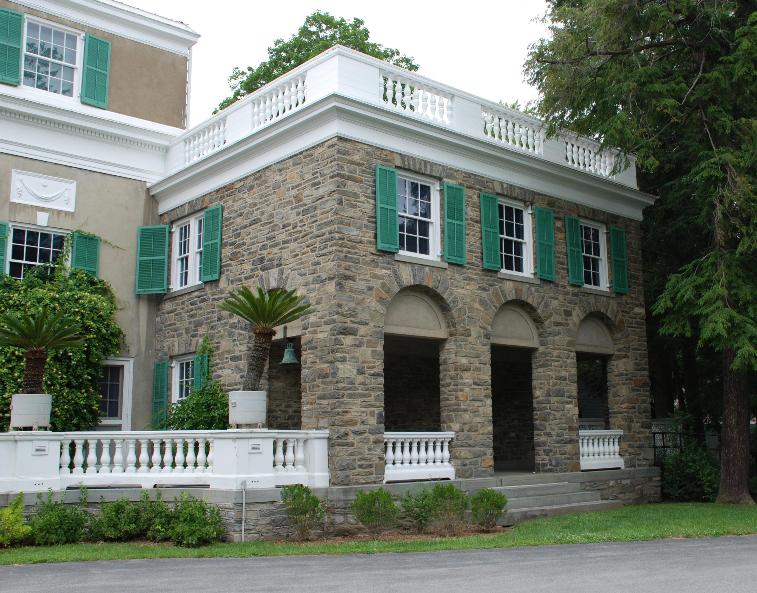 As you enter the house, you are standing in the entrance hall, a long somewhat narrow area that displays on its walls many paintings, mostly naval, photographs and historical cartoons, and specimens of birds collected in his boyhood, of which he had about 300. Also here is a statue of FDR when he was 29 years old. To the right side corner is a manually operated trunk elevator, which the disable president used to move between floors.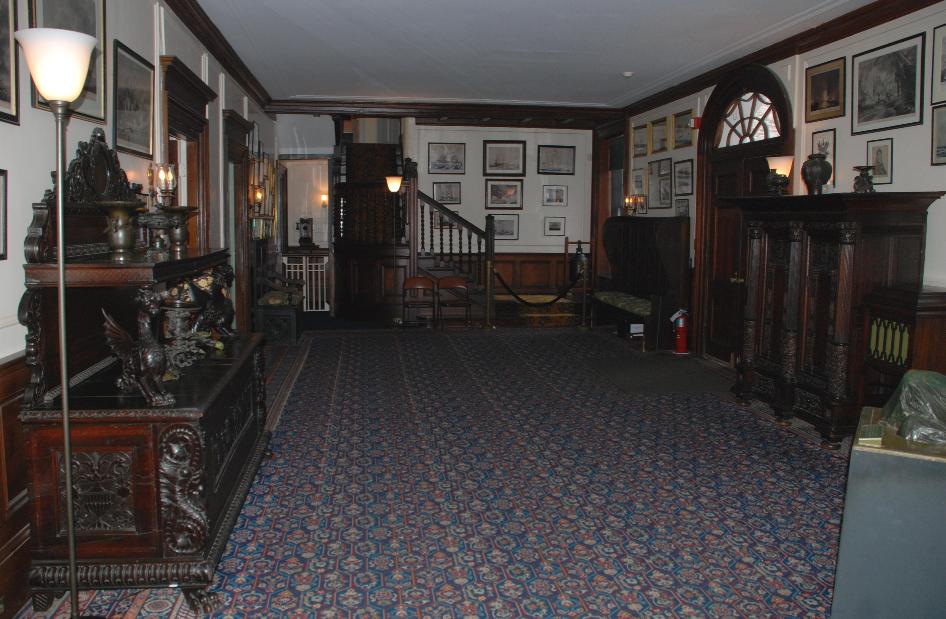 The living room and library is a large room where FDR worked on his many private collections to include coin and stamp collecting that contained 1.2 million stamps and thousands of coins and banknotes. His library over the years consisted of 14,000 volumes, and he amazed 2,000 naval painting, prints and lithographs. Added to this private collection of many things were also about 200 ship models, and campaign button and medallions.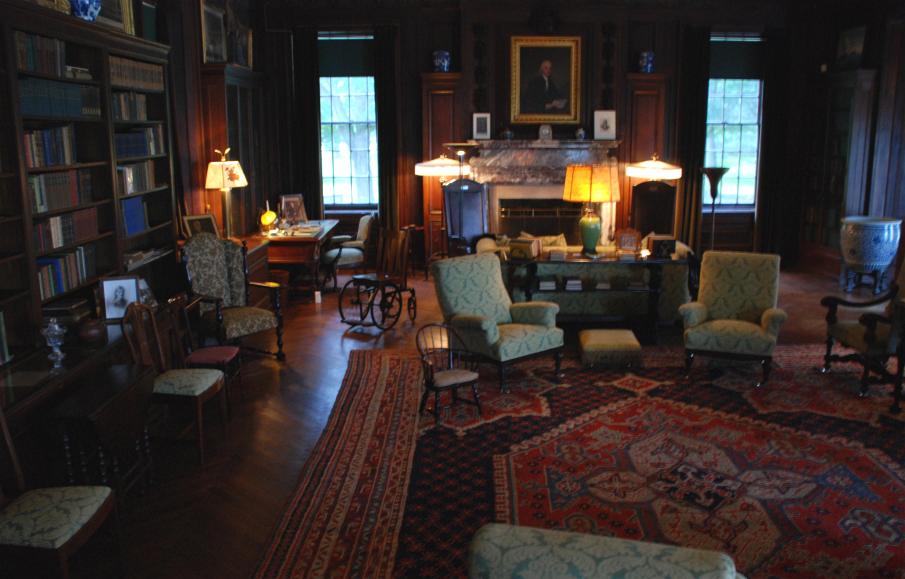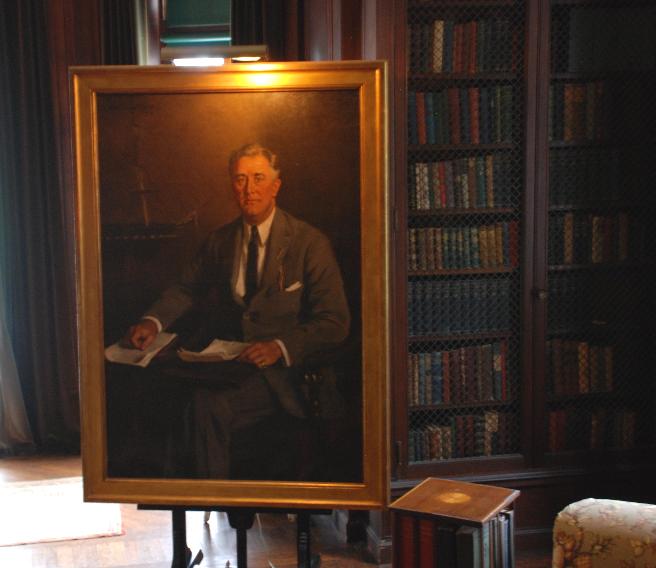 The music room, also called the "Dresden Room," named for the origin of some of the porcelain, is considered a formal parlor that contains many Chinese pieces of porcelain and lacquer ware. These collections were acquired by FDR's mother who stayed in China, where James made a fortune in China trade.
This room, together with an adjacent dining room was the setting for many formal diners and entertaining of guests. One the piano is a collection of autographed photographs of just some of the Roosevelt's' more famous guests.
When the house was enlarged in 1915, a suite of rooms was created as bedrooms for Eleanor and Franklin. Initially, these rooms included a sitting room and two dressing rooms. But following FDR's paralytic illness in 1921, one of the dressing rooms was converted into a separate room for Eleanor, and the sitting room into a bedroom for his mother Sara.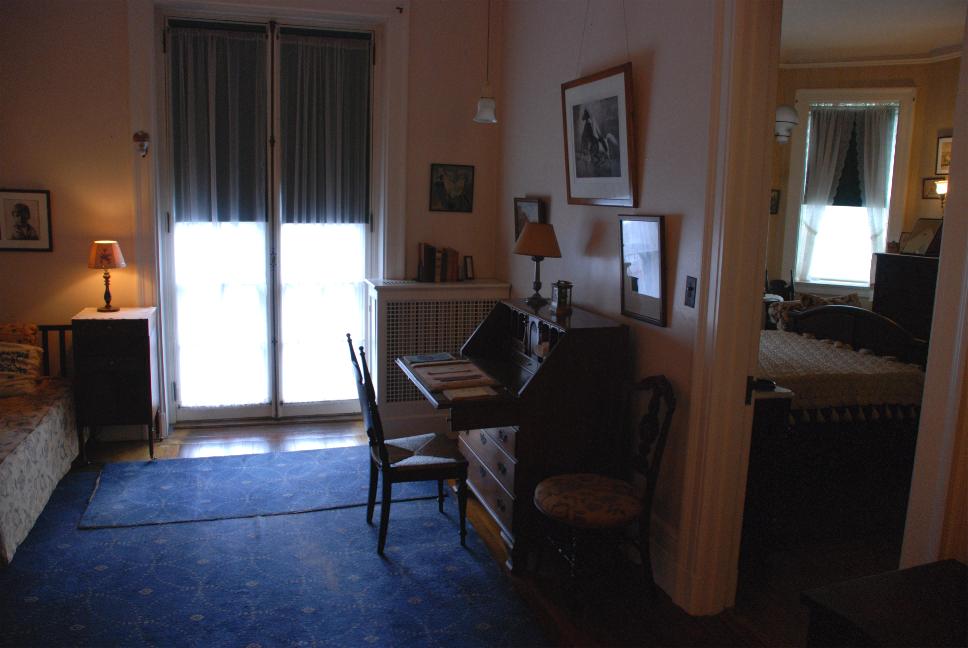 Another room known as the "Snuggery," was used by Sara for activities to begin her day and for conducting the business of running the household. This room was also created in the 1915 remodeling by a division of the old south parlor into a gallery and the Snuggery. Because much of the original furniture of the old parlor continued in use despite the rooms' reduction in size, it appears cluttered today.
FDR's political career began on January 1, 1911, when he served as a New York Senator until March 17, 1913. On this day, he became Assistant Secretary of the Navy, serving as such until August 26, 1920.
On January 1, 1929, he was elected governor of New York; serving until December 31, 1932.
On March 4, 1933, FDR became the 32nd President of the United States, serving until his death, dying in office on April 12, 1945, in his fourth term of office.
During his presidency, he would visit Springwood home about 200 times. It was also known as the "Summer White House," where the President hosted many political associates and other prominent national and international figures.
Below are pictured other rooms at Springwood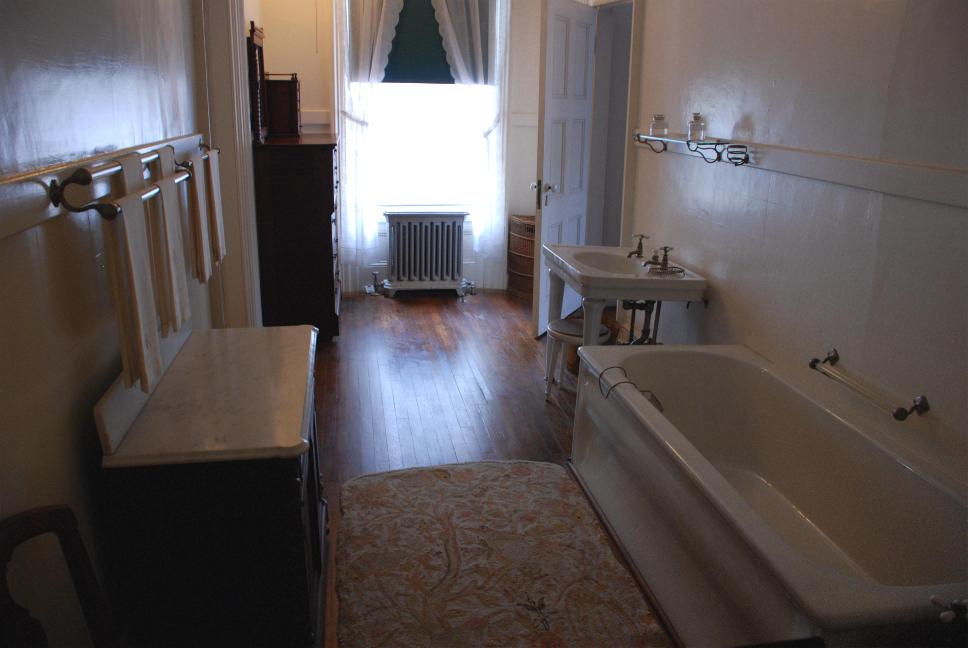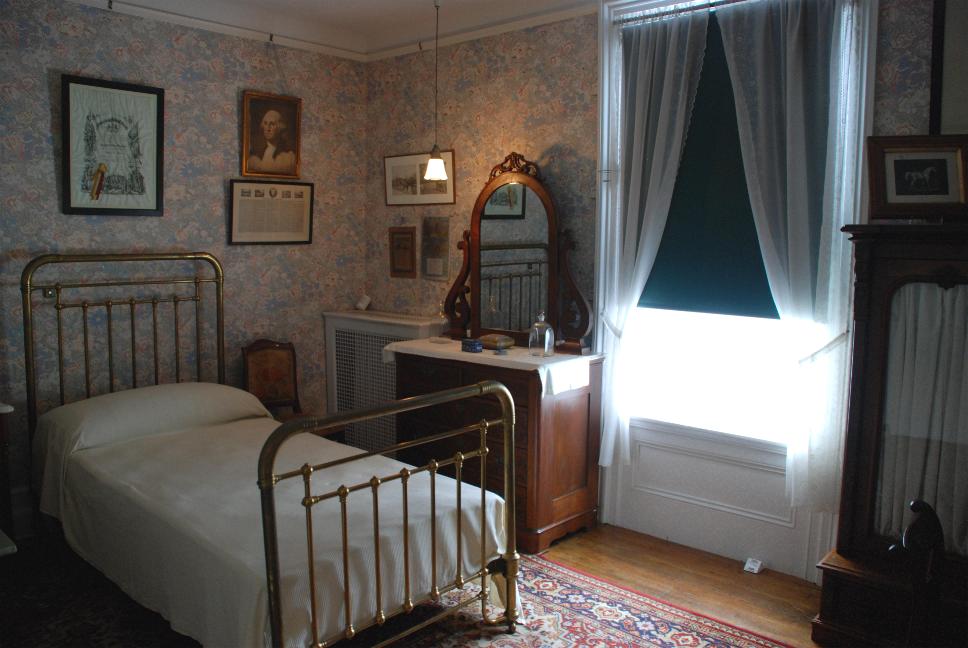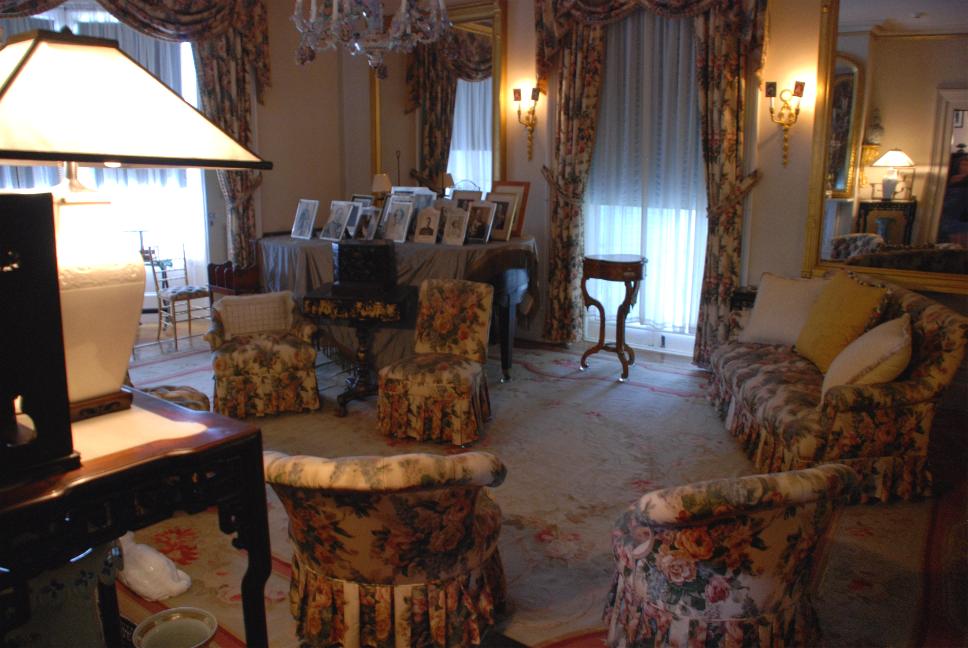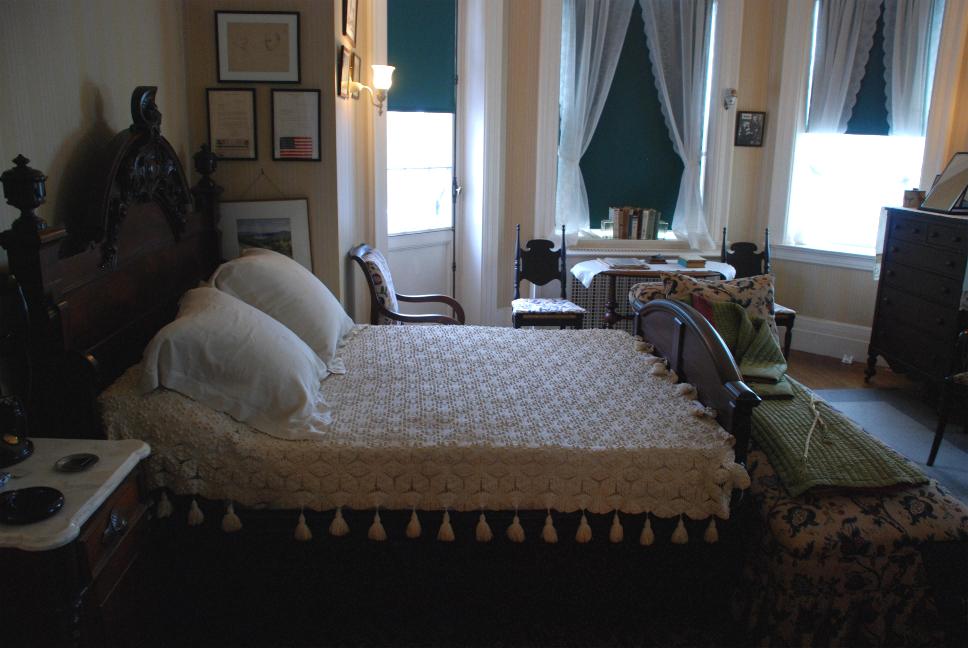 In 1943, FDR donated the estate to the American people under the condition that his family maintained a life-long right to usage of the property. On November 21, 1945, after the family had relinquished their rights, the estate was transferred to the U.S. Department of the Interior. Since that time, it has been administered by the National park service as a National Historic Site and is open to the public.
Franklin D. Roosevelt made his last visit to Springwood during the last week of March 1945, about two weeks before his death. Per his instructions and wishes he was buried near the sundial in the Rose Garden on April 15, 1945, adjacent to Springwood.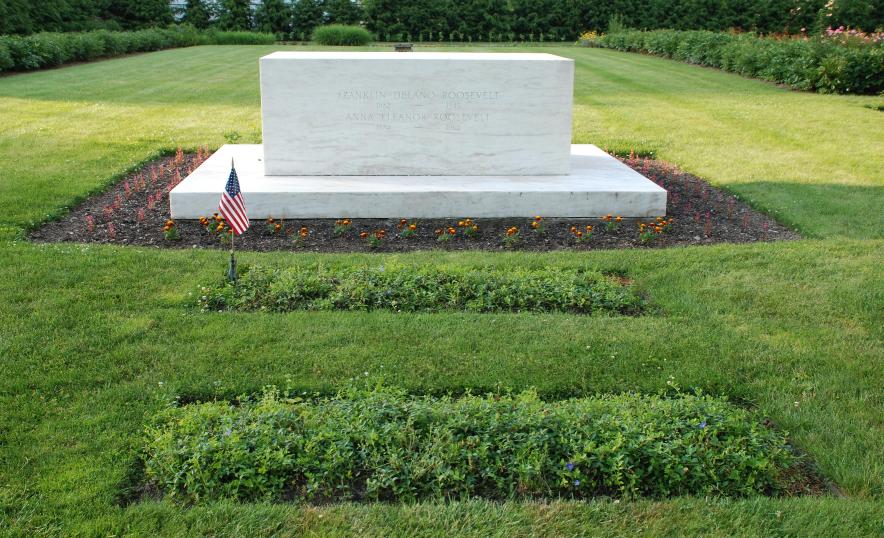 Eleanor Roosevelt died in 1962 and is buried at his side. Also buried here is Fala, the famous Scottish terrier and Chief, a German shepherd also owned by FDR.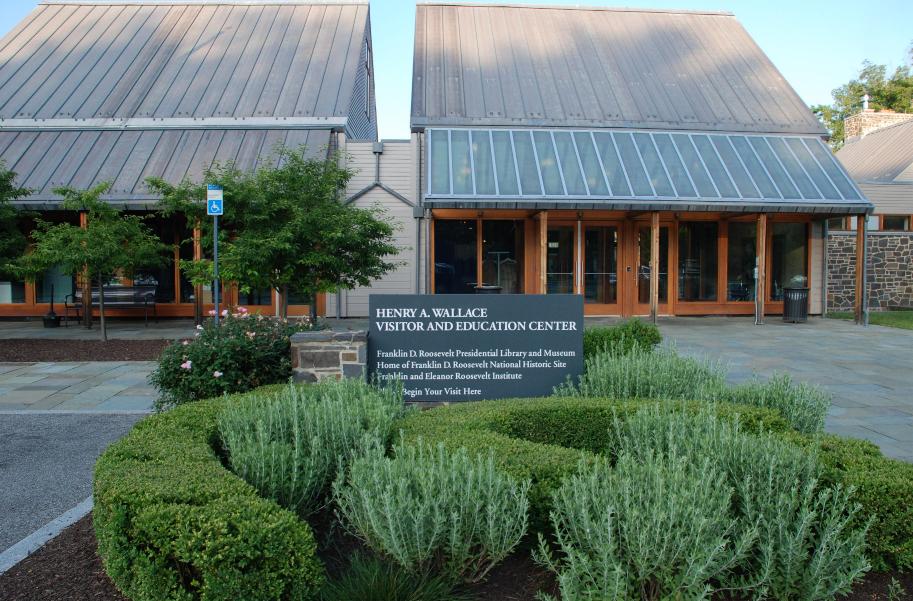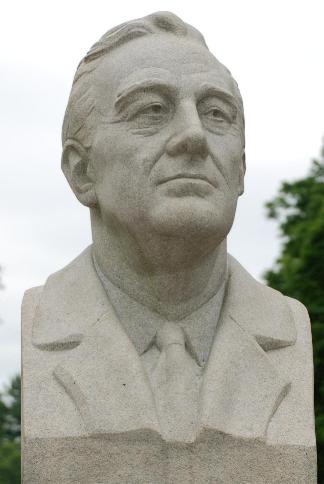 Copyright © 1992-2022 (2012) by John T. Marck. All photographs used herein are Copyright © 2012, by John T. Marck. Information from this article and its photographs may not be used or reproduced without permission.