Stephen Grover Cleveland, His life, Presidency, and Birthplace
By John T. Marck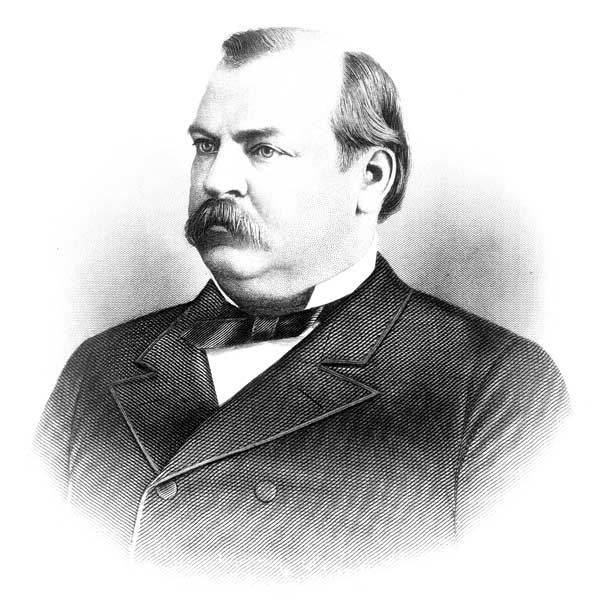 The man who would become the 22nd and 24th President of the United States, and in doing so became the only President to serve two non-consecutive terms, was born Stephen Grover Cleveland on March 18, 1837 in the Manse, which was the official residence of the First Presbyterian Church, where his father was pastor from 1834 to 1841. This home in Caldwell, New Jersey was here his father, Richard Falley Cleveland, originally from Connecticut, and his mother, Ann Neal, from Baltimore, lived while Richard was the church pastor.
Stephen Grover was the fifth of nine children born to Richard and Ann, who had four other sons and four daughters. He was named Stephen Grover in honor of the first pastor of the First Presbyterian Church of Caldwell, where his father was pastor. Although named Stephen, he never used this name in his adult life, preferring Grover.
In 1841, the Cleveland family moved to Fayetteville, New York where Grover spent much of his childhood. In 1850, Cleveland's father took a job in Clinton, New York and the family relocated here. They moved again in 1853 to Holland Patent, New York, which is near Utica. Soon after arriving here, Richard Cleveland, Grover's father, died.
Early Education
Grover Cleveland's education began in Fayetteville, New York at the Fayetteville Academy, a grammar school. When his family moved to Clinton, he attended the Clinton Liberal Academy. Following his father's death in 1853, Grover left school and worked to help support his family. Later in the year, 1853, Grover's brother William was hired as a teacher at the New York Institute for the Blind in New York City, and he obtained a place for Grover as an assistant teacher. After teaching for one year, Grover returned home to Holland Patent at years end, 1854.
Back at Holland Patent, Grover, now 17 years old, looked for work, but was not successful. An elder in the church there offered to help Grover by paying for his college education if he would promise to become a minister, but Grover declined. Instead, he decided to move west to the city of Cleveland, Ohio. First; however, he stopped in Buffalo, where his uncle lived. His uncle, Lewis W. Allen, dissuaded him from continuing west, by offering him a job arranging his herd books. A Herd book is a book containing the list of pedigrees of one or more herds of choice breeds of cattle, also referred to as a herd record or herd register.
Grover's uncle Lewis was an important man in Buffalo and he introduced Grover to many influential men there, including partners in the law firm of Rogers, Bowen, and Rogers. It was here that Grover took a clerkship job and was admitted to the bar in 1859. Once a lawyer, Cleveland worked with this firm for three years, leaving in 1862 to start his own practice. In January 1863, he accepted an appointment as an assistant district attorney for Erie County. With the Civil War rampant, Congress passed the Conscription Act of 1863 (draft) that required able-bodied men to serve in the army if called upon, or else hire a replacement. Cleveland choose the latter and paid George Benninsky $150 to serve in his place.
As an attorney, Cleveland became known for his tireless hard work, He also assisted others by defending people free of charge. During this time, Cleveland lived a simple life in a boarding house, although by this time he could afford more lavish housing. He continued to support his mother and sisters, while at the same time, enjoyed an active social life, frequenting hotel lobbies and saloons.
Democratic Party and Sheriff of Erie County
When Cleveland first began his involvement with politics and politicians he aligned himself with the Democratic Party. In 1865 he ran for District Attorney, losing narrowly to his friend and Roommate, Lyman K. Bass, a Republican. Cleveland stayed out of politics for the next few years, but decided in 1870 to run for sheriff. With the help of a friend, he secured the Democratic nomination for sheriff, and was elected at the age of 33, by a 303-vote margin, taking office on January 1, 1871. While this new career took him away from practicing law, it was rewarding in other ways, one being the fees were said to yield up to $40,000 over his two-year term.
As sheriff, the most well known incident was when Cleveland was responsible for carrying out an execution or paying a deputy $10 to perform the hanging. Although not delighted with this responsibility, Cleveland opted to carry out the duty. He did this two times, the first was the hanging of Patrick Morrisey, a convicted murdered, on September 6, 1872, and another murdered, John Gaffney on February 14, 1873.
Upon his term of sheriff ending, Cleveland returned to private practice, opening a law firm with Lyman K. Bass and Wilson S. Bissell. Bass did not stay long, having been elected to Congress in 1873, but Cleveland and Bissell found themselves at the top of Buffalo's legal community.
Cleveland as Mayor of Buffalo
By the 1870s, the city of Buffalo had become very corrupt, with both Democrats and Republicans equally responsible. In 1881, the Republicans nominated a slate of many disreputable politicians, giving rise to the Democrats for the opportunity to put their own man in, by gaining votes for a person who was a more honest candidate. The party leaders approached Cleveland and he agreed to run for mayor, provided he liked the remainder of the ticket. When the more "notorious" politicians were left off the ticket, Cleveland accepted the nomination. Cleveland won by about 4,000 votes and took office on January 2, 1882. In his tenure as mayor, Cleveland became known for having an honest reputation, and this spread beyond just Erie County.
Governor of New York
As this honest reputation grew, the state Democrats considered Cleveland for the office of governor. Throughout many possible candidate and back and forth decisions, Cleveland became the nominee and won the election, defeating the Republican nominee Charles J. Folger, 535,318 to 342,464.
Nomination for President
The upcoming election of 1884 the Democrats saw as their opportunity to take back the White House from the Republicans, which was in their party since 1856. There were several front-runners including Cleveland, but most others had some issues. Finally on the second ballot, Cleveland won the nomination. In the election, the popular vote was close, with Cleveland winning the electoral majority 219 – 182.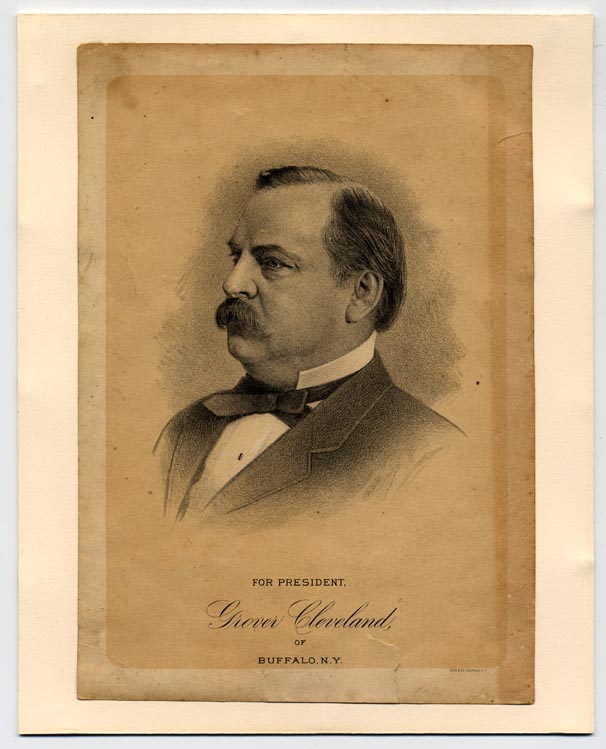 First Term as President (1885-1889)
One of the first duties of President is the task of filling all the government jobs over which he has the power of appointment. Normally the jobs were filled under the spoils system, but Cleveland decided that he would not fire any Republican who was doing his job well, or would he appoint anyone simply because he was a Democrat. In doing his appointments, Cleveland also reduced the number of federal employees as many departments had become overstaffed with political time-servers. Over his term, Cleveland did; however, replace some partisan Republicans with Democrats. While some of these decisions were influences by party concerns, most of his appointments were decided on merit alone.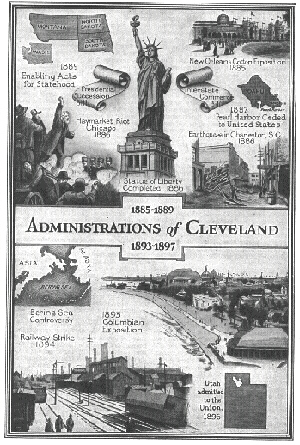 One of the more volatile issues facing Cleveland and the country in the 1880s was whether currency should be backed by gold and silver or gold alone. The issue cut across party lines with western Republicans and southern Democrats joining together in the call for free coinage of silver, and both parties holding firm for the gold standard. Because silver was worth less than its equivalent in gold, taxpayers paid their government bills in silver, while international creditors demanded payment in gold, resulting in the depletion of the country's gold supply.
President Cleveland and his Treasury Secretary, Daniel manning, stood firmly on the side of the gold standard, and tried to reduce the amount of silver that the government was required to coin under the Bland-Allison Act of 1878. This angered the westerners and southerners, who wanted cheap money to help out their poorer constituents. In reply, a silverite named Richard P. Bland introduced a bill in 1886 that would require the government to coin unlimited amounts of silver, inflating the then-deflating currency. While this bill was defeated, so was a bill the administration favored that would repeal any silver coinage requirement. The result was retention of the status quo, and postponed the resolution of the free silver issue.
White House Wedding
When Grover Cleveland became President of the United States, he did so as a bachelor, but did not stay this way for long. In 1885, the daughter of one of his friend's, Oscar Folsom, visited him in Washington, D.C. Frances Folsom was a student at Wells College, and upon her return to school, Grover obtained permission to correspond with her, and soon thereafter they became engaged.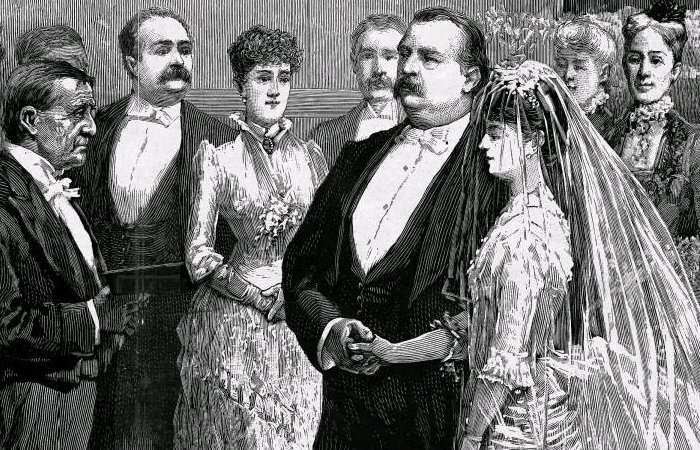 On June 2, 1886, Grover Cleveland married Frances in the Blue Room of the White House. While he was the second President to marry while in office, he was the first, and continues to be the only President to be married in the White House. This marriage was unusual because Cleveland was the executor of Oscar Folsom's estate and had supervised Frances' upbringing, but the public did not take exception to their wedding. At only 21 years old, Frances was the youngest First Lady in American history, but within a short time, the public warmed to her beauty and personality. The Cleveland's would go on to have five children. They are: Ruth (1891-1904); Esther (1893-1980); Marion (1895-1977); Richard Folsom (1897-1974); and Francis Grover (1903-1995).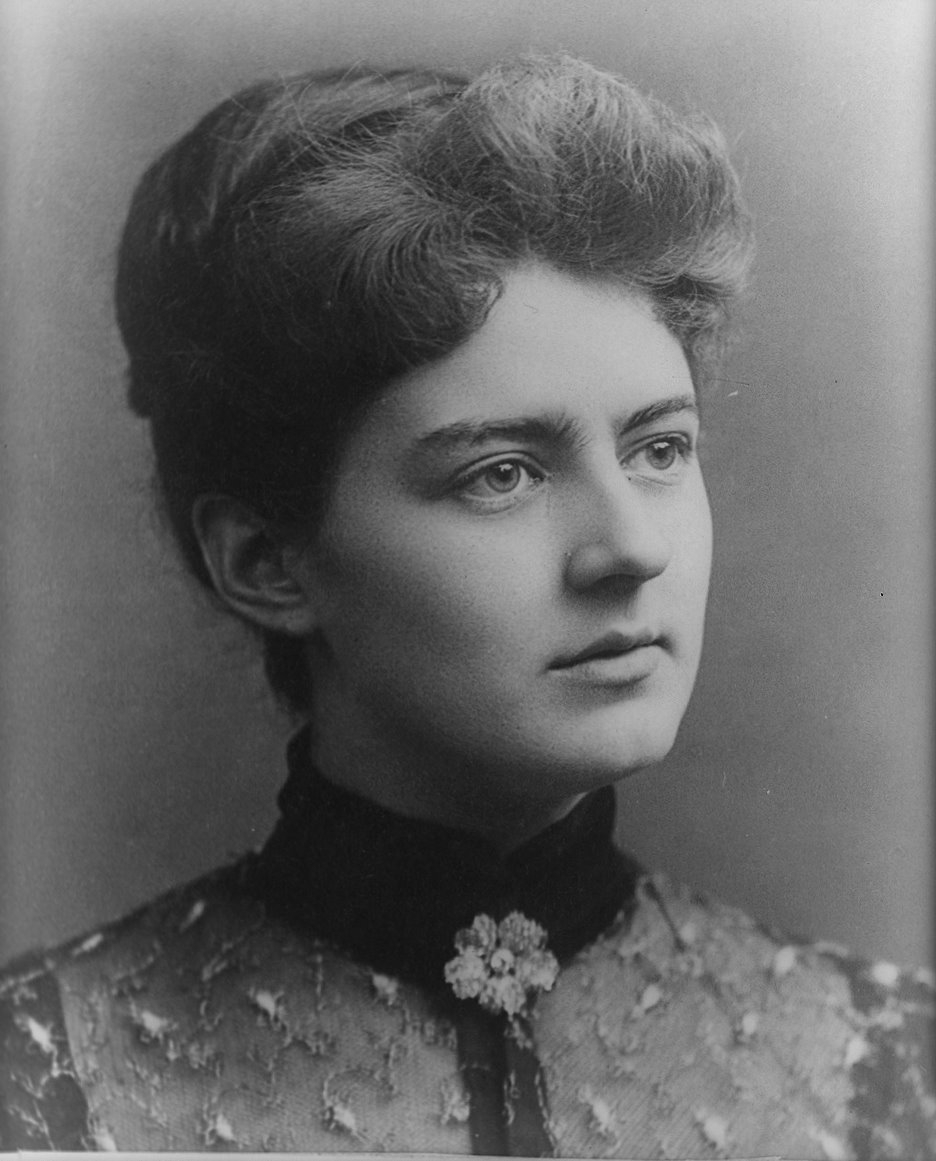 As his first term came closer to its end, Cleveland did run again. However, as it did in 1884, the election came down to the swing states of New York, New Jersey, Connecticut and Indiana. Unlike in 1884 when Cleveland won all four sates, he now won only two, losing his home state by nearly 15,000 votes. Also the Republicans were victorious in Indiana, largely because of fraud. This victory where Cleveland lost by only 2,348 votes was enough to cost him the election. In doing so, Benjamin Harrison was elected President of the United States.
Upon leaving the White House, Frances is quoted as saying to a staff member, "Now, Jerry, I want you to take good care of al the furniture and ornaments in the house, for I want to find everything just as it is now, when we come back again. " When asked when she would be returning, she said, "We are coming back four years from today."
Meanwhile, the Cleveland's moved back to New York City where Grover took a position with a law firm. While here in New York, their first child, Ruth was born. During Harrison's term as President, his administration worked with Congress to pass the McKinley Tariff and the Sherman Silver Purchase Act, both of which Cleveland viewed as dangerous to the nation's financial health. Initially Cleveland refrained from criticizing his successor, but by 1891-he felt compelled to speak out but addressing his concerns in an open letter to reformers in New York. Known as the "silver letter," this thrust Cleveland's name back into the spotlight as the 1892 election was nearing.
The Election of 1892
With his recent out spoken letter on the monetary issues made Cleveland a major contender for the Democratic nomination for the presidency. Although his leading opponent was David B. Hill, a senator from New York, Cleveland was nominated on the first ballot. The Republicans of course re-nominated Benjamin Harrison making the 1892 election a rematch of the one four years earlier. As the issues of the day such as tariff reform and the Tammany Hall Democrats adhered to a national ticket, this allowed united Democrats to carry New York, and in doing so, Cleveland was elected by a wide margin in both popular and electoral votes.
Second Term as President (1893-1897)
In his second term as President, Cleveland repealed the Sherman Silver Purchase Act, putting the nation back on the gold standard. He also facilitated the resolution between Great Britain and Venezuela and between Spain and Cuba, and by doing so, averted conflict and protected American interests. He also deployed the US military during the Pullman Palace Car employment strike in 1894. This maintains civil order and ensured continued rail transportation of goods and services that included the US Mail.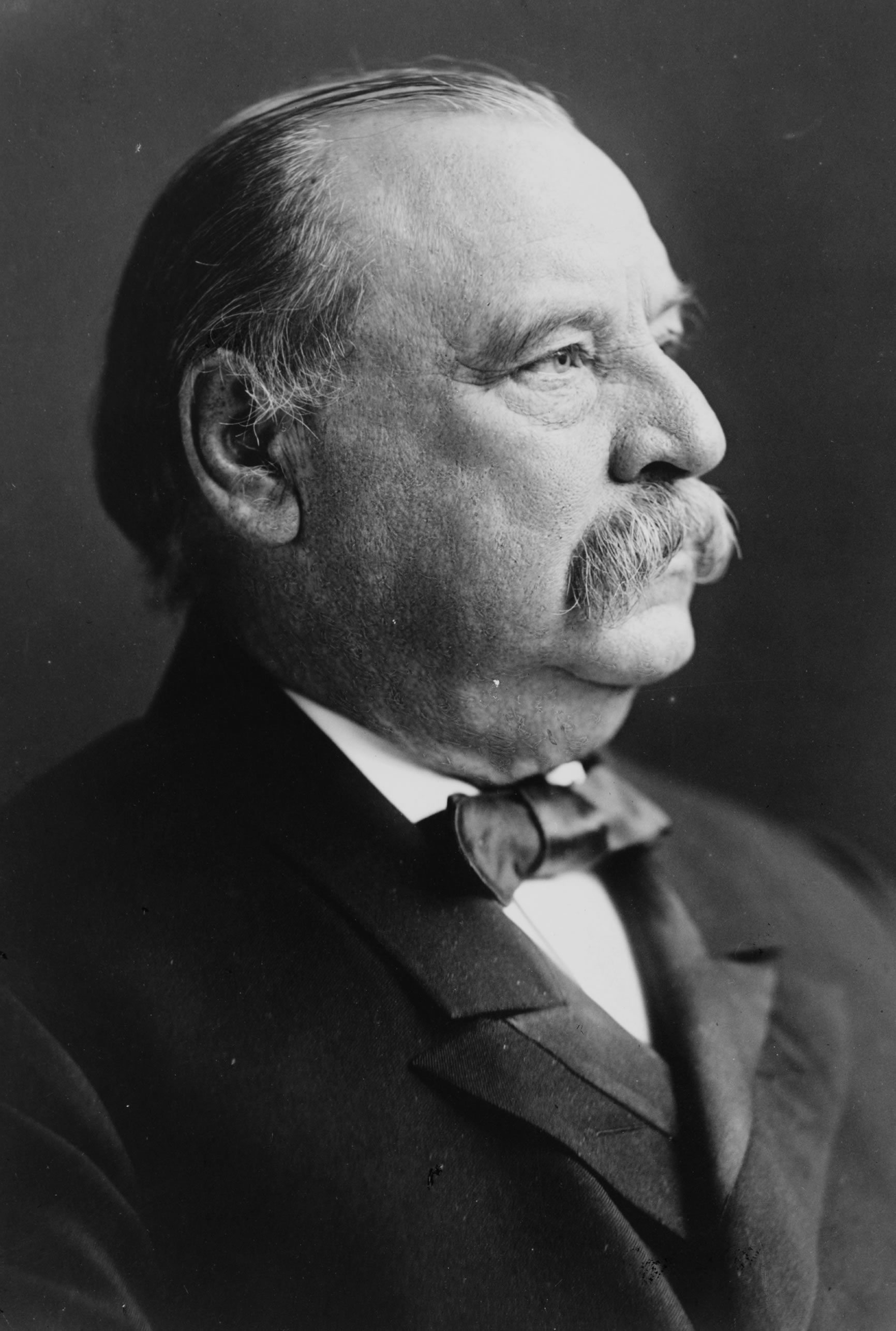 Being quite forthright in his actions created enemies in both political parties and among the special interest people. Still, Cleveland was undaunted. He remained steadfast and resilient in his approach to life that would go on to define him as a man and a president.
Life after the Presidency
At the end of his presidency, Cleveland retired to Princeton, New Jersey. Here he serves as a trustee of Princeton University from 1901 to 1908, and worked to reform the country's insurance industry.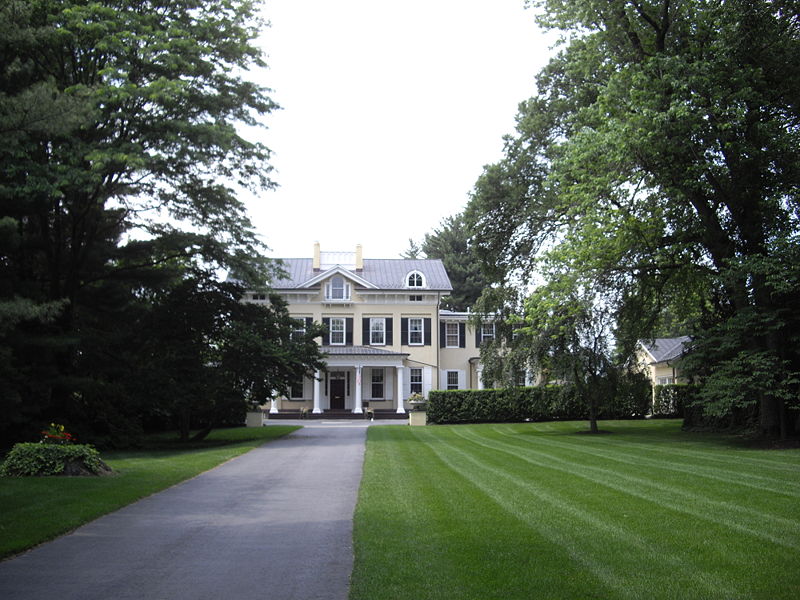 Westland Mansion -The Cleveland home in Princeton
Grover Cleveland's health had been declining for several years and in the fall of 1907, he fell seriously ill. On June 24, 1908 he suffered a heart attack and died. He is buried in the Princeton Cemetery, and his wife, their daughter Ruth, and his wife's parents are buried alongside him.
The Grover Cleveland Birthplace
T
he Grover Cleveland birthplace is located at 207 Bloomfield Avenue, Caldwell, New Jersey. It is opened from Wednesday to Sunday, and visitors are asked to call for operating hours. Admission to the house is free.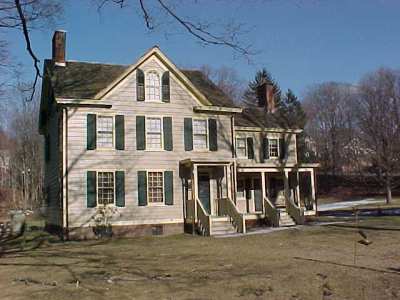 This house, called a Manse, meaning the pastor's house, for the First Presbyterian Church, was the residence of the Cleveland family for a time and Grover's birthplace.

Originally the house had a two-story main section with a one-story kitchen to the east and a one-story lean-to at the rear. It was enlarged several times between 1848 and 1870 to meet the growing needs of the Presbyterian clergy. The historical significance of the Manse was first noted in 1881 when Cleveland was running for governor of New York. As his political career and popularity increased, so did interest in preserving his birthplace as museum. Therefore, a group of friends and admirers began plans to purchase the Manse in 1907. Through their efforts, the house opened to the public on March 18, 1913.

Much of the first floor of the Manse portray the house as it was in 1837, the year Grover was born. The middle-class character of the house reflects the day-to-day life of the Cleveland family. Among the artifacts here are Grover's cradle, his White House chair, and original family portraits.

The Grover Cleveland Birthplace State Historic Site is the only museum in the United States dedicated to the interpretation of President Cleveland's life. It is also the nations' leading repository of his artifacts and political memorabilia. This site is listed on the New Jersey and National Registers of Historic Places.

Quick Biographical Facts

GROVER CLEVELAND

22nd and 24th President

Term- March 5, 1885 to March 4, 1889

Term- March 4, 1893 to March 4, 1897

Republican Party

Birth: Caldwell, New Jersey, March 18, 1837.

Ancestry: Irish-English

Marriage: Washington, D.C., June 2, 1886 (The White House) to Frances Folsom who was born in Buffalo, New York, July 21, 1864. Frances died in Baltimore, Maryland, October 29, 1947, and is buried in Princeton Cemetery, Princeton, New Jersey.

Children: Ruth (1891-1904); Esther (1893-1980); Marion (1895-1977); Richard Folsom (1897-1974); Francis Grover (1903- ).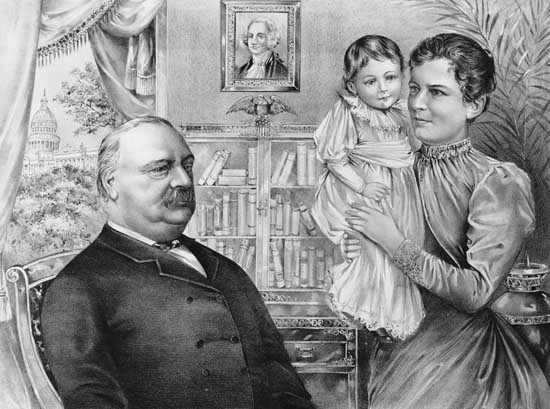 Home: "Westland", Princeton, New Jersey.
Education: Public schools
Religion: Presbyterian
Occupation before Presidency: Lawyer
Pre-Presidential Offices: Erie County Assistant District Attorney; Sheriff of Erie County; Mayor of Buffalo; Governor of New York.
Age at Inauguration: 47
First Administration: Vice President: Thomas A. Hendricks of Indiana, Inauguration March 4, 1885, The Capital, Washington, D.C.
Second Administration: Vice President: Adlai E. Stevenson of Illinois, Inauguration March 4, 1893, The Capital, Washington, D.C.
Occupation after Presidency: Princeton University Trustee.
Death: Princeton, New Jersey, June 24, 1908.
Cause of Death: Heart Attack at age 71.
Place of Burial: Princeton Cemetery, Princeton, New Jersey.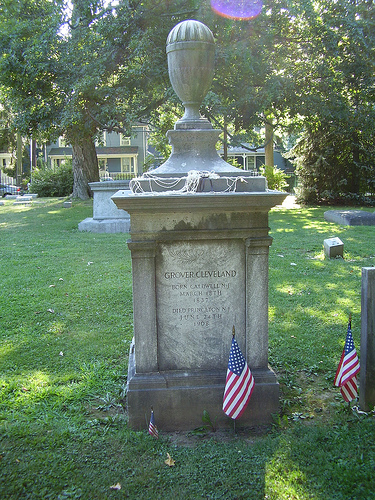 Interesting Facts:
Cleveland was the only President to serve two terms that did not follow each other.
Cleveland was the only President to be married in the White House, and his daughter Esther, was the only President's child born there.
He used his presidential veto to override the wishes of Congress over 300 times, more than twice as often as all the earlier President's combined.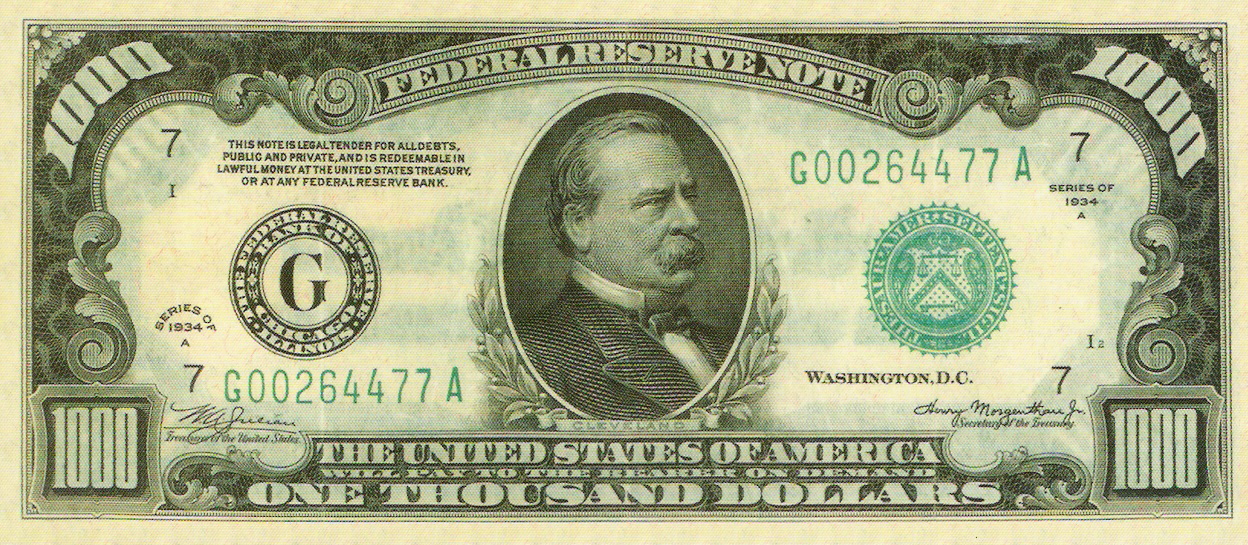 Copyright © 1992-2022 John T. Marck. Written and edited by John T. Marck. Grateful appreciation for their informational assistance is extended to: The Grover Cleveland Birthplace State Historic Site; Wikipedia, relative to Grover Cleveland and his life; The Cleveland Birthplace.org; The New Jersey State Historic Sites, NJ Department of Environmental Protection, Division of parks and Forestry, and the State Park Service; Planet Ware, relative to Grover Cleveland and Caldwell, New Jersey Tourism; History on the Spot, relative to the Grover Cleveland Birthplace State Historic Site; Infoplease, relative to Grover Cleveland; The Presidents of the United States, by John T. Marck, and The First ladies of the United States, by John T. Marck, © 1993-2008.