James A. Garfield, His Life, Homes, & Alexander Graham Bell
By John T. Marck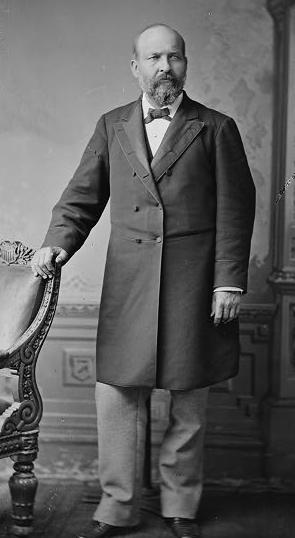 James Abram Garfield was born on November 19, 1831 in a log cabin in Orange, Cuyahoga County, Ohio. He was the youngest of five children born to Abram and Eliza Ballou Garfield. His father, Abram was a native of New York, but came from Massachusetts's ancestry, descended from Edward Garfield, an English Puritan, who was one of the founders of Watertown in 1630. His mother, Eliza, was born in New Hampshire, of a Huguenot family that had fled France to New England in 1685. In 1830, Abram moved his family to Ohio and settled in what was then called the "Wilderness." Abram did well as a farmer and canal construction worker but sadly died at the young age of thirty-three following a sudden illness. His wife, Eliza was given the task of bringing up her family, unaided in a lonely cabin. Her life was a struggle faced with poverty.
James started his schooling at the age of three, attending classes in a log hut, but learned to read early, a habit which he kept his entire life. Garfield loved to read and read every book he could get his hands on. By the age of ten, James helped out his mother's income by working at home or on the farms of neighbors. By the time he was fourteen years old, he had an exceptional knowledge in arithmetic, grammar and American history. In his quest for reading, he especially enjoyed tales of the sea and the love for these types of adventures soon consumed him. In 1848, James traveled to Cleveland where he intended to work as a sailor on board a lake schooner, but soon realized that the work was not the romance he once imagined. However, not wanting to return home with no money, he took a job for a few months driving a boat on the Ohio canal.
In 1849, after some convincing from his mother, James entered Geauga Academy in Chester, Ohio, which was about ten miles from his home. During vacations from school, he learned then practiced carpentry and helped out at harvest time, doing whatever he could to raise the money he needed to pay for school. After his first time ended, he raised enough money so that he did not need any aid from home, reaching a point where he was self-sufficient. While at school in Chester, he met Miss Lucretia Rudolph, whom he would later marry.
In 1851, upon completing his studies in Chester, he then entered Campbellites, Hiram Eclectic Institute, which later became Hiram College. Within a very short time, he had an excellent knowledge of algebra, natural philosophy, botany, Latin and Greek. Living at Hiram was inexpensive, and he easily paid these by teaching in the English departments, as well as gave instruction in the ancient languages. After three years, he was quite prepared to enter his junior class at any of the colleges in the east, and had saved the necessary tuition of $350.00. He was originally undecided between Yale, Brown and Williams colleges, but finally chose Williams. This decision was helped along by the promise of encouragement by its president, Mark Hopkins. Garfield entered Williams in the fall of 1854, and graduated with the highest honors in the class of 1856.
After graduation in 1856, Garfield returned to Ohio and resumed his place as a teacher of Latin and Greek at Hiram, and the following year (1857) at the age of 26, was made its president.
On November 11, 1858, James married Lucretia Rudolph, with whom they had seven children. About this time, for the first time in his life, Garfield started showing an interest in politics. Prior to 1856, it seems that he never voted in any election. A Republican, he cast his first vote for John Fremont as a candidate for the presidency. When moral questions became issues in politics, Garfield's interest grew stronger, and he frequently discussed these issues in debates.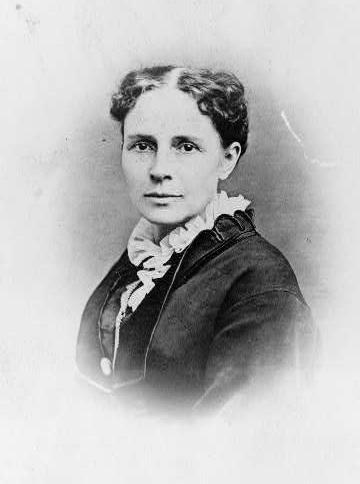 Without any solicitation or thought on his part, Garfield was sent to represent the counties of Summit and Portage in the senate of Ohio.
In 1860, when the Civil War began, Garfield, who had been a farmer, carpenter, student, teacher, lawyer, preacher and legislator, soon proved himself an excellent soldier. In August 1861, Governor William Dennison commissioned him lieutenant colonel in the 42nd regiment of Ohio volunteers. These men that made up this regiment were his old pupils at Hiram whom he persuaded to enlist.
When he was promoted as the regiment's commander, he drilled his men into military efficiency while awaiting orders to go to the front. That December 1861, he reported to General Buell in Louisville, Kentucky. Here Buell was so impressed by the soldierly condition of his regiment that he gave Colonel Garfield a brigade, and assigned him to the difficult task of driving Confederate General Humphrey Marshall from eastern Kentucky. The undertaking was a difficult one. Marshall had 5,000 men, while Garfield had only about half that number. With this, he had to march his brigade through a state where the majority of the people were hostile, to attack an enemy that was strongly entrenched in the mountains of the state. But Garfield was undaunted by this task, and concentrated his small force, moving it quickly, in a sometimes here and sometimes there configuration, that deceived General Marshall so much that the Confederates abandoned their position, causing them to lose many of their supplies at Paintville. While in their retreat, Garfield caught them, and engaged them full force maintaining a hand-to-hand fight for five hours. The Confederates had 5,000 men and 12 cannons, and Garfield had 1,100 men and no artillery. Still, Garfield was able to hold off the enemy until he was reinforced by Generals Graner and Sheldon, and when Marshall gave way, Garfield was the victor at Middle Creek, on January 10, 1862. This proved to be one of the most important of the minor battles during the war. In appreciation for his service, President Lincoln made the young Garfield a brigadier general dating this commission from the Battle at Middle Creek.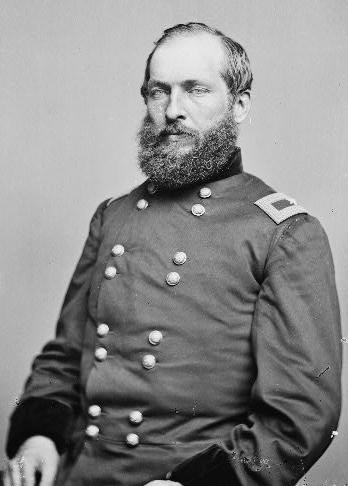 Garfield and his unit fought in many famous battles during the war, including Shiloh, Corinth, and also rebuilt bridges on the Memphis and Charleston Railroad, and repaired fortifications at Huntsville.
Overtaken by the unhealthy conditions that existed, Garfield, on July 30, 1862, returned to Hiram where he lay ill for two months. After regaining his strength, he reported to Washington and was ordered to court-martial duty, where he gained a much-respected reputation. Garfield then returned to duty under General Rosencrans who made him his chief-of-staff. Following the Union defeat at the Battle of Chickamauga, Garfield volunteered to take the news of the defeat to General George H. Thomas, who held the left of the line. During Garfield's bold, dangerous ride through constant rifle fire, he reached General Thomas, and gave him information that saved the Army of the Cumberland. For his actions here and for gallantry on the field, he was made a major general on September 19, 1863. Garfield, always unselfish, yielded his own military ambitions when he was called by President Lincoln to go to Washington to sit in Congress.
James Garfield was 32 years old when he entered Congress, and in December 1863, started his first term as a representative for his home district. He would go on to be reelected for eight consecutive terms. With his outstanding military reputation, he was selected to serve on the Committee on Military Affairs, then the most important job in Congress.
As to policies, Garfield was a loyal Republican, who favored the principle that all paper money issued by the government be secured by gold or silver, and that following the Civil War, he sided with the radical faction of the Republicans, who supported seizure of all property of those who had served the Confederacy, and demanded voting rights for blacks.
At his own request in 1865, Garfield was changed from the Committee on Military Affairs to the Ways and Means Committee, who was most influential, and he soon became a powerful person in the party. When James Blaine of Massachusetts resigned his seat to serve in the Senate, Garfield assumed the Republican leadership in the House. '
In 1880, James was elected a United States Senator from Ohio. Before his term of office began, he became involved in the presidential campaign of 1880. At this time, the Secretary of the Treasury, John Sherman, another Ohioan, was running for president. Garfield supported him, and at the convention, Garfield addressed the crowd on his behalf. However, Garfield spoke for 15 minutes before he mentioned Sherman=s name, and many suspected that Garfield was placing himself in nomination.
While there is no evidence to suggest that he was in any way disloyal to Sherman, on the 36th ballot on the convention's sixtieth day, Garfield was nominated for president. Garfield won the election but did not carry the majority of the popular vote.
After the election it was then necessary for Garfield to surrender his Senate seat and resign from the House. On March 4, 1881, Garfield was inaugurated as the 20th President of the United States. Once in office, Garfield was against political corruption and took a stand against it.
The Attempted Assassination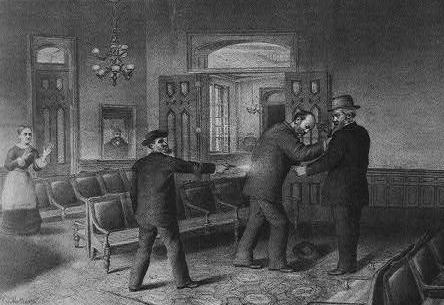 While planning his trip to New England, on the morning of July 2, 1881, Garfield passed through the waiting room at the Baltimore and Potomac Railroad Depot in Washington, D.C. at 9:00 a.m. with his close friend, James Blaine. Charles Guiteau, a lawyer whose application to be a U.S. Ambassador to France was denied, fired two shots at the President.'
The first bullet grazed the President's arm, but the second one entered his back, fractured a rib and lodged itself somewhere inside his body. After the shooting, Guiteau gave himself up and reportedly had arranged for a Hanson cab to wait for him outside to take him to jail, because he was afraid that an angry mob might form and lynch him. The Washington police did arrest him.
James Garfield, in spite of the fact that he was shot by a would-be assassin, was actually killed by his doctors. Following the shooting, President Garfield was taken directly to the White House, during which time he never lost consciousness. For the next eighty days, sixteen doctors were consulted regarding the President's condition.
The first doctor to treat the President was Willard Bliss, who stuck his unwashed, non-sterile finger into the wound, followed by inserting a non-sterile probing instrument, in an attempt to locate the bullet. Bliss never found the bullet, but the false passage he dug out confused later doctors as to the bullets actual path. Consequently, they concluded that the bullet had penetrated the liver and therefore surgery would be of no help, and the President would certainly die quickly as a result. But they were wrong.
This was followed by an army surgeon who also stuck his unwashed finger into the wound and dug as deep as he could. Then a navy surgeon came along who searched with his finger so deeply that this time he did puncture the liver, damage that the bullet never did. He concluded that the President would die within twenty-four hours. But, the President did not die, but his fever rose, which was treated with milk spiked with brandy. Unfortunately, many doctors continued to search for the bullet using their dirty, unwashed fingers.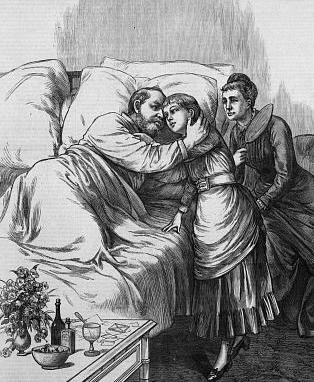 Enter Alexander Graham Bell
In the continuing effort to locate the bullet, Alexander Graham Bell, the man who invented the telephone, rigged a crude metal detector to find the bullet. After several passes with this crude instrument, Bell announced that he found the bullet, but it was much deeper than they originally thought. With the President's condition growing steadily worse, the doctors decided to cut him open to remove the bullet, still it was not found.
What Bell had actually detected was the metal spring under the mattress. The problem was that Bell and others was unaware that the White House was one of only a few places that had coil spring mattress, as they had been recently invented. Had he known, and had he moved the President off the mattress, it was likely they may have located the bullet. In the end, doctors managed to take a three-inch wound and turn it into a twenty-inch deep canal that became heavily infected.
This deep wound, combined with its massive infection, and the blood poisoning it created, caused the President's heart to weaken. As a result, the President had a massive heart attack several days later, but his well-trained doctors miss-diagnosed this as well. They believed his attack came from a ruptured blood vessel in his stomach. Minutes later, on September 19, 1881, the President passed away. One can only imagine the misery he endured during his last eighty days!
In the final conclusion it has been determined that Garfield would have survived if his doctors had left him alone. At his autopsy, examiners determined that the bullet had lodged itself four inches from his spine in a protective cyst. Garfield would have survived with the bullet inside him, as it did not hurt any vital areas.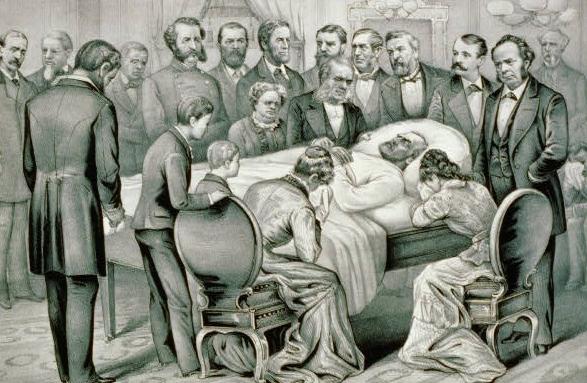 At the trial of Guiteau, he argued that he did not kill the President, and that the doctors deserved all the blame for his death. He was right, and today, this argument would probably get you off, but in the 1880s it did not work. He was sentenced to death and hanged on June 30, 1882.
The physicians who attended to the President had the nerve to submit a bill for their services of $85,000 to the Senate. The federal government paid $10,000, which was still an absurd fee. Dr. Bliss was forced to make a public apology as well.
The Homes of James Garfield
The log cabin in which Garfield was born on the frontier farm in Cuyahoga County no longer stands.
In 1876, Garfield purchased a home in Mentor, Ohio known as "Lawnfield." Located on the shores of Lake Erie, it was originally a nine-room farmhouse. To accommodate his wife and their five children, Garfield added 11 rooms. After he was elected President in 1880, and sadly his death less than one year later, his wife Lucretia added a library and vault, which was the predecessor to the presidential libraries popular today. In the library sits the desk from his nine terms as a U.S. Congressman, as well as a floral wreath sent to his funeral by Queen Victoria.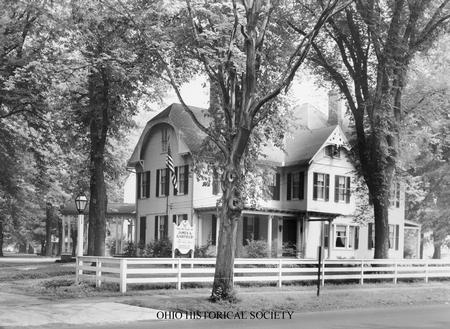 The Garfield home "Lawnfield," has been restored to the period between 1880 and 1884 by the Western Reserve Historical Society and the National Park Service. As his descendants occupied the house until 1936, about eighty percent of the articles and artifacts are original. The President's great-grandson, Jim Garfield, is the groundskeeper at "Lawnfield."
Today, visitors will see a campaign office that the President built behind the main house from which he wrote letters and sent out telegraph messages, and it remains much the way it was in 1880. A train stop was also established here where thousands would travel for the chance to speak with Garfield who stood on the front porch. This porch is one area that has undergone improvements over the years. Between the thousands of people who came to visit with the President during his campaign and the news reporters who camped out on the lawn, they gave the house and grounds its name of "Lawnfield."
These improvements made to the porch and other areas included major foundation changes, the replacement of the red shingle roof, and the restoration of the gingerbread detailing. As everything done brought the house back to its 1880-1885 period look, the exterior color schemes are accurate to this time. Inside the house, restoration included replacing the wallpapers with exact reproductions, and the preservation of all wood and finishes, and the restoration of the original brass fixtures.
The estate of Lawnfield has other houses on the grounds besides the Garfield home. These include the 75-foot tall pump house/windmill, which has been restored, the gasholder, granary, barn, also restored, a chicken coop with a run and a tenant house.
The Visitor Center is the former 1893 carriage house that houses the administrative offices, exhibits on the life of Garfield, documents, clothing, and funeral memorabilia. Also available is an 18-minute video that describes his life and career.
Lake View Cemetery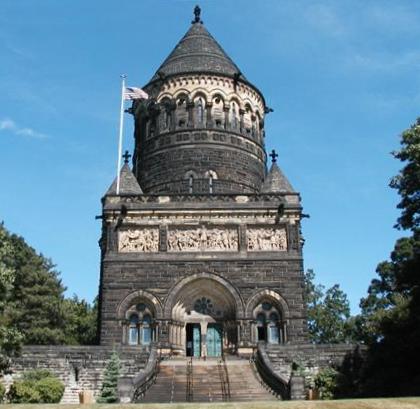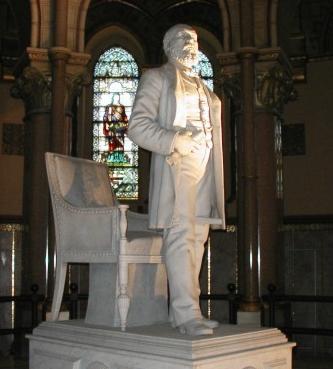 President James A. Garfield was laid to rest at Lake View Cemetery in Cleveland, Ohio. Founded in 1869, the cemetery sits on 285 acres of land and was modeled after the great garden cemeteries of Victorian England and France.
Also located here at Lake View is the Garfield Memorial. The construction of the Memorial began in 1885 and was completed five years later in 1890. It was dedicated on May 30, 1890 and among those in attendance was President Benjamin Harrison, former President Rutherford B. Hayes and members of Garfield's family.
This Memorial structure has been called the first true mausoleum in America, combining both tomb and memorial functions. A three-tiered circular tower pinnacles the monument 50 feet in diameter and 180 feet in height that stands on a broad stone surface. The exterior is decorated with five life-size base relief panels depicting Garfield at various phases of his life and career. Inside the monument in the Memorial Room is a life-sized white Carrara marble statue of Garfield. The caskets of Garfield and his wife Lucretia, and urns containing the ashes of his daughter and son-in-law lie in a crypt directly under the Memorial Room.
Another honor to the President is the bronze figure of James Garfield on a granite pedestal with three bronze figures at the base that depicts him as a student, warrior and statesman. It is located near the U.S. Capitol in Washington, D.C.
Quick Biographical Facts:
JAMES ABRAM GARFIELD
20th President
Term- March 4, 1881 to September 19, 1881
Republican Party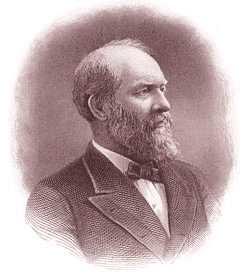 Birth: Orange Township, Cuyahoga County, Ohio, November 19, 1831.
Ancestry: English and French
Marriage: Hiram, Ohio, November 11, 1858 to Lucretia Rudolph who was born in Hiram, Ohio, April 19, 1832. Lucretia died in Pasadena, California, March 14, 1918 and is buried in Lake View Cemetery, Cleveland, Ohio.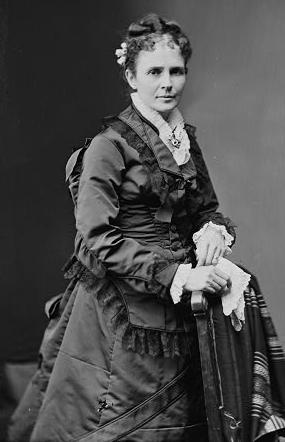 Children: Eliza Arabella (1860-1863); Harry Augustus (1863-1942); James Rudolph (1865-1950); Mary (1867-1947); Irin McDowell (1870-1951); Abram (1872-1958); Edward (1874-1876).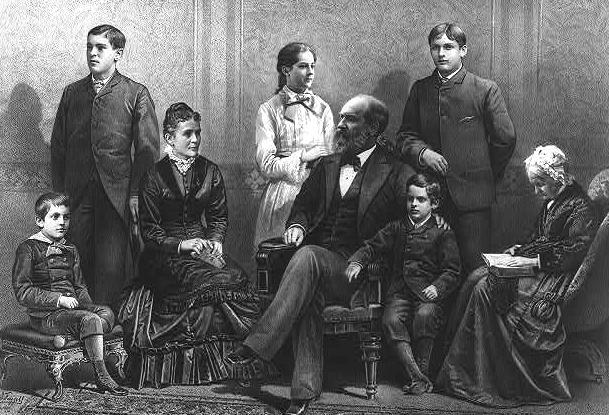 Home: "Lawnfield", Mentor, Ohio.
Education: Attended Geauga Academy and Western Reserve Eclectic Institute; graduated (1856) from Williams College.
Religion: Disciples of Christ.
Occupation before Presidency: School teacher; soldier; President of Hiram College.
Military Service: Commissioned Lt. Colonel of 42nd Ohio Volunteers in August (1861); rose to Brigadier General of Volunteers (1862) and Major General (1863).
Pre-Presidential Offices: Member of Ohio Senate; Member of U.S. House of Representatives; Chairman of House Committee on Appropriations; Minority Leader in U.S. house of Representatives.
Age at Inauguration: 49
Garfield Administration: Vice President: Chester A. Arthur of New York
Inauguration: March 4, 1881, The Capitol, Washington, D.C.
Writings: Diary, 1848-1874 (2 volumes, 1967), ed. by H. J. Brown and F. D. Williams
Death: Elberon, New Jersey, September 19, 1881.
Cause of Death: Assassination at age 49, July 2, 1881. He was shot by Charles J. Guiteau in Baltimore & Potomac Railroad Station, Washington, D.C. It took Garfield 80 days to die, after he was shot.
Place of Burial: Lake View Cemetery, Cleveland, Ohio.
Interesting Facts:
· Garfield was a classics professor and would amaze people by his skill of writing Latin with one hand and Greek with the other, at the same time. He was also a lawyer, and at 30 years old, was at one time the youngest Union general in the Civil War.
· Garfield was the first left-handed president
· The last of seven presidents born in a log cabin, Garfield weighed 10 pounds at birth
· He was the first president to campaign in two languages -- English and German.
· On Election Day, November 2, 1880, he was at the same time a member of the House, Senator-elect and President-elect.
· His mother was the first president's mother to attend her son's inauguration.
· At the age of twenty-six, Garfield became president of Hiram College. At the time the school only had five faculty members.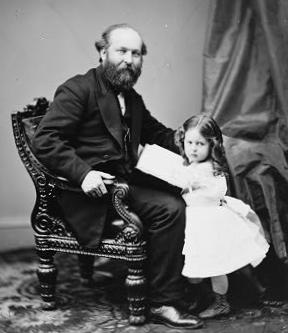 Copyright © 1992-2022 by John T. Marck. Informational assistance from Presidential Avenue and
"
Lawnfield.
"
Additional information from The Presidents of the United States, by John T. Marck.
A Splendid Time Is Guaranteed For All