James Knox Polk: His Life, Family, and Homes
By John T. Marck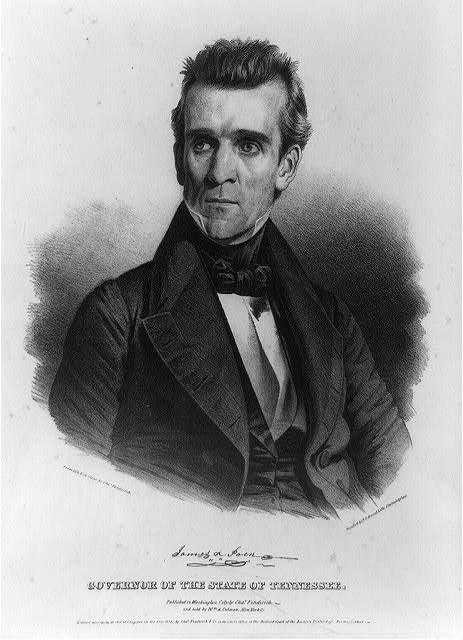 Learn about the eleventh President, the youngest up to the time, who managed to expand the borders of the United States to the Pacific Ocean, added three states to the Union, started the Naval Academy, the Washington Monument, issued the first postage stamp, and remains the youngest President to die outside those who have been assassinated.
James Knox Polk was born November 2, 1795 in Pineville, North Carolina, on a farm consisting of about four hundred acres and worked by his parents. Today, this farm, known as the Polk Memorial, is located on twenty-one acres of the original farm. As one visits the Memorial, you can imagine a young James planting, feeding the animals, hoeing and reaping. On this site, reconstructed buildings such as the log house, kitchen house and barn, have been furnished with period pieces to make it appear as it did in Polk's day. The Polk Memorial is owned by the State of North Carolina, and is administered by the State Division of Archives. The grounds contain a Visitor Center that features a 21-minute film, and displays illustrating the life of James Polk.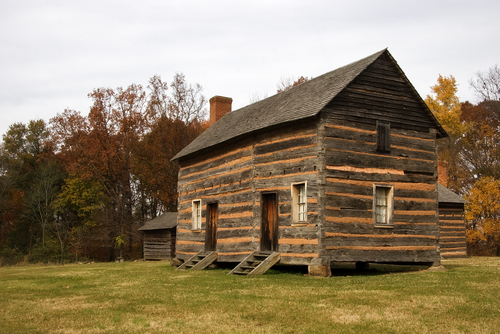 The career of the man who became our eleventh President reflects the nationís commitment to westward expansion.
At the age of ten, Polk moved with his family across the Appalachian Mountains, to Tennessee. Growing up on the Tennessee frontier, he acquired a strong work ethic, resourcefulness, and democratic ideals. Although as a youngster, and being accustomed to the rigors of frontier life, he lacked physical stamina. Near his seventeenth birthday, he needed surgery for stones in his urinary bladder, necessitating surgery. The operation was a success, which enabled him to pursue an education with renewed enthusiasm.
After only two and a half years of formal schooling in Tennessee, Polk was admitted to the University of North Carolina as a sophomore. His college studies and his membership in a debating society helped nurture his growing interest in law and government. He graduated with top honors in mathematics and the classics, and returned to Tennessee to become a lawyer. To receive the legal training needed, he worked in the office of renowned Nashville trial attorney Felix Grundy, and served as clerk of the Tennessee Senate. Diligent and ambitious, James soon established a law practice in Columbia, Tennessee.
Attaining early professional success, he then turned his attention to politics. At the age of 27, he ran for and defeated an incumbent for a seat in the Tennessee Legislature. While serving as a State Representative, he began courting Sarah Childress, the daughter of a prominent Murfreesboro merchant and planter, and who he would eventually marry. Sarah was an educated lady whose intellect and social grace impressed contemporaries and she became her husband=s personal and political confidante. Her active involvement in her husband's campaigns helped ensure his victories.
Through his support of the policies of fellow Tennessee Democrat Andrew Jackson, Polk was elected to the U.S. Congress at the age of 29. He enjoyed a long Congressional career that lasted 14 years that included two terms as Speaker of the House.
Working in Washington, he remained profoundly interested in state politics. Because of his concern that the Whig Party was becoming increasingly popular in Tennessee, he returned home and successfully ran for the governorship. Following his one two-year term, he failed twice in his reelection attempts. Because of this, his rivals assumed that his political influence and career was over, however; Polk stayed active in Democratic politics and shrewdly sought opportunities to revive his career.
The 1844 Election and the Presidency

In spite of Polk's political frustrations in Tennessee in the 1840s and his failure at reelections, nationally prominent Democrats had not forgotten his partisan dedication. Delegates to the 1844 Democratic Convention viewed him as a possible vice president. When the party's leading Presidential contenders Martin Van Buren and Lewis Cass failed to attract sufficient support to win the nomination, the deadlocked convention needed a compromise candidate. The Democrats'
"
dark horse" nominee was James K. Polk.
Challenging the well-known Whig candidate Henry Clay in the 1844 Presidential election, Polk promised to actively encourage America's westward expansion. He favored Texas statehood and the acquisition of the Oregon Territory. Although critics expressed concern that aggressive expansionism might lead to a war with Great Britain or Mexico and might destroy the flimsy balance between Free states and slave states, the majority of Americans accepted Polk's vision of a continental nation.
Using his political magnetism and savvy, President Polk tirelessly pursued his aspiring goals. Negotiations with Great Britain, once very tense, concluded with America's annexation of the Oregon Territory south of the 49th Parallel. Following a controversial two-year war, Mexico ceded New Mexico and California to the United States. During Polk's term of office, the United States acquired over 800,000 square miles of western territory and extended its boundary to the Pacific Ocean. The Polk Administration also achieved economic objectives by lowering tariffs and establishing an independent Federal Treasury.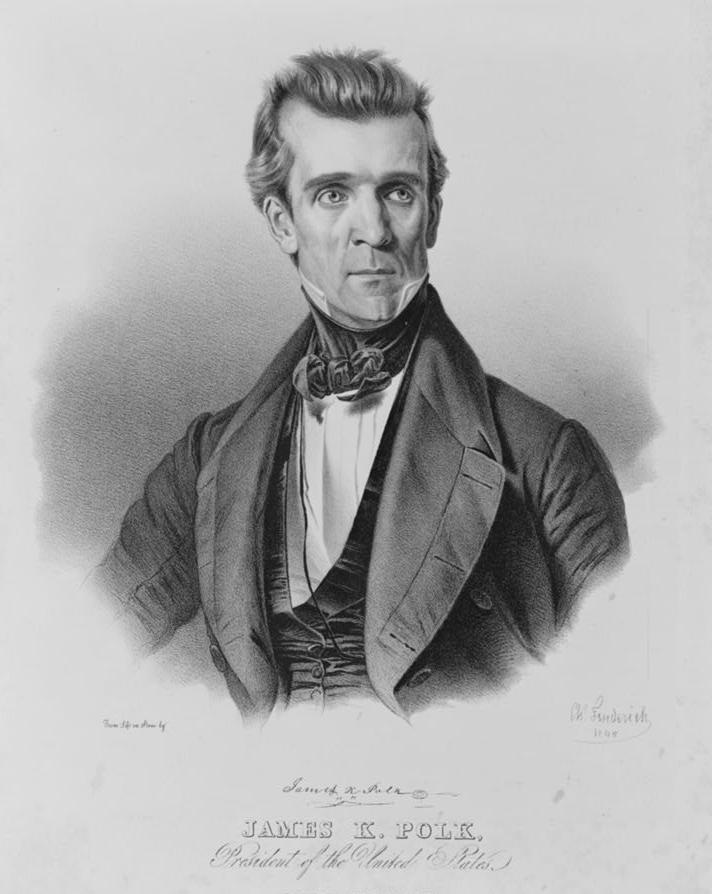 Polk remained steadfast to his campaign pledge to serve only one term as President, and left office, returning to Tennessee in March 1849. The nation's expansionist aims had been realized. When Polk died of cholera three months later on June 15, thousands of Americans were rushing west in search of California gold. Polk is buried at the State Capital Grounds in Nashville, Tennessee.
Sarah Childress Polk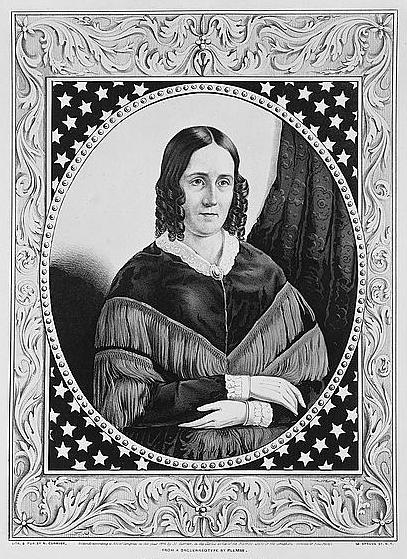 The woman who became first lady was born in Rutherford County, Tennessee, the third of six children. Although raised in the rugged Western Frontier, Sarah grew up amidst wealth and refinement. Her father, Joel Childress, was a successful businessman and planter.
While an education was unusual for frontier girls, Sarah attended a local school and, in 1817, was sent to Salem Academy in North Carolina, considered one of the best in the South. The unusually strong curriculum included English grammar, Bible study, Greek and Roman literature, geography, music, drawing, and sewing. Sarah's education was cut short, however, by the death of her father.
While James K. Polk was a Tennessee Legislator, he began courting Miss Childress, and on January 1, 1824, James and Sarah were married at her parents' home near Murfreesboro, Tennessee. The young couple moved to a cottage in Columbia, where Mr. Polk could concentrate on his law practice and political career. Sarah's education would serve both her and her politically ambitious husband well. As James embarked upon his long national political career, Sarah acted as his secretary by keeping her traveling husband aware of local political events. Because of her ability to intelligently converse about politics, she was respected and befriended by some of the great politicians of the day.
As First Lady, Sarah soon endeared herself to the country. She was a strict Presbyterian, and changed the image of the President's House by curbing the tradition of heavy drinking and dancing at White House social functions. In charge of completely remodeling the State floor of the President's House, she created an elegant setting befitting the highest office in the land.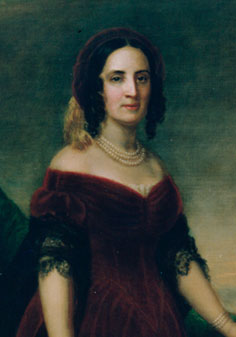 Following her four years there, Sarah looked forward to her husband's retirement where they could live quietly in their new home, Polk Place, in Nashville. Their quiet retirement did not last long, however, as her husband died just three months after leaving Washington. A 45-year-old widow, Mrs. Polk donned the black clothes of mourning for the rest of her life. Not long after her husband's death, she became the guardian of an orphaned great niece. This "adopted" daughter, Sally Polk Jetton, would remain with Sarah for the rest of her days. Mrs. Polk was honored at Polk Place throughout her life, and was considered the "grande dame" of Nashville for more than four decades. Following a short illness, Sarah Polk died at Polk Place in 1891, just short of her 88th birthday.
Sarah Polk in 1845-1849, is credited with starting the use of the song "Hail to the Chief" as the Presidential Anthem, and in 1877 was given the first telephone in Nashville. In 1888, Sarah was given the honor of turning on the first electric lights in Cincinnati, Ohio.
The Polk Ancestral Home
The James K. Polk Ancestral Home in Columbia, Tennessee is the only surviving residence of Polk (excluding the White House). Samuel Polk, a prosperous farmer and surveyor, built the Federal-style brick house in 1816 while his oldest son James was attending the University of North Carolina. When the future President graduated in 1818, he returned to Tennessee and stayed with his parents until his marriage to Sarah Childress in 1824. While living in his family's Columbia home, James practiced law and began his political career by successfully running for the State Legislature. Today, the home displays original items from James K. Polk's years in Tennessee and Washington, D.C., including furniture, paintings, and White House china.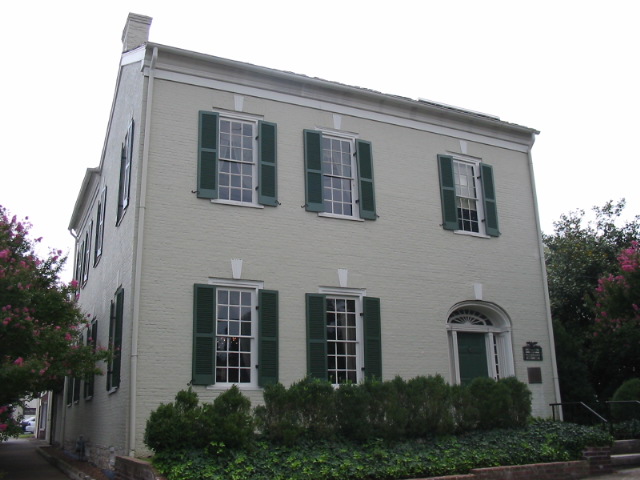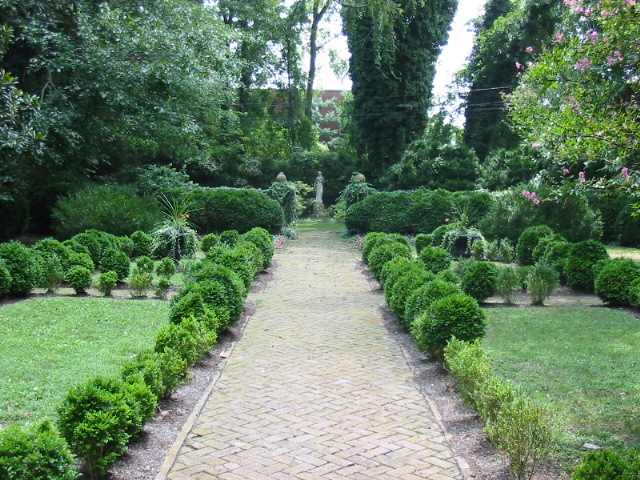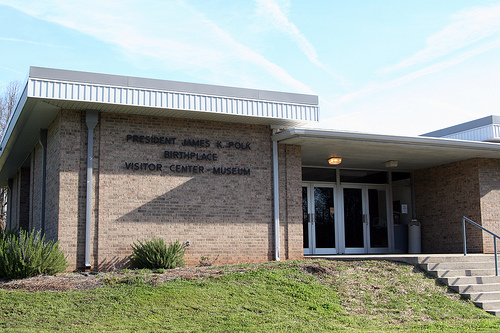 In addition to touring the main home, guests may visit the adjacent ca. 1820 Sisters' House where two of the President's married sisters lived at different times. The Sisters' House offers a 12-minute orientation video, a museum room, temporary exhibits, and a shop. The museum features some of the most unique and significant artifacts from the site's collections including daguerreotypes of President and Mrs. Polk, White House gifts and mementos, campaign memorabilia from the Election of 1844, and Sarah Polk's Inaugural fan with miniature portraits of the first eleven Presidents.
The Polk home's detached kitchen building was reconstructed in 1946 on the original foundation. Visitor=s to the kitchen may see period cooking implements and household accessories, and demonstrations of early 19th century crafts and chores are presented here from time-to-time.
Although James K. Polk's final residence - a mansion in downtown Nashville - was torn down in 1900, a cast iron fountain from the property has been preserved and is displayed in the Polk home's courtyard. The site's landscaped grounds feature a formal boxwood garden, a white azalea garden, and a wildflower garden.
Quick Biographical Facts
JAMES KNOX POLK
11th President
Term- March 4, 1845 to March 4, 1849
Democratic Party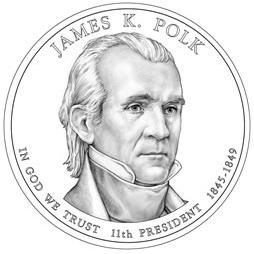 Birth: Pineville, Mecklenburg County, North Carolina, November 2, 1795.
Ancestry: Scotch-Irish
Marriage: Murfreesboro, Tennessee, January 1, 1824 to Sarah Childress, who was born in Murfreesboro, Tennessee, September 4, 1803. Sarah died in Nashville, Tennessee, August 14, 1891 and is buried at Capital Hill, Nashville, Tennessee.
Children: None
Home: "Polk Place," Columbia, Tennessee.
Education: Private school; received B.A. from the University of North Carolina.
Religion: Presbyterian
Occupation before Presidency: Lawyer
Pre-Presidential Offices: Member of Tennessee Legislature; U.S. Representative; Speaker of the House of Representatives; Governor of Tennessee.
Age at Inauguration: 49
Polk Administration: Vice President: George M. Dallas of Pennsylvania, Inauguration March 4, 1845, The Capitol, Washington, D.C.
Occupation after Presidency: Retired
Death: Nashville, Tennessee, June 15, 1849
Cause of Death: Cholera at age 53.
Place of Burial: State Capital Grounds, Nashville, Tennessee.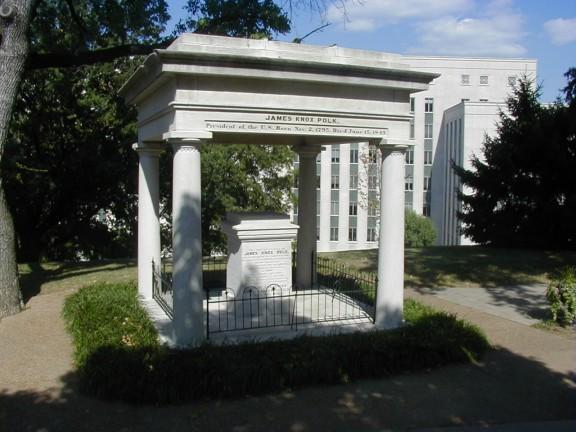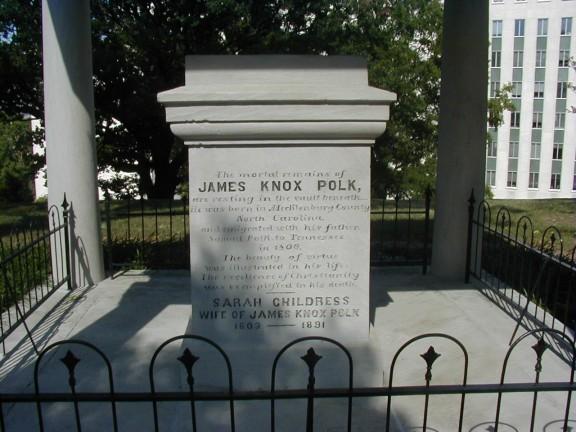 Interesting Facts:
The promise of easy riches brought thousands to California in the gold rush of 1842. In 1846, "Polk's war" won the territory from Mexico. Polk was cold, forbidding, and generally unpopular, however; his support for manifest destiny, the idea that gaining western lands was noble and right, resulted in the greatest territorial expansion in America's history.
Just as Andrew Jackson's toughness earned him the nickname "Old Hickory," Polk's support of Jackson was so strong that he was nicknamed "Young Hickory," and won Jackson's old seat in Congress eight times.
27th star added to the flag for Florida, July 4, 1845
United States Naval Academy opened at Annapolis, Maryland, October 10, 1845
Texas becomes the 28th state, December 29, 1845
Uniform election day established, January 23, 1846
War declared against Mexico, May 13, 1846
First known baseball game played under rules established by Alexander Cartwright, at Elysian Fields, Hoboken, New Jersey, June 19, 1846
Treaty concluded with Great Britain establishing the Oregon boundary at the 49th parallel, June 15, 1846
Independent Treasury Act approved August 6, 1846
Smithsonian Institute created August 6, 1846
Elias Howe patents the sewing machine, September 10, 1846
Rotary printing press invented 1845-1846
Treaty signed with New Grenada (Colombia) granting U.S. right of way across Isthmus of Panama, December 12, 1846
Iowa becomes the 29th state, December 28, 1846
Postage stamp authorized by Act of Congress, March 3, 1847
Congress provided for gas lighting of the Capitol and grounds, March 3, 1847
An advance party of Mormons entered the valley of the Great Salt Lake, July 22, 1847
Gold discovered in California, January 24, 1848
Treaty signed with Mexico, February 2, 1848
Wisconsin becomes the 30th state, May 29, 1848
Cornerstone of the Washington Monument laid, July 4, 1848
First Women's Rights Convention held at Seneca Falls, New York, July 19, 1848
Territorial government of Oregon established, August 14, 1848
Department of the Interior created March 3, 1849
Coinage of the gold dollar and double eagle ($20), March 3, 1849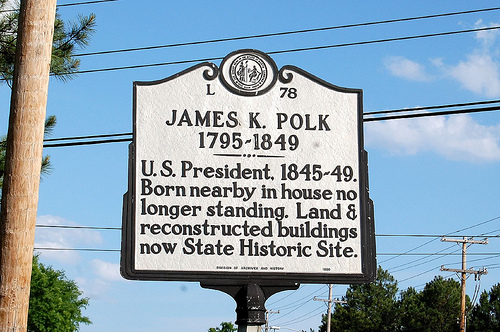 Copyright © 1992-2022 by John T. Marck. Grateful appreciation and informational assistance in part from The Polk Ancestral Home, Columbia, Tennessee. Additional information from "Homes and Libraries of the Presidents," by William G. Clotworthy, The McDonald & Woodward Publishing Company, Blacksburg, Virginia, 1995 and "The Presidents of the United States," by John T. Marck.