Martin Van Buren and "Lindenwald"
By John T. Marck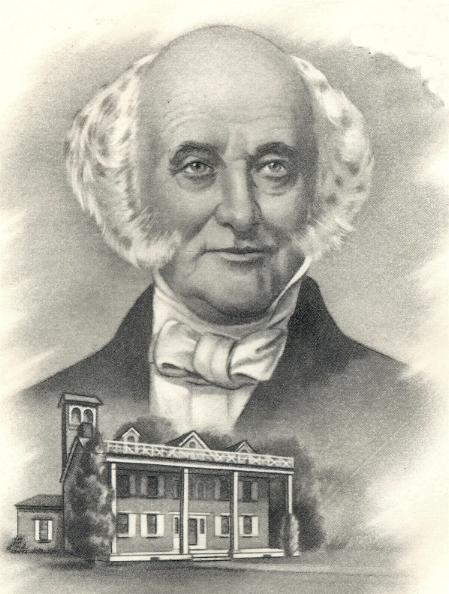 Martin Van Buren was born in the small Dutch village of Kinderhook, New York on December 5, 1782, the third of five children and the son of Abraham and Maria Hoes Van Buren.
After attending the local village school, Van Buren showed a desire to become a lawyer, while still at a very young age. At 14, he became the office boy at a local firm, where he was given law instruction by Francis Sylvester. In 1799, at 17, he borrowed forty dollars and went to New York City. Here he became a clerk in a law office, completed his studies and was admitted to the bar in 1803.
Van Buren, slight and dapper in appearance, was doting of stylish dress, the good social life, and fine carriages. He rode to his inauguration in a handsome phaeton that had been constructed of wood from the frigate Old Ironsides. Friends nicknamed Van Buren, "The Little Magician," as he was an astute lawyer and clever politician, earning him this title.
At the age of twenty, Van Buren attended a political convention that moved him quickly into the political arena. Five years later in 1807 he was the county surrogate, a state senator in 1812, and the New York Attorney General in 1816. In 1821, he finally won election to the U.S. Senate, where he plunged into the hottest issues of the day, leading a fight to abolish debtor's prison and succeeded in getting a law passed in 1828. Another of his issues was that he was outspoken against slavery.
Van Buren next served as Governor of New York, being elected in 1828. During this time, he supported Andrew Jackson for the presidency, and Jackson rewarded this support by making him his secretary of state, whereas he only served as Governor a few weeks. Jackson's continued loyalty to Van Buren was apparent when he appointed him minister to Great Britain, but the Senate failed to confirm the appointment by one vote. Regardless, Jackson chose Van Buren as his vice-president in 1832, and carried his running mate into victory.
Van Buren in return for Jackson's loyalty supported his unpopular policies toward the Bank of the United States. This enraged many people, and Van Buren's life was threatened, so he carried loaded pistols with him everywhere, including the Senate chamber. Meanwhile, Jackson made it clear that he wanted Van Buren to be his successor. With Jackson's support, Van Buren won the 1836 election for the presidency.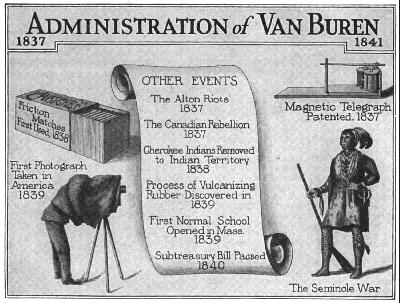 Upon Van Buren taking the oath of office, he gave a speech that was filled with optimism. The country has just witnessed Samuel Morse's invention of the telegraph, and General Sam Houston had avenged the Alamo by defeating Santa Anna at the Battle of San Jacinto River. With western expansion on the rise, a deep financial depression began only 36 days into his administration. Most of the banks in the country closed their doors while hundreds of others failed. This problem was due largely by Jackson's policies that Van Buren supported and continued. Consequently, Van Buren's popularity began to fall, as a result of the financial depression, problems with slavery, his opposition to the annexation of Texas, all of which were contributing factors. This resulted in a political backsliding that was apparent in 1840 upon his re-nomination, and subsequent loss to William Henry Harrison.
Upon losing the election, Van Buren returned to his estate in Kinderhook, New York, known as Lindenwald. For about 20 years, Van Buren stayed active in politics and in 1848 The Free Soil Party nominated him for President, but he was defeated. Van Buren remained a strong antislavery supporter, but as a loyal Democrat he opposed Abraham Lincoln in 1860, but did throw his support to Lincoln following the election.
In spite of a troublesome term as President, he never lost his complete and total optimism for America and its future, saying, "America will present to every friend of mankind the cheering proof that a popular government, wisely formed, is wanting in no element of endurance or strength."
Lindenwald
Located just south of the small town of Kinderhook, New York, on land that once belonged to his ancestors, stood a dwelling house that Van Buren believed would make a fine home for him in his retirement. The large, two-story red brick house had been built by Peter Van Ness, a wealthy judge, using local materials. The Federalist style mansion followed a simple square plan, which emphasized a Palladian window that illuminated the second floor. This Georgian style carried inside of the mansion as well, with finely carved cornices that edge the ceilings, and a silver-plated doorknocker at the entrance that was inscribed "1797," the year the house was completed.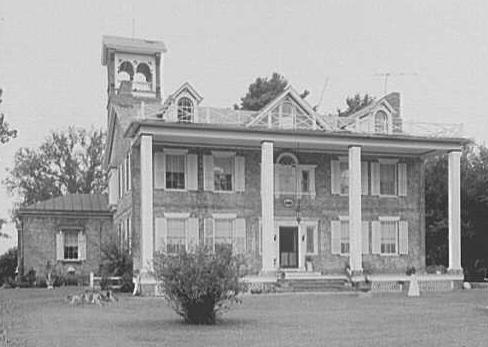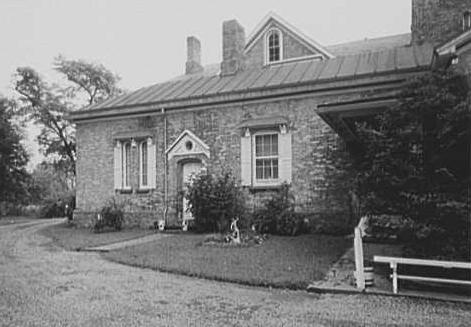 This house formerly belonged to Van Buren's lifelong friend, William Van Ness, who inherited it from his father Peter, but lost it to creditors in 1824. In 1839, although the house and grounds had been neglected, and Van Buren took pride in elegant surroundings, regardless of this, paid William Paulding $14,000 for the estate. Before moving in, Van Buren was anxious to begin what he phrased as "improvements," to the house and especially the grounds, turning them into a working farm in accordance with his heritage. Within a short time, Lindenwald, a Dutch name meaning "Grove of Linden Trees," so named for those that surrounded the estate, began to take shape. By 1845, Van Buren could proudly gaze out upon his more than 220 acres of cropland, formal flower gardens, ornamental fishponds, wooden paths and his many outbuildings.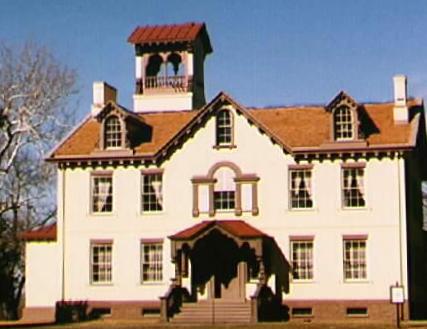 Linderwald today
Although Van Buren was mostly concerned with maintaining the grounds, he did also enjoy making improvements to the mansion house. The most elaborate modification he made involved removing the central stairway in the entrance hall to create large rooms on both floors. Then using 51 colored wallpaper panels from France, a mural-like hunting scene was made in the downstairs hall. In other areas Van Buren placed fine furniture and Brussels carpets and hung portraits of some of his personal friends such as Thomas Jefferson, Henry Clay and Andrew Jackson.
Because Van Buren's son, Smith, agreed to move in and help manage the estate, his father gave him license to make modifications to accommodate his growing family. Smith went to Richard Upton, whom his father called the "great Architectural oracle," and with his help, a new plan called for kitchen ranges, running water, a furnace, and many additional rooms. Other decorative features were added, such as a four-story brick tower, a central gable, attic dormers and what has been described as the "most beautiful porch as you ever laid your eyes upon." The final touch was the mansion house painted yellow. Van Buren said that, "the idea of seeing in life, the changes that my heir would be sure to make after I am gone, amuses me."
Martin Van Buren died on July 22, 1862 at the age of 79 of bronchial asthma. Over the next century, Lindenwald changed hands many times, serving as a private residence, a teahouse, a nursing home, and an antiques shop. The property became part of the National Park Service in 1976, which restored it to the charm it possessed when it was owned by "The Red Fox of Kinderhook," Martin Van Buren.
Van Buren is buried in Kinderhook Dutch Reformed Church Cemetery along with his wife Hannah, his parents, and his son Martin, Jr. The cemetery dates from 1817 and is located on Albany Avenue. Van Buren would have been pleased to know that 81 carriages, including that of the Governor of New York, followed his hearse to the cemetery. Each December 5th, the day of Van Buren's birth, a ceremony is held here in his honor.
Quick Biographical Facts
MARTIN VAN BUREN
8th President
Term- March 4, 1837 to March 4, 1841
Democratic Party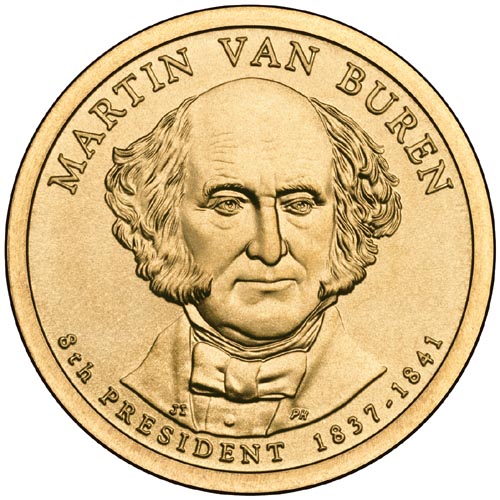 Birth: Kinderhook, New York, December 5, 1782.
Ancestry: Dutch
Marriage: Catskill, New York, February 21, 1807 to Hannah Hoes (below) who was born in Kinderhook, New York, March 8, 1783. Hannah died in Albany, New York, February 5, 1819, and is buried in Kinderhook Cemetery, Kinderhook, New York.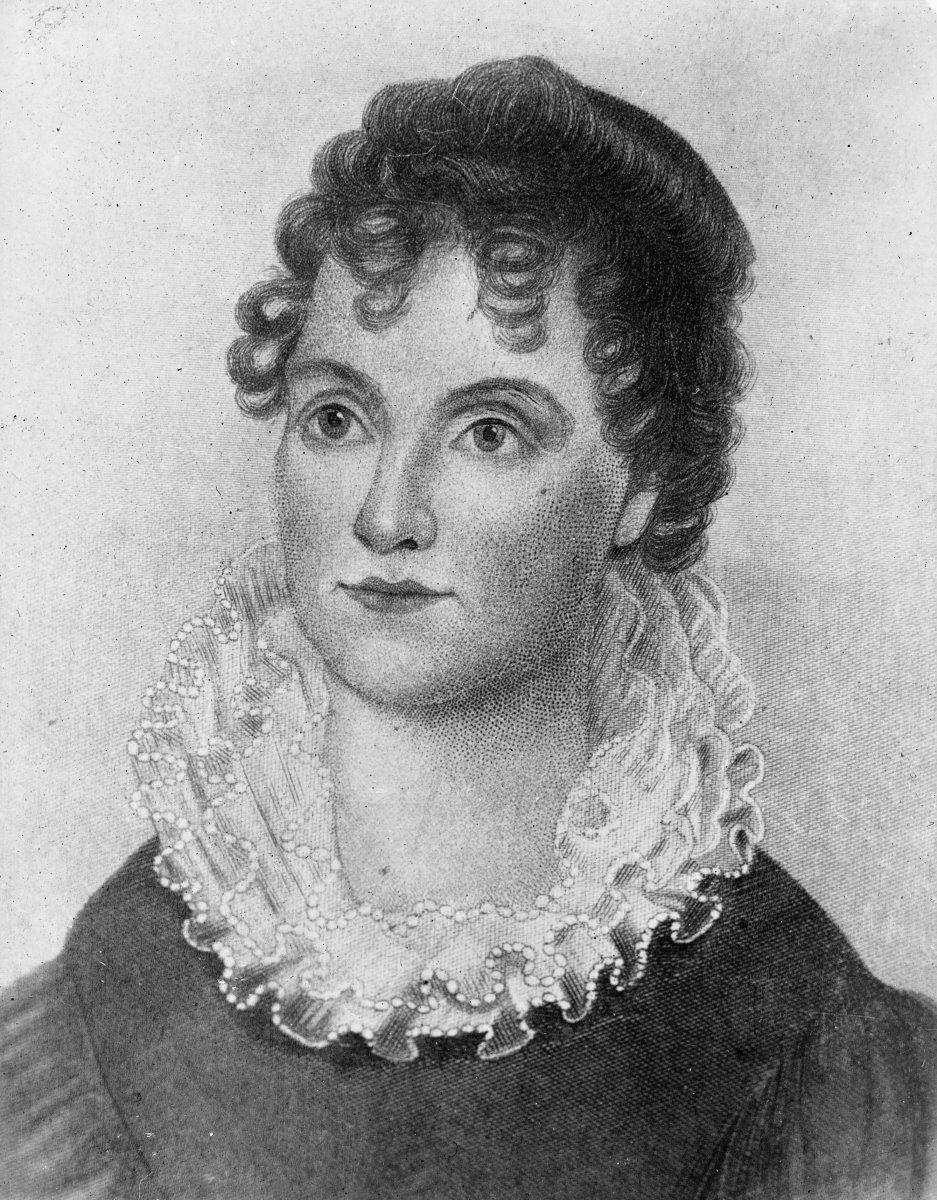 Children: Abraham (1807-1873); John (1810-1866); Martin, Jr. (1812-1855); Smith Thompson (1817-1876).
Home: "Lindenwald", Kinderhook, New York.
Education: Village schools and studied in law office.
Religion: Dutch Reformed
Occupation before Presidency: Lawyer, politician.
Pre-Presidential Offices: Surrogate of Columbia County, New York; New York State Senator; Attorney General of New York; Delegate to Third New York State Constitutional Convention; U.S. Senator; Governor of New York; Secretary of State; Vice-President.
Political Party: Democratic during Presidency; Free Soil from 1848.
Van Buren Administration: Vice-President: Richard M. Johnson of Kentucky, Inauguration March 4, 1837, The Capital, Washington D.C.
Occupation after Presidency: Politician
Death: Kinderhook, New York, July 24, 1862
Cause of Death: Asthma at age 79.
Place of Burial: Kinderhook Cemetery, Kinderhook, New York.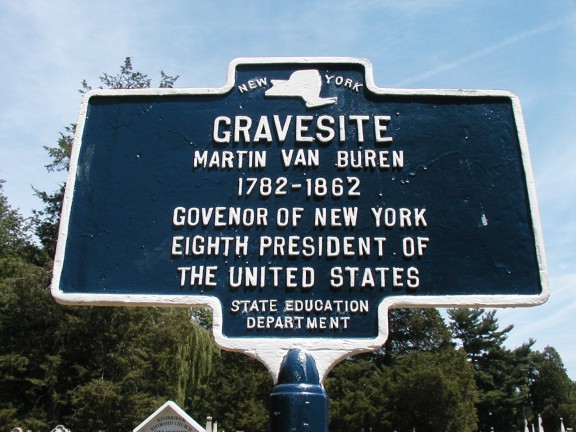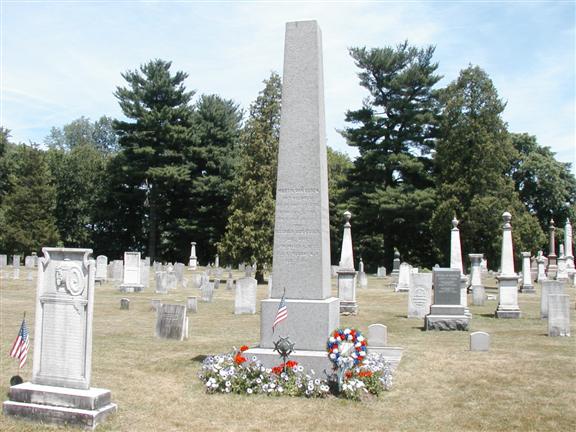 Interesting Facts:
Van Buren was the first President to be born as a citizen of the United States, and the first Governor of New York to seek the Presidency.

Van Buren was such a good politician that he was called "The Little Magician." During his Presidency, Samuel Morse developed the Morse code, and used it to send messages over the first electric telegraph line.

He was the only President of Dutch Ancestry and he and his wife spoke Dutch at home.

He conceived the idea of, and forced the creation of, the Erie Canal in New York.

Van Buren took his $100,000 salary as President of the United States over four years, in a lump sum payment at the end of his term.

The term " O.K. " was popularized because of Van Buren. Van Buren was from Kinderhook, New York, sometimes referred to as Old Kinderhook in speeches and print." O.K. " clubs soon formed to support Van Buren's campaign for the presidency and " OK " came to mean all right.

He defeated Henry Clay in the presidential elections by a vote of 762,678 to 530,189.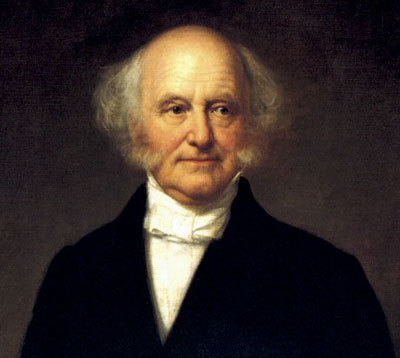 Copyright © 1992-2022 by John T. Marck. Grateful appreciation and informational assistance from "Lindenwald" National Historic Site. Additional information from "Atlas Of the Presidents" by Donald E. Cooke, Hammond Incorporated, 1964, 1967 1971; and "Homes And Libraries of the Presidents" by William G. Clotworthy, 1994 The McDonald & Woodward Publishing Company, Blacksburg, Virginia; and "The Presidents of the United States" by John T. Marck.