Home

Famous and Fascinating Women in History
The World's Greatest Composers
Generals and other Noteworthy People from the Civil War
The Presidents of the United States
The First Ladies of the United States
Homes and Monuments of and to Famous People
Historical People and Events by Month for Each Day of the Year!
Famous Figures in Black History
The Calvert Family and the Lords Baltimore
Understanding the American Revolution and its People
Thomas Jefferson and Monticello
By John T. Marck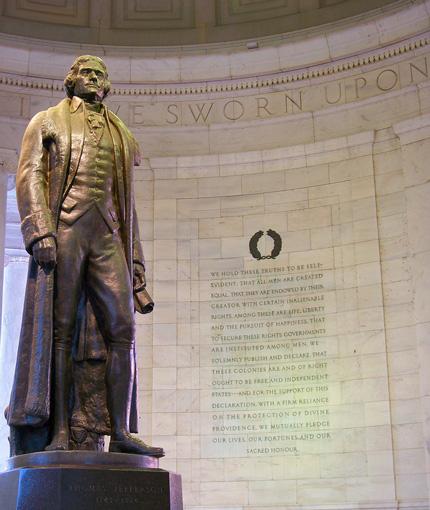 Thomas Jefferson once wrote, "All my wishes end where I hope my days will end, at Monticello."
Monticello, in Charlottesville, Virginia was Thomas Jefferson's home for the remaining fifty‑six years of his life. He spent forty years designing it; building it, tearing it apart, redesigning it, and finally putting it all back together. He loved the house and its' property, and knew the name of every tree planted on its grounds. And, if one of his trees died, he knew it. He used his own kilns to bake the more than half‑million bricks he used in the various stages of its construction.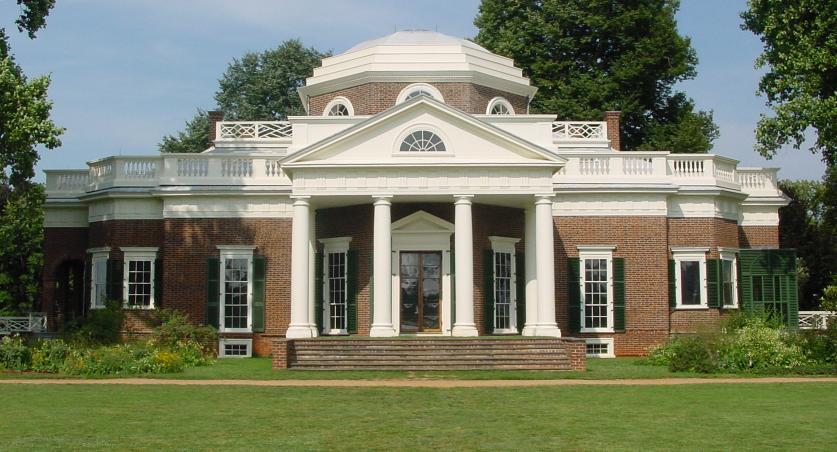 While serving as Minister to France, he filled almost a hundred crates with furniture and various works of art for the many rooms at Monticello. While in France he would collect fruit trees and bring them with him on the long boat trip home.
When Mr. Jefferson was President of the United States, he would long for his home at Monticello. Whenever possible he would make the long four day trip there from Washington.
After his death, practically everything at Monticello was sold at auction. However, to celebrate his 250th birthday, this past April, the Thomas Jefferson Memorial Foundation has done a fantastic job in assembling various paintings, furniture, Natural History specimens, and scientific instruments he originally collected. Additionally, the Thomas Jefferson Memorial Foundation has, for the past eighty years, done a magnificent job of restoring the house and its grounds. It is truly a sight to see.
In the Foundations efforts to collect his original property, they have amassed more than one hundred‑fifty items, collections from museums, universities, private homes and Historical Societies. These original items are on display at Monticello in a special exhibition titled, "The Worlds of Thomas Jefferson at Monticello."
Some of the many items included in this special exhibition are a collection of Native American artifacts presented to Thomas Jefferson by Lewis & Clark; a buffalo robe; his famous astronomical clock that he built because his old less‑accurate clocks caused him to miss the eclipse of 1811. Also, included are his original dining room tables; a three‑inch bell that Thomas Jefferson's wife, Martha, gave to her nine‑year‑old slave girl, Sally Hemings; and more than thirty original paintings. The floor of the entrance hall has been repainted the grass‑green that it originally was, and the walls of the family sitting room have been returned to its original indigo. These efforts to return Monticello to its original state will provide visitors an almost exact feeling as if Thomas Jefferson lived there today.
Thomas Jefferson picked out the site for such a house as he had planned from his father's estate when he was twenty‑one‑years old. He named it "Monticello" which is Italian for "Little Mountain."
Monticello was intended to be fashioned as a traditional Palladian building, but its location was not practical. It had been said that building a house on a mountain was most impractical. As a result of it's impractically, Jefferson paid dearly in his efforts. He had to transport tons of stone and timber. Once the original structure was up, there was not enough water in the well to meet the needs. He then had to transport water-using carts from the nearby springs.
Life was uncomfortable and difficult in the early years of construction, especially for his wife, Martha, who had to live in a house that in her lifetime was never finished. She had to tolerate unfinished walls & roof, being subjected to severe cold winds, brick and plaster dust, all the while bearing six children in ten years, having lost four of them, until her death in 1782 at the early age of thirty‑three.
Throughout the many discomforts and hardships experienced at Monticello, Thomas Jefferson felt there was a brighter side, in that nothing like Monticello had ever been built in Colonial America.
Thomas Jefferson was an extraordinary man. In his fifty‑six years at Monticello it seems he always kept himself quite busy. He designed and invented many things. He would start his day at first light, reportedly when he could read the hands of the obelisk clock that he designed. This clock was marked by clangs from a Chinese gong placed on the roof. The gong was powered by the clock located in the entrance hall. The mechanism was controlled by fifty-pound cannonball weights that would descend slowly throughout the week, falling through holes in the floor by Friday, spending the next two days falling further into the cellar.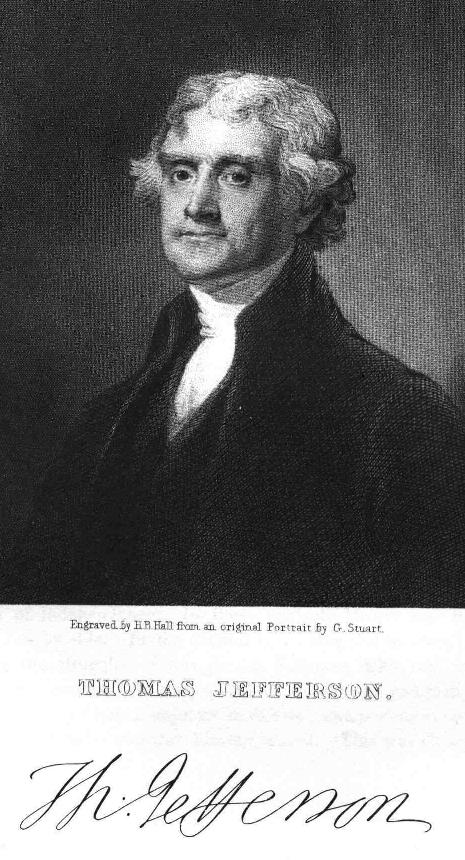 Some of his other inventions include a dumbwaiter; a polygraph machine that enabled him to make exact copies of letters as he was writing them; Venetian blinds he used to regulate sunlight in his greenhouses; a moldboard for a plow; and his achromatic telescope.
When he was not busy building, designing or inventing, Thomas Jefferson spent many hours writing one of his more than 20,000 letters, or reading from one of his more than seven thousand books in his library. His library contained books in seven languages, two of which were Latin and Greek, languages he had mastered. When he worked at his desk, he would have no less than twenty books at a time in which to refer.
Thomas Jefferson spent over forty years in public service. He was a Delegate to the Virginia House of Burgesses (1769‑1793); and the Continental Congress (1775); Governor of Virginia (1797‑1801); Minister to France (1785‑1789); Washington's Secretary of State (1789‑1793); John Adam's vice‑president (1797‑1801); and President of the United States (1801‑1809).
Monticello through all its greatness also had an economic flaw. Although Thomas Jefferson could feed and clothe its inhabitants, it did not produce enough cash crops to pay for the country‑gentleman lifestyle so accustomed to Jefferson. As a result it was worked by the most oppressive of labor systems, human slavery. Jefferson did however deplore human slavery and was optimistic that it would one day be abolished. He knew though that the only way to run a plantation of this size was through the use of slaves. He did manage to free a few of his slaves, but by the time of his death the remaining slaves as well as the remainder of his property were offered for sale to pay his debts.
Throughout his lifetime Thomas Jefferson is remembered for his wit, his designs and inventions, his writings, and his public service. But let us not forget that it was he who wrote the Declaration of Independence and also as President of the United States signed the authorization for the Louisiana Purchase, thus acquiring for the United States what is now the present states of Louisiana, Arkansas, Missouri, Iowa, Minnesota, North and South Dakota, Nebraska, Kansas, Oklahoma, Wyoming and Montana. This was perhaps the most endearing service to his country.
I have had the privilege to visit Monticello on two separate occasions. It is an experience one would never forget. I recommend a visit to all.
Thomas Jefferson: Born April 13th, 1743. Thomas Jefferson wrote in his account book in 1826 the inscriptions to be cut on his tombstone. He made no note that he had been President of the United States, but wished simply to be most remembered for founding the University of Virginia, for writing the Declaration of Independence and Virginia's Act for Religious Freedom. The last line was to read: Died July 4, 1826.
It was only fitting that Thomas Jefferson died at Monticello, the place he loved to live.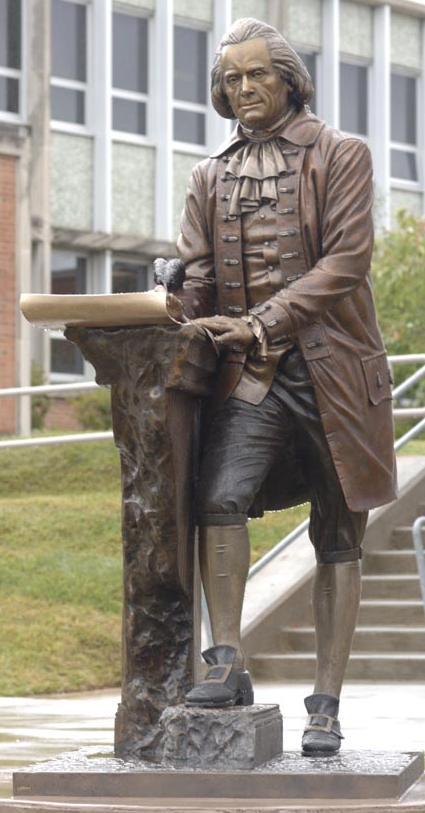 Statue of Thomas Jefferson at the University of Virginia at Wise
Quick Biographical Facts
THOMAS JEFFERSON
3rd President of the United States
Term‑March 4, 1801 to March 4, 1809
Democratic‑Republican Party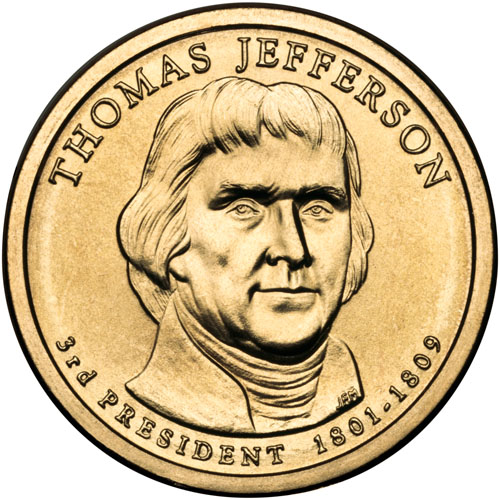 Birth: "Shadwell", Goochland (now Albemarle) County, Virginia, April 13, 1743.
Ancestry: Welsh
Marriage:
"The Forest" Charles City, County, Virginia January 1, 1772 to Martha Wayles Skelton who was born in Charles City, County, Virginia October 19, 1748. Martha died on September 6, 1782 at "Monticello", Virginia and is buried there.
Children:
Martha (1772‑1836); Maria (1778‑1804); Lucy Elizabeth (1782‑1785). (Two daughters and a son died in infancy).
Home: "Monticello", Charlottesville, Virginia.
Education:
Private Tutoring; Attended country school in Albemarle County, Virginia; Received B.A. from College of William and Mary.
Religion: No specific denomination.
Occupation before Presidency: Planter, lawyer, writer, philosopher, scientist, architect.
Pre‑Presidential Offices:
Member of Virginia House of Burgesses; County Lieutenant; County Surveyor; Deputy Delegate to Second Continental Congress; Member of Virginia House of Delegates; Governor of Virginia; Commissioner to France; Minister to France; Secretary of State; Vice‑President.
Age at Inauguration: 57
First Administration:
Vice‑President: Aaron Burr of New York. Inauguration March 4, 1801, Senate Chambers, Washington D.C.
Second Administration:
Vice‑President: George Clinton of New York. Inauguration March 4, 1805, Senate Chamber, Washington, D.C.
Occupation after Presidency: Planter, writer, educator.
Death: "Monticello", Charlottesville, Virginia, July 4, 1826.
Cause of Death: Diarrhea, age 83.
Place of Burial: "Monticello", Charlottesville, Virginia.
Fascinating Facts:
· Jefferson wrote the Declaration of Independence and Virginia's Act for Religious Freedom.
· He designed and invented clocks, a dumbwaiter, a polygraph machine, Venetian blinds, a moldboard for a plow and his achromatic telescope.
· Although the third President of the U.S., Jefferson was the first man to hold the cabinet position of Secretary of State.
· In December 1795, Jefferson planted 1,151 peach trees at his Monticello estate.
· When Jefferson became President, the population of the U.S. was 5.3 million.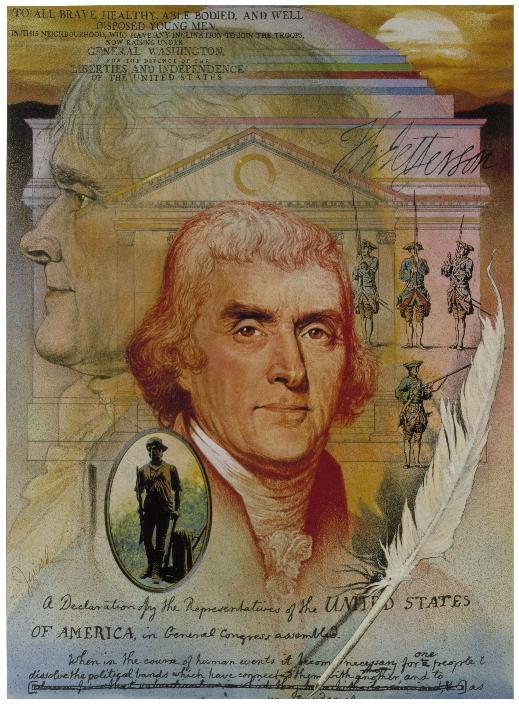 Thomas Jefferson Poster from the Virginia National Guard
Copyright © by John T. Marck. All Rights Reserved. This article may not be resold, reprinted, or redistributed for compensation of any kind without prior written permission from the author. Information also from "The Presidents of the United States," by John T. Marck, and "The First Ladies of the United States," by John T. Marck.
A Splendid Time Is Guaranteed For All