George Washington was a brilliant man, and it was at Mount Vernon that he made his home for more than 45 years. Equal in many respects to Monticello, and after the White House, it is the most visited home in America, being seen by more than one million each year. It is here at Mount Vernon that visitors find the essence of the man we know as the "Father of His Country."
At Mount Vernon Washington made his life with Martha, and her children, where he would go after returning from war, retiring from public life, and where he practiced farming methods, all the while leaving an indelible mark of his wonderful personality, humor, private interests and desires.
In 1793 George Washington was asked to describe Mount Vernon, and he did so, perfectly, in a letter to an English correspondent. He wrote, "No estate in United America is more pleasantly situated than this. It lies in a high, dry and healthy Country 300 miles by water from the sea, on one of the finest rivers in the world. It is situated in a latitude between the extremes of heat and cold, and is the same distance by land and water, with good roads and the best navigation to and from the Federal City, Alexandria and Georgetown; distant from the first twelve, from the second nine, and from the last sixteen miles."
Originally granted to Washington's great-grandfather John Washington in 1674, the estate was then known as Little Hunting Creel Plantation. In time it passed to George's older half-brother, Lawrence, who renamed the plantation Mount Vernon, after his commanding officer in the British navy, Admiral Edward Vernon. The mansion went through several owners in Washington's family. Following the death of John, it passed to Augustine Washington, George's father, who acquired it from his sister, Mildred. In 1732, George was born, the first child of Augustine and Mary (Ball) Washington, at the family house on the Potomac in Westmoreland County, Virginia.
Between the years 1735 and 1739, Augustine moved to Mount Vernon with his family. In 1743, Augustine died, and Mount Vernon went to Lawrence, the half-brother of George, who settled there. In 1752, Lawrence died, and ownership passed to Lawrence's wife. Two years later, George acquired Mount Vernon by lease from Lawrence's widow.
In 1759, George married Martha Dandridge Custis, the widow of Daniel Parke Custis, and they settled at Mount Vernon together with her two young children, John Parke and Martha Parke Custis.
Upon Lawrence's widow's death in 1761, the property passed to George Washington. Over many years, Washington enlarged the mansion and increased the land from it's 2,000 to 8,000 acres, consisting of five working farms. It was Washington that designed the many outbuildings and designed a landscape that is as functional as it is beautiful.
In 1761 upon Washington inheriting Mount Vernon, it comprised four rooms and a central passage on the first floor and three bedrooms on the second. The very long and painstaking process of enlarging the house in the years before his marriage consisted of raising the Mansion from its original one and one-half stories to two and one-half, and in doing so, extensively redecorated the interior.
Other improvements that began just before the start of the Revolutionary War consisted of the north and south wings. The last room of the house, the large dining room, was not completed until after the war's end.
The mansion house is constructed of pine, with an added exterior decorative treatment that gives the appearance of stone. Washington designed the stunning two‑story piazza overlooking the Potomac River and the Maryland shoreline, and it was here that family and guests would gather in warm weather and enjoy the breeze off the river. He also added the cupola and, after the war, the beautiful "dove of peace" weathervane.
In an effort to create the basis of a country gentleman, Washington also rebuilt the outbuildings, lanes and gardens. The grounds around the Mansion reflect both his practical and aesthetic sides. From the north to the south are situated the dependencies where the work of the plantation took place. Along the east‑west axis are the gardens and pleasure grounds where Washington, his family, and guests enjoyed leisurely strolls along the serpentine walkways, formal gardens and hanging woods. The work area, although located almost adjacent to the home, was designed so as not to intrude upon the scenic beauty of sweeping lawns.
Today the home has been restored to its appearance in 1799, the last year of George Washington's life. Its tranquil beauty and elegant, yet functional settings reflect the character of the man who was instrumental in establishing independence for a new nation and for guiding that evolving country through the first turbulent years of union. Everyone should visit and explore his home and discover the remarkable man who will perhaps forever be known as first "in war, first in peace and first in the hearts of his countrymen."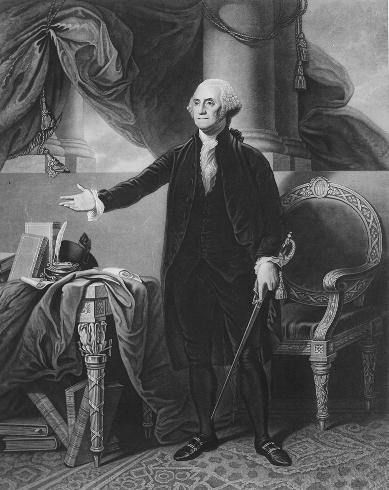 Quick Biographical Facts:
GEORGE WASHINGTON
1st President
Term- April 30, 1789 to March 4, 1797
Federalist Party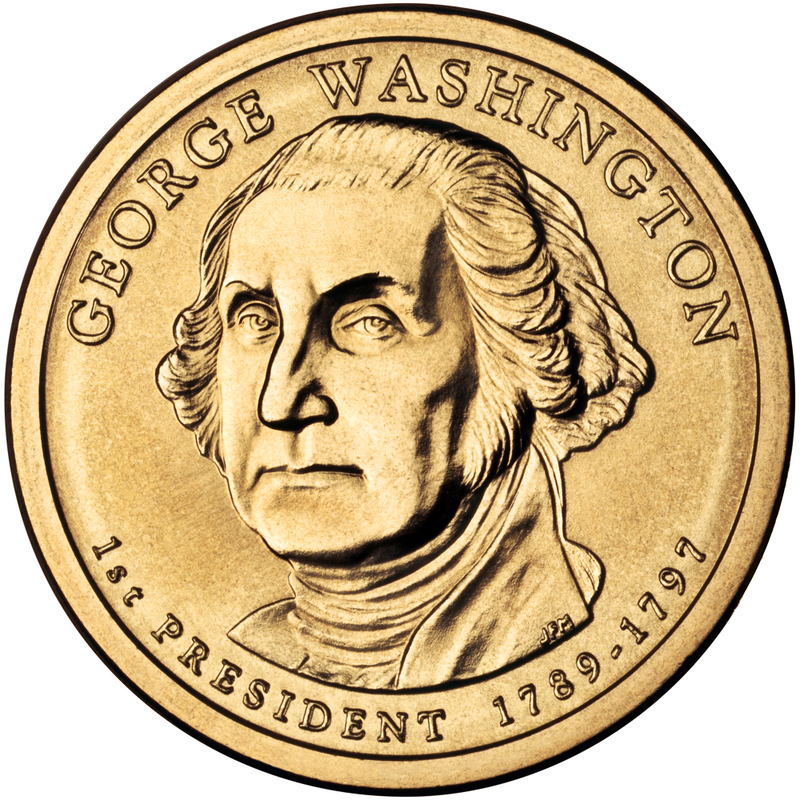 Birth: Pope's Creek (Wakefield) Westmoreland County, Virginia, February 22, 1732.
Ancestry: English
Marriage:
Kent County, Virginia, January 6, 1759 to Martha Dandridge Custis, who was born in New Kent County, Virginia, June 21, 1731. Martha died at Mount Vernon, Virginia, May 22, 1802, and is buried at Mount Vernon, Virginia.
Children: None (adopted two children from his wife's first marriage)
Home: Mount Vernon, Virginia
Education: Private Tutoring by family.
Religion: Episcopalian
Occupation before Presidency: Surveyor, soldier, planter.
Military Service: Virginia Militia (1752-1758); Commander-in-Chief of Continental Army 1775-1783).
Pre-Presidential Offices:
Member of Virginia House of Burgesses Justice of Fairfax County, Delegate to First and Second Continental Congresses, President of Constitutional Convention.
Age at Inauguration: 57
First Administration:
Vice‑President: John Adams, Inauguration April 30, 1789, Federal Hall, New York, New York.
Second Administration:
Vice‑President: John Adams, Inauguration March 4, 1793, Federal Hall, Philadelphia, Pennsylvania.
Occupation after Presidency: Planter and General of the Army
Death: Mount Vernon, Virginia, December 14, 1799
Cause of Death: Pneumonia at age 67
Place of Burial: Mount Vernon, Virginia
Interesting Facts:
A famous story relates how Washington, as a boy, admitted chopping down his father's cherry tree, with the words "Father, I cannot tell a lie." The tale was probably invented to show the great man's love of the truth.

Washington gave the shortest inaugural address of all the Presidents, speaking only one hundred thirty-five words at his second inaugural.

George Washington maintained five separate farms at his Mount Vernon Estate.

Of the many statues of Washington, the only one rendered from life is that which stands in the Rotunda of the Capitol in Richmond, Virginia.

On April 30, 1789, George Washington, stood on the balcony of Federal Hall in New York and took his oath of office as the first President of the United States. Washington wrote to James Madison, "As the first of every thing, in our situation will serve to establish a Precedent, it is devoutly wished on my part, that these precedents may be fixed on true principles."

Washington pursued two intertwined interests: military arts and western expansion. At the age of 16 he helped survey Shenandoah lands for Thomas, Lord Fairfax. In 1754 he was commissioned a lieutenant colonel, and fought the first skirmishes of what would become the French and Indian War. In 1755, as an aide to General Edward Braddock, he escaped injury when four bullets ripped through his coat and two horses were shot from under him.

From 1759 to the outbreak of the American Revolution, Washington managed his lands around Mount Vernon and served in the Virginia House of Burgesses.

In May 1775 when the Second Continental Congress assembled in Philadelphia, Washington, as one of the Virginia delegates, was elected Commander-in-Chief of the Continental Army. On July 3, 1775, at Cambridge, Massachusetts, he took command of his ill-trained troops and embarked upon a war that was to last six terrible years.

Washington soon realized that the best scheme was to harass the British, and reported to Congress, "we should on all Occasions avoid a general Action, or put anything to the Risque, unless compelled by a necessity, into which we ought never to be drawn."

In 1781 with the aid of French allies, Washington forced the surrender of Cornwallis at Yorktown.

After the war, Washington yearned to retire to his fields at Mount Vernon. But he soon realized that the Nation under its Articles of Confederation was not functioning well, so he became a prime mover in the steps leading to the Constitutional Convention at Philadelphia in 1787. When the new Constitution was ratified, the Electoral College unanimously elected Washington President.

Washington unfortunately only enjoyed less than three years of retirement at Mount Vernon, contracting a throat infection, which led to his death December 14, 1799.
Washington and His Teeth
One of the most widely accepted rumors is that which people say about his teeth, or shall we say, lack of. Contrary to popular myth, his dentures were not made of wood. Washington's natural politeness served him well when dealing with his painful false teeth. It was said by John Adams that Washington attributed the misfortune of his toothlessness to "cracking of walnuts in his youth.@
In 1797, Washington wrote the following letter to his dentist, Dr. John Greenwood:
@Sir: I must again resort to you for assistance‑‑The teeth herewith enclosed have, by degrees, worked loose; and, at length, two or three of them have given away altogether‑‑I would thank you for returning them as soon as possible for although I now make use of another set, they are both uneasy in the mouth and bulge my lips out in such a manner as to make them appear considerably swelled . . . Send with the teeth, springs about a foot in length, but not cut; and about double that length of a tough gold wire, the size you see with the teeth, for fastening the springs‑‑Accompany the whole with your account, and the amount shall be immediately sent by post in a bank note.
I am Sir
Your very Hble Servant."
Washington's Rules of Civility
In keeping with Washington's outstanding manners and writings, is his work titled, "George Washington's Rules of Civility & Decent Behaviour in Company and Conversation," Washington wrote this wonderful collection as a school project, before he reached his 16th birthday. This charming collection consists of 110 Rules. Here I offer you the first ten, written exactly as Washington wrote them:
1. Every Action done in Company, ought to be with Some Sign of Respect, to those that are Present.
2. When in Company, put not your Hands to any Part of the Body, not usually Discovered.
3. Shew Nothing to your Friend that may affright him.
4. In the Presence of Others Sing not to yourself with a humming Noise, nor Drum with your Fingers or Feet.
5. If you Cough, Sneeze, Sigh, or Yawn, do it not Loud but Privately; and Speak not in your Yawning,
but put Your Handkerchief or and before your face and turn aside.
6. Sleep not when others Speak, Sit not when others stand, Speak not when you Should hold your Peace, walk not when
others Stop.
7. Put not off your Cloths in the presence of Others, nor go out your Chamber half drest.
8. At Play and at Fire its Good manners to Give Place to the last Commer; and affect not to Speak Louder than Ordinary.
9. Spit not in the Fire, nor Stoop low before it, neither Put your Hands into the Flames to warm them, nor Set your Feet
upon the Fire especially if there be meat before it.
10. When you Sit down, Keep your Feet firm and Even, without putting one on the other or Crossing them.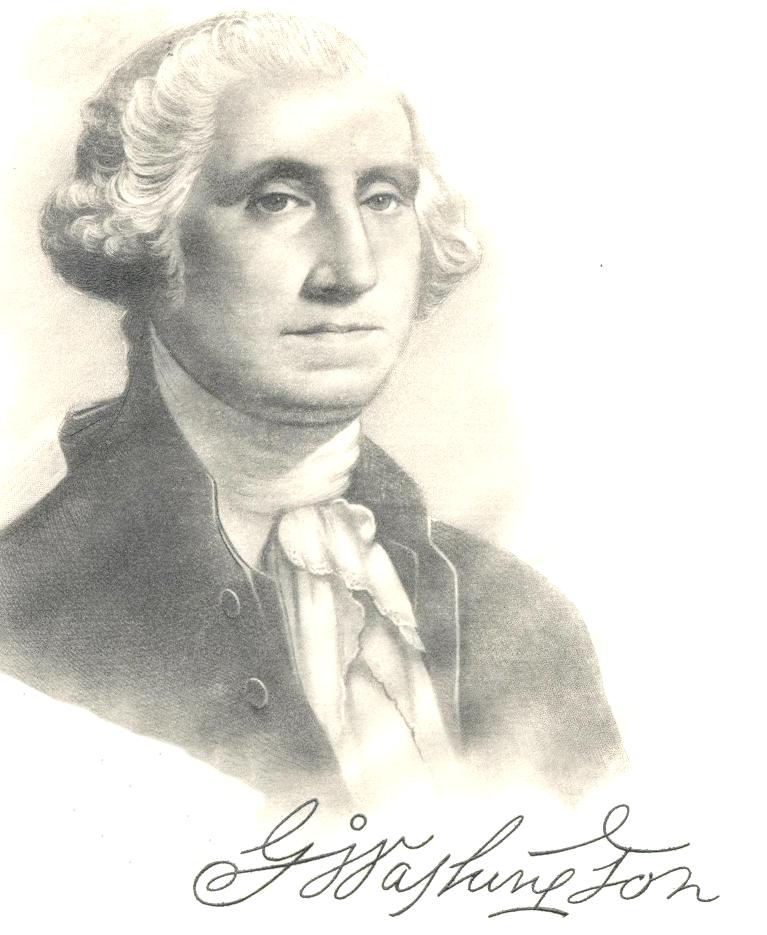 Washington's Letter's
Among the attributes that made George Washington so special and knowledgeable, are his writings. While there are approximately 65,000 letters in the Library of Congress, one of the most enjoyable to read was that which he wrote to his wife Martha on June 23rd, 1775. This letter is one of only two known to survive, because shortly before her death, Martha destroyed her letters from George. It is not known whether these were overlooked or deliberately spared. It is understandable that Martha, I surmise, desired to protect the privacy between her and her husband conveyed within the letters. However, it is fortunate that these two survived, as it gives a wonderful insight into the mind of Washington, toward his wife and family.
This letter below was written just moments before A General Washington set out on a journey that would lead through peril to victory and a shining place in history.@
Phil'aPhila, June 23'd, 1775
My dearest,
As I am within a few Minutes of leaving this City, I could not think of departing from it without dropping you a line, especially as I do not know whether it may be in my power to write again till I get to the camp at Boston. I go fully trusting in that Providence, which has been more bountiful to me than I deserve, & in full confidence of a happy meeting with you sometime in the Fall. I have not time to add more, as I am surrounded with Company to take leave of me. I retain an unalterable affection for you, which neither time or distance can change. My best love to Jack & Nelly, & regards for the rest of the Family, concludes me with the utmost truth & sincerity.
Yr. entire
Go. Washington
Washington and His Clothes
Interestingly, Washington had problems getting clothes to fit properly. Prior to the American Revolution, he would place orders with English tailors, however, they had never seen him or measured him. Thus, when he ordered suits in 1763 from a London tailor, he gave the following instructions:
"I would have you therefore take measure of a gentleman who wears well‑made clothes of the following size‑‑to wit‑‑six feet high & proportionally made; if anything rather slender than thick for a person of that height and pretty long arms & thighs‑‑You will take care to make the breeches longer than those you sent me last..."Clothes that are tight always look awkward and are uneasy to the Wearer."
When Washington was President, he tried whenever possible to order clothes and other products that were made in America.
Visiting Mount Vernon
Having visited Mount Vernon about a dozen times, it is truly worth the trip. In addition to the Mansion, visitors may also enjoy the following areas on the grounds. As you enter the property from the main parking lot, you will find the Purple Heart Memorial. As you pass through the gates you are met by the Museum Shop, followed by the Greenhouse and the Archaeology & Restoration Museum. Continuing on toward the Mansion House is the George Washington Museum. This museum is newly renovated and offers a look at many of Washington's personal possessions. Included are the silver spurs he wore during the Revolution, and his famous pistol. Also included is the family's silver and china they used for entertaining, and elegant jewelry worn by Martha. Here visitors may also see the Houdon Bust, considered the best likeness of Washington ever created.
From this point visitors can enjoy the Ice House, Overseer's Quarters, Spinning Room, Salt House, Gardener's House and the Servant's Hall. Next visitor's enter the Mansion Circle, directly in front of the Mansion House.
Upon entering the Mansion, the tour reveals George Washington's creativity as an architect and designer. Each of the 14 rooms is open to the public for viewing and has been painstakingly restored and furnished based on the 1799 inventor. Featured are objects used by the Washington family as well as 18th century antiques similar to those that would have been found in their home at that time.
As one exits, you'll find the Kitchen area, followed by the Smokehouse, Wash House, and Coach House, which contains Washington's Powell Coach and Lord Fairfax's Riding Chair. Located East down a steep incline from the garden is Washington's Old Tomb.
Next you will find the Stables and Paddock, next to the beautiful fruit garden and nursery. From this point, if one travels East toward the Potomac River, you will find the wharf which highlights Potomac River Sightseeing Cruises, in season. Looking back toward the West, visitors will find the Slave Memorial and within a short distance is Washington's New Tomb. Here lie the remains of Washington and his wife Martha.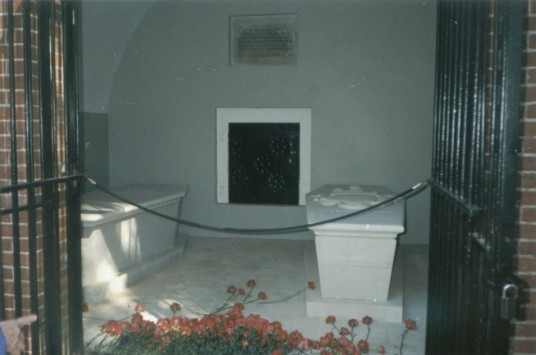 George and Martha Washington's Gravesite
Another area of interest is the Washington Pioneer Farmer Site. This area consists of four acres and includes hands-on activities. Located about a five-minute walk from the Mansion House, it is adjacent to the Potomac River. Visitors may watch horses tread wheat in the 16-sided barn as well as a variety of 18th century farming and cooking demonstrations.
To truly enjoy Mount Vernon, you should allow about 3 hours to see the Mansion and the grounds. The restaurants are very nice too with excellent period food and the Museum Shop offers wonderful gift items and great books. Mount Vernon is one place that everyone should visit!
Copyright © 1992-2022 by John T. Marck. Grateful appreciation is extended to the Mount Vernon Ladies' Association for their informational assistance with this article. Additional information noted in quotations herein from the Mount Vernon Handbook, Copyright 1974, 1985, 1998, 2001, The Mount Vernon Ladies' Association and A George Washington's Rules of Civility & Decent Behaviour in Company and Conversation," Copyright 1732-1799 by George Washington, published by The Mount Vernon Ladies' Association, 1989. Also from "The Presidents of the United States," and "The First Ladies of the United States," by John T. Marck.
A Splendid Time Is Guaranteed For All