The Washington Monument
By John T. Marck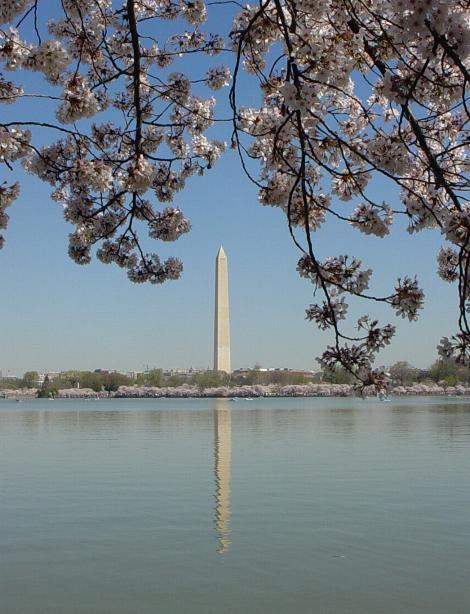 The most prominent of the cityís attractions, the Washington Monument is one of the oldest in Washington, D.C. It was built in honor of George Washington, and is shaped like an Egyptian obelisk.
In height it rises 555 feet, 5 and 1/8 inches over the National Mall, and weighs about 80,000 tons. It was designed by architect Robert Mills, and the obelisk design was his interpretation of city designer Pierre Lí Enfantís centerpiece for the city. Fifty flags representing each state of the Union surround the Monumentís base. On a clear day, the average visibility from the top is between 30 and 40 miles.
The cornerstone for the Monument was laid on July 4, 1843. While under construction, the project ran out of money, so it sat uncompleted for 27 years. Interestingly, the original stones used in 1843 became discolored from years of pollution and driving winds of dirt and dust. Upon the project resuming the new stones were whiter in color, resulting in the Monuments color changes. The Monument was finally completed on December 6, 1884. The Washington Monument is free to visit, but does require a ticket to go inside.
Copyright 1993-2022 by John T. Marck. Information in part compliments of the National Park Service, National Register of Historic Places. Some passages taken directly from the National Park Service. Photograph by John T. Marck. Copyright 2007 -All Rights Reserved. Do Not Duplicate.