The wife of William Winchester, and the heir to the Winchester Repeating Arms Company fortune, Sarah was haunted by a perceived curse, and spent her life doing outrageous things to her house in an attempt to keep the evil spirits away. Take a look at her strange life, and her "Mystery House."
Sarah Winchester and the "Winchester Mystery House"
By John T. Marck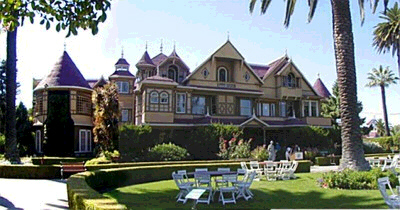 She was born Sarah Lockwood Pardee about 1837. In the early 1860s, she met a man by the name of William Wirt Winchester, who was the son of Oliver Winchester, the famed gun manufacturer, and heir to his considerable fortune valued in the millions of dollars.

The rifle that would start the creation of this fortune was the Winchester Rifle -that famous Henry Rifle which was a total revolution in gun design and became known as the "rifle that won the West. With the beginning of the Civil War on the horizon, his company, the Winchester Repeating Arms Company began to produce thousands of rifles and obtained a fortune from government contracts. While the Civil War was going in earnest, Sarah married William in September 1862. The Winchester family hosted their wedding, held in New Haven, Connecticut, which was quite an elaborate affair. Upon marrying William, Sarah became the belle of New Haven, and was on top of the city's social scene.
What would follow in the life of Sarah, was the beginning of what many believe to be a family curse that led to the most bizarre house architecturally in the world!
Their union went well, and was typical of the society marriages of this time. In July 1866, Sarah and William had a daughter that they named Annie. However, when Annie was only six months old, tragedy struck when she died of a children's disease. This began what Sarah believed was a curse on her family, and so traumatized was she over her daughter's death, she nearly slipped into madness, and shunned society. William and Sarah had no other children.
Having recovered somewhat, Sarah and William tried to maintain a normal life, but again Sarah's life would meet with another tragedy. In March 1881, William, having been stricken with tuberculosis, died.
Upon William's death, she inherited $20 million, and about one half ownership in the Winchester Repeating Arms Company, which brought her an additional $1000 a day in royalties. And incredible amount of money then and now, it was little comfort to her, after having lost the two people she loved the most in the world.
Now in an inconsolable state, a friend suggested to Sarah that she should seek the advice of a medium, as this was a popular recourse at this time. Sarah took her friends advice, but the experience did not help her, but only reinforced the curse she believed was on the Winchester family. The medium told Sarah that the family was cursed by the spirits of all those who had been killed by Winchester rifles. The medium further told her that the spirits had taken her daughter and husband in revenge, and the only thing she could do is acquire a house and build on it continually. As the story goes, it appears that the medium advised Sarah that should the construction end, Sarah would die as well.
So Sarah set out to fulfill the medium's advice, and purchased a house in San Jose in 1884, and immediately started using her $20 million fortune making various additions twenty-four hours a day, seven days a week, 365 days a year, for the next 38 years, only ending the day she died at the age of 85.
Sarah was not a good designer, however, she still designed all the various construction.
The house turned into a mass of staircases that went nowhere, and much more. It has been said that Sarah did the construction in this twisted manner so as to confuse the sprits, or to make the house so confusing the spirits would never be able to find her. I think she succeeded! Probably the more truthful theories as to why she designed as she did is that she was not an architect and had no clue what she was doing, or that she was put plainly out of her mind.
Here is a listing of the construction that was done over the 38 years. Originally the grounds consisted of 161.919 acres and the house was seven floors (shown below). In April 1906, after the earthquake that hit San Francisco and the surrounding area, the house was reduced in levels, and is presently four today. As a result of the earthquake, Sarah was imprisoned in her room. Upon being freed, she believed that the earthquake was a message from the spirits that she was spending too much money and time on the front areas of the house. Consequently, she had thirty rooms boarded up, never using them again, devoting her money and designs to others areas of the house. Additionally, Sarah was obsessed with the number thirteen, which is apparent in many of these projects.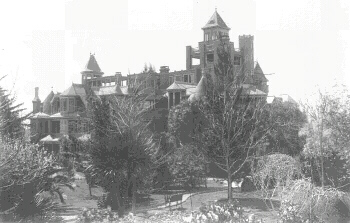 The statistics of the house are as follows:
The House contained 160 rooms. These included 40 bedrooms, 13 bathrooms, many of which have glass doors, and 6 kitchens. There are also 47 fireplaces many of which have flues that go nowhere, as Sarah believed the spirits after her could enter and leave a house through the chimneys.
There are two ballrooms, and forty staircases, and more than 450 doorways. Of the forty staircases, many lead nowhere, and one ends at the ceiling (below). All the stairs have thirteen steps except one which consists of 42 steps, but each step is only two inches high, and consists of this back and forth pattern.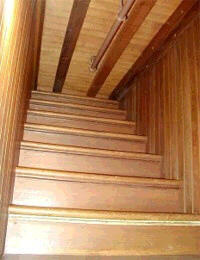 There are also 2,000 doors in the house, and 10,000 windows. Most of the windows have thirteen panes, whereas some rooms have thirteen panels, and other rooms have thirteen windows. There is one room that has a window in the floor; others have closets that open to blank walls; there are many rooms within rooms; and one door that opens to an eight-foot drop overlooking a garden outside. Another door opens to an eight-foot drop that overlooks a kitchen sink. There is also thirteen drain holes in a kitchen sink and a twelve-light gas chandelier that was modified to thirteen lights. The house is constructed as if the workers would have stopped for the day, and the next, rather than finish the previous days work, started on something completely new. This is not true as work continued twenty-four hours a day. It's just that Sarah's designs look this way.

There are numerous accounts of paranormal activity occurring in the house. These include ghosts, organ music playing, book pages turning and many others.

In addition to the paranormal activities, there are also unanswered questions about Sarah and the things she did, such as why was she so fascinated with the number thirteen? Sarah slept in a different room each night! It is a theory that this was an attempt to fool the spirits as to her location, which may be true as she believed. Another was she had this huge house, but never let any visitors in? And why would she dismiss any worker who accidentally saw her face?

Unfortunately, Sarah took these and many

other fascinating facts with her to her grave. Sarah died in her sleep on September 5, 1922, at the age of 85, and was buried alongside her husband and daughter. It is said that upon the workers learning this, all construction abruptly stopped, even to the extent of leaving nails hammered in part way.

Upon her death, servants opened her safe, but rather than finding money or valuables,

all it contained were the locks of her husband's and daughter's hair, with copies of their obituaries, and her will. Sarah's will was written in thirteen parts, and signed thirteen times. It provided for a few of her servants, as well as left all her furniture to her niece. No arrangement was made concerning the house and grounds. There was so much furniture that her niece sold much of it, and it was taken away in truckloads. It took eight truckloads a day for six and one half weeks to remove it all. The house was then sold and turned into a tourist site today. It is now listed as a National Historic Site.

Probably one of the "normal" things that Sarah did do with her money was she donated $2 million to the Winchester Fund, which was used for the treatment of tuberculosis which she founded in honor of her husband following his death.

The Winchester Mystery House is open for tours daily, except Christmas day. There are special flashlight tours given on Halloween and every Friday the Thirteenth. The standard tour takes about an hour. I have had the pleasure and experience of visiting the house, and it is well worth a visit. You've never seem anything like this! It's a fun and unusual experience.

The Winchester Mystery House is located at 525 S. Winchester Boulevard, between Stevens Creek Blvd. and I280, San Jose, California 95128. Further information may be received by calling (408) 247-2000 or Fax to:(408) 247-2090.

Copyright © 1990-2022 by John T. Marck. All Rights Reserved. This article and their accompanying pictures, photographs, and line art, may not be resold, reprinted, or redistributed for compensation of any kind without prior written permission from the author.