Famous and Fascinating Women in History
The World's Greatest Composers
Generals and other Noteworthy People from the Civil War
The Presidents of the United States
The First Ladies of the United States
Homes and Monuments of and to Famous People
Historical People and Events by Month for Each Day of the Year!
Famous Figures in Black History
The Calvert Family and the Lords Baltimore
Understanding the American Revolution and its People
Dr. John Brinton and "Frozen Death"
By John T. Marck
Never in the history of war in North America had people seen so many soldiers slaughtered on the battlefields, as they did during the Civil War. With this came a very unusual phenomenon referred to as "Frozen Death," that became more apparent after the Battle of Antietam. In one example, members of one Union infantry regiment saw in the near distance a Confederate cavalry soldier mounted on his horse. The horsemen, silent, sat erect in the saddle, holding his rifle in his right hand, and holding the horse's mane in his left. As the Union soldiers came nearer, they called out to him, demanding his surrender. No response was heard from the Rebel. As they came even closer, the Rebel soldiers head was turned in their direction as if he was watching them approach. When the Union soldiers came directly upon him, they observed that he was dead, frozen in the exact position he had held when he was instantaneously killed by a bullet that struck him in the right temple.
Learning of the many reports similar to this, surgeon John Brinton was ordered to go to Antietam, on the day after the battle, and collect information about these strange reports. Brinton observed many soldiers in this "frozen state," at the Cornfield and Bloody Lane. In his study and report, Brinton said that these positions were not caused by rigor mortis. He continued, saying, "These attitudes, were not those of the relaxations of death, but were rather, of a seemingly active character, dependent apparently upon a final muscular action at the last moment of life, in the spasm of which the muscles set and remained rigid and inflexible."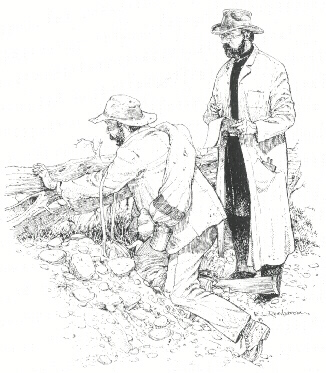 In a further study, Brinton, (who is depicted studying a Confederate soldier in the drawing herein by E. L. Reedstorm), observed a Rebel soldier found half kneeling behind a fence, his head erect with one hand on a fence rail. Brinton continued by saying that this soldier had evidently been killed while loading his rifle, and in the act of rising to his feet, was shot by a ball that passed directly through the center of his head, and emerged posteriorly. In another example of "Frozen Death," at another location, Brinton observed a railroad brakeman who had been shot between the eyes. According to Brinton, this man was killed instantly, and his body froze in a fixed position, with his arms extended and stiff on the handwheel of the brake. The pipe that he was smoking remained tightly gripped between his teeth.
Brinton continued to study this phenomenon, and became an authority on the subject. He published his observations in 1870 in the American Journal of the Medical Services.
Copyright © 1993-2022 by John T. Marck. All Rights Reserved. This article and their accompanying pictures, photographs, and line art, may not be resold, reprinted, or redistributed for compensation of any kind or any site for free, without prior written permission from the author.