The Fishermen's Memorial
"They That Go Down To The Sea In Ships"
by John T. Marck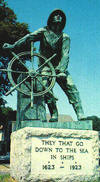 In 1963, I had the opportunity to visit much of New England with my parents. Being only ten years old at the time, I remember the trip as if it were yesterday. I can remember my visit to Gloucester, Massachusetts; a quite lovely and fascinating town. As I walked out toward the water, I saw this wonderful statue of a helmsman. I noticed that he is posed with his hands on the wheel, trying to hold his ship against the wind, steering his craft in an attempt to clear some dangerous rocks. With his eyes fixed on the sails, every muscle of his body is strained to hold the ship until the danger had passed. This I soon learned was the Fishermen's Memorial.
On the statue, on a plaque in bronze letters was written, "They That Go Down To The Sea In Ships" 1623 -1923.
After seeing this statue only the one time, I remembered these nine words ever since, as this memorial left quite an impression on me.
The inscription used on the Fishermen's Memorial is taken from the Bible, Psalm 107, verse 23-24, which reads:
"They That Go Down To The Sea In Ships,
That Do Business In Great Waters;
These See The Works Of The Lord, And His Wonders In The Deep."
The sculptor of the Fishermen's Memorial was Leonard Craske, and it was dedicated on August 23, 1925. This monument, in bronze, rests on a base of sea green granite, carried from the famous "Bloody Ledge" in the Bay View section of Gloucester. This stone was cut with a rough finish to symbolize the rugged character of the figure.
Gloucester, Massachusetts was founded by fishermen in 1623. This wonderful tribute to them symbolizes three hundred years (1623-1923) and is in memory to all those who lost their lives while fishing. The Fishermen's Memorial looks out onto the outer harbor at Gloucester.
For those who have not visited Gloucester, I highly recommend a visit. It is a charming fishing town, with the atmosphere of fishing villages of days gone by. And remember, while there, you must stop and visit with the Fishermen immortalized by the Fishermen's Memorial.
I would like to thank Ms. Tracy Arabian of the Cape Ann Chamber of Commerce for her informational assistance. The statue description, in part, was taken from information provided. Further information on Gloucester can be obtained from the Cape Ann Chamber of Commerce, 33 Commercial Street, Gloucester, Massachusetts 01930.
Copyright © 1993-2022 by John T. Marck. All Rights Reserved. This article and their accompanying pictures, photographs, and line art, may not be resold, reprinted, or redistributed for compensation of any kind without prior written permission from the author.