Famous and Fascinating Women in History
The World's Greatest Composers
Generals and other Noteworthy People from the Civil War
The Presidents of the United States
The First Ladies of the United States
Homes and Monuments of and to Famous People
Historical People and Events by Month for Each Day of the Year!
Famous Figures in Black History
The Calvert Family and the Lords Baltimore
Understanding the American Revolution and its People
Tudor Hall

The

Home of John Wilkes Booth

by John T. Marck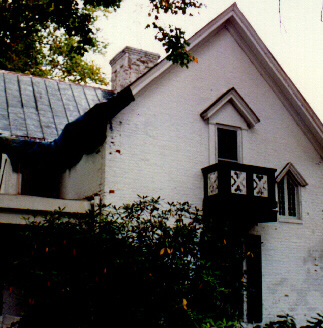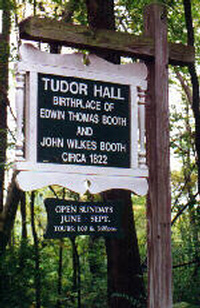 J

ust outside Bel Air, Maryland in Harford County is a home of interesting architectural and historic significance known as Tudor Hall, the home of the great Shakespearian actor, Junius Brutus Booth, Sr. Born on May 1, 1796 in England, Junius moved to America and settled on Exeter Street in Baltimore City, where the old post office building is located today. From the city, Junius settled in Harford County where he built a log house. In 1822, Junius moved this log house to the present location of Tudor Hall, originally totaling one hundred thirty-seven acres. For the next thirty years, Junius added onto the log house to what is today Tudor Hall. Junius died on November 30, 1852, just before the completion of the additions. For years, the questions concerning the disposition of this log house remained unanswered as the inhabitants of the surrounding neighborhood did not remember it. Following various clues the log house was discovered as part of the existing house. Logs from the first log house can plainly be seen in the basement and attic, but added rooms and porches have changed its exterior and hid the secret of the former history for years.

At Tudor Hall, Junius and his second wife, Mary Ann Holmes (1802-1885) raised ten children. They were named Junius, Jr. (1821-1883); Rosalie Ann (1823-1889); Henry Byron (1825-1837); Mary Ann (1827-1833); Frederick (1829-1833); Elizabeth (1831-1833); Edwin Thomas (1833-1893); Asia (1835-1888); John Wilkes (1838-1865); and Joseph Adian (1840-1902). Junius, who was a famous Shakespearian actor known for his great performances as King Lear, had two of his children follow this profession. Edwin Thomas became a great American Shakespearian actor, and John Wilkes, although an actor in his own write, is best remembered as the assassin of President Abraham Lincoln. John Wilkes had plotted for many months to kidnap President Lincoln, take him to Richmond, Virginia, and hold him to trade him back to the Union in exchange for captured Confederate prisoners. John Wilkes recruited several people to assist him in his mad plot, one of whom was Edward Spangler, who interestingly was one of the carpenters who worked on Tudor Hall. As the Civil War came to a close, it was evident that the Confederacy would not survive. Booth believing Lincoln was to blame, changed his plan from kidnapping to assassination. On April 14, 1865 at Ford's Theatre in Washington, D.C., Booth followed through with his plan, and shot and killed President Lincoln. John Wilkes Booth was shot and killed by Federal soldiers on April 26, 1865. John's mother Mary, upon learning of her son's dreadful deed, collected all his clothes, letters and photographs, and burned them in the fireplace at Tudor Hall. John's sister Asia, retrieved several items of clothing and a few pictures before they could be burned. So ashamed was Mary, she believed that by burning his personal items and photographs, people would look more favorably upon her, and not blame her for her son's actions.

Tudor Hall today is located on eight and one half acres, and contains eighteen rooms, and five fireplaces, four of which are back to back. Junius designed the house in Tudor style, thus its name, but decided to make it T-shaped, different from most Tudor homes that were L-shaped. John Wilkes bedroom, on the second floor contains period furnishings, as does the entire house, however; only one chair originally belonged to the Booth family. Upon entering John Wilkes bedroom, one can see a balcony, built for practicing acting scenes, reached by opening two glass windowed doors. Also, on the second floor is a room designed to look like a stage, in which the family put on plays.

Several interesting stories are associated with Tudor Hall and the family. Once, Junius gave John Wilkes a diamond ring. John, in a test to see if the diamond was real, scratched his initials in the front inside window to the left of the main entrance doors, which can be seen today. As one enters the house from the main doors, directly in front, is one of the back to back fireplaces. Located above the fireplace, facing the main entrance doors, is a picture of President George Washington. Junius, who was a great admirer of President Washington, insisted that all female guests upon entering the house, bow, and that all men salute Washington's picture. In 1822, when construction began on the house, Junius was in need of bricks. Arriving from England on a ship at Joppa, Maryland, Junius used the bricks from the ship's ballasts to build Tudor Hall, transporting them there by ox and cart. It was not until 1951 that heating and plumbing was added to the house.

Purchased by Mr. and Mrs. Fox in 1968, Tudor Hall was formally opened to the public in 1984. Tours were held each Sunday from the first Sunday in June to the last Sunday in September. Every other year in May, they held one special bus trip, which took visitors to various Booth related sites in Baltimore City, and other areas, including Greenmount Cemetery where the Booths are buried, and ending at Tudor Hall. Each year, on the week before Christmas, Tudor Hall celebrated an open house where they decorated each room of the house with its own Christmas tree and lights.

Tudor Hall is presently owned and operated by Harford County. Inquire as to tours and times. Tudor Hall proved to be a very interesting and historic place to visit. Anyone interested in this period in history as well as the Civil War, will find it well worth the visit. Tudor Hall also contains an extensive library, having volumes that surpass those of the Library of Congress. The Library at Tudor Hall was restored, with the assistance and cooperation of the Smithsonian Institute, Washington, D.C.

Photograph of Tudor Hall ©2000 by John T. Marck. Unauthorized duplication is prohibited.

Copyright © 1993-2022 by John T. Marck. All Rights Reserved. This article and their accompanying pictures, photographs, and line art, may not be resold, reprinted, or redistributed for compensation of any kind without prior written permission from the author.