Famous and Fascinating Women in History
The World's Greatest Composers
Generals and other Noteworthy People from the Civil War
The Presidents of the United States
The First Ladies of the United States
Homes and Monuments of and to Famous People
Historical People and Events by Month for Each Day of the Year!
Famous Figures in Black History
The Calvert Family and the Lords Baltimore
Understanding the American Revolution and its People
Daniel Boone
American Frontiersman and Legendary Hero
By John T. Marck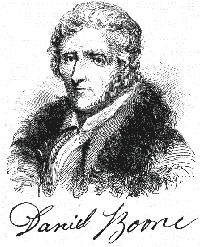 Daniel Boone was born in Berks County, Pennsylvania on November 2, 1742. As a youngster, Daniel spent much of his time exploring the woods, and had little formal schooling, but did learn to read and write.
While still in his youth, Daniel moved with his family (who were English Quakers) to North Carolina. It would be here that he began his deep love of the woods and the frontier, and spent most of his life exploring, hunting and trapping.
While still in his twenties, by the late 1760s, Daniel had embarked into the Cumberland Gap region. Although little was known about this area, the opening in the Appalachian Mountains had been mapped fifteen years earlier. From this point, The French and Indian War subjugated further exploration, and any settlement in Kentucky. Because resources were lacking, the British managed to maintain their prohibition of further western migration. But, Daniel didn't much care about this, and as such, was one of many settlers who ignored the Crown's ban set forth by the British in 1763 which prohibited any exploration into the Appalachian Mountains.
In the fall of 1767, Boone and a few companions traveled a short distance through the Cumberland Gap to hunt, and then returned to Kentucky to again trap and hunt in 1769 to 1771. By 1773, Boone decided to lead his and other families into Kentucky. Just as they reached the area not far beyond Boone's last settlement, they were attacked by Cherokee Indians. Two members of Boone's party, and his son James, were tortured and murdered, so the remaining members of the party decided to turn back.
Because the people were anxious to establish a colony in Kentucky, the Transylvania Company was organized in North Carolina for this purpose. The idea for a colony came from Boone and was based on a report made by him that he carried back with him to his home on the Yadkin River. As a result of Colonel Henderson learning this information, he decided to send Boone with a party for the purpose of establishing a treaty with the Cherokee Indians for a tract of land between the Cumberland and Kentucky Rivers.
In March 1775, Boone and twenty-eight others, employed by the Transylvania Company operated by Colonel Richard Henderson, went on a mission to blaze a trail through the Cumberland Gap, and establish Kentucky as the fourteenth colony. In spite of repeated Indian attacks, Boone and his men managed to cut and build the Wilderness Road, which would become the primary route to the West, running from eastern Virginia to the interior of Kentucky. Within a few months after the road was completed, Boone's wife Rebecca and their daughter traveled it. In doing so, except for a few women prior who had been captured by Indians, they were the first white women to settle in Kentucky, and their arrival was said to mark the first settlement established there.
These first settlements established by Boone and his men were Boonesborough (or Boonsboro), Harrod's Town, and Benjamin Logan's. The plan to establish the fourteenth colony failed, and the first settlements of Kentucky were made a part of Virginia.
During the American Revolutionary War, Daniel and the others built a fort at Boonesborough, and Boone was made a captain of the militia and was a leader in the defense of the fort against Indian attacks. In 1778, Boone was captured by the Indians but was adopted as a son by Blackfish, the chief of the Shawnee Indians. While living among them for five months, Boone learned that the British and the Indians were planning an attack of the fort. Daniel managed to escape and returned to the fort in time to warn the settlers and militia stationed there. When the attack by the British soldiers and the Shawnee came in September 1778, Boone and the others managed to withstand the ten-day siege.
Daniel Boone was indeed a courageous leader, and did established various land claims, but unfortunately never seemed to make the claims good, due in part to defective titles and thus failed financially. When the Revolution ended, Boone worked as a surveyor along the Ohio River, and settled for a few years in Kanawha County, Virginia (now West Virginia).
In 1799, he decided to follow his son, Daniel Morgan Boone to Missouri, in part because of promises of land grants and various honors given him by the Spanish. Traveling by canoe, he and his family traveled down the Ohio River for St. Louis. Once there he was greeted by a parade and a substantial gift of 845 acres of land. The next year, in 1800 he served as the magistrate of the Femme Osage District, a position that gave him control over civil and military matters, that he kept until 1804.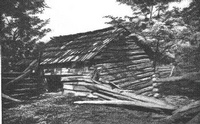 In 1803, his son Nathan began to build a home in the Defiance/St. Charles area of Missouri, on a tract of land that he had been granted. Daniel helped with the building, and carved much of the walnut woodwork. Upon its completion in 1810, they had built a beautiful two-story home, made from wood and limestone that was as rugged as Daniel was himself, equipped with gun ports in the event of an Indian attack.
When Missouri was transferred to the United States as part of the Louisiana Purchase, Daniel once again lost all his land, most of which was sold to satisfy his creditors in Kentucky.
Boone decided to make one more attempt to recover land and profit from his years as a trailblazer. To accomplish this, he petitioned the United States Congress for land grants, "in recognition for his having been greatly instrumental in opening the road to civilization in the immense territories now attached to the United States." The petition read as follows:
TUESDAY, JANUARY 2, 1810.
Mr. Meigs presented the petition of Daniel Boone, an inhabitant of the territory of Louisiana, stating that he has spent a long life in exploring the wilds of North America; and that he hath, by his own personal exertions, been greatly instrumental in opening the road to civilization in the immense territories now attached to the United States, and in some instances matured into independent states; and praying a grant of some reasonable portion of land, within the territory of Louisiana, as a compensation for his services; and the petition was read.
As Daniel was unable to secure additional land of his own, he spent his remaining years hunting and trapping, using Nathan's house as his home. Still, rugged as ever, Boone went on his last hunting trip at the age of 83.
On September 26, 1820, Daniel died, in his first-floor bedroom of Nathan's home in St. Charles, Missouri. Daniel Boone was an outstanding American, without whom the route to the West may very well have been delayed years. He was and is every bit the legend, even in his own lifetime. His fame spread so worldwide that even Lord Byron devoted seven stanzas to him in "Don Juan."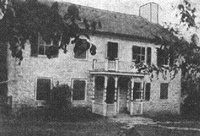 Today, the restored home of Daniel Boone can be visited. Located five miles west on Highway F, in Defiance, Missouri, it reflects his life and furnishings of the day. These period pieces consist of many of the Boone family possessions. Located inside the house is a huge fireplace over which hangs a long rifle and powder horn such as Daniel used throughout his life. It is through these items that visitors can relive the fabled frontiersman's fascinating life. Tours of the home are available and additional information may be obtained by calling:(314) 987-2221.
Copyright © 1990-2022 by John T. Marck. All Rights Reserved. This article and their accompanying pictures, photographs, and line art, may not be resold, reprinted, or redistributed for compensation of any kind without prior written permission from the author.