GEORGE HERBERT WALKER BUSH
by John T. Marck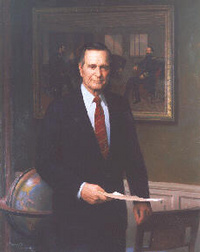 41st President
Term- January 20, 1989 to January 20, 1993
Republican Party
Birth: Milton, Massachusetts, June 12, 1924.
Ancestry: English
Marriage: First Presbyterian Church, Rye, New York, June 6, 1945 to Barbara Pierce, who was born in New York City, New York, June 8, 1925.
Children: George Walker (1946- ); Robin (1949-1953); John Ellis (1953- ); Neil Mallon (1955- ); Marvin Pierce (1956- ); Dorothy (1959- ).
Home: Kennebunkport, Maine.
Education: Phillips Academy, Andover, Massachusetts (1938-1942); Yale University (1945-1948).
Religion: Episcopal
Occupation before Presidency: Dresser Industries (1948-1950); Bush-Overbey Oil Development Company (1951-1953); Zapata Petroleum Corporation (1953-1966).
Military Service: U.S. Naval Reserve (1942-1945), Seaman 2nd Class; Navy Pilot.
Pre-Presidential Offices: Chairman, Harris County Republican Party (1963-1964); Delegate to Republican National Convention (1964); U.S. House of Representatives (1966-1970); Ambassador to United Nations (1971-1973); Chief of U.S. Liaison Office in China (1974); Director of CIA (1976).
Age at Inauguration: 64
Bush Administration: Vice President: J. Danforth Quayle of Indiana, Inauguration January 20, 1989, The Capital, Washington, D.C.
Interesting Facts:
On January 17, 1991, Bush authorized Operation Desert Storm, an all-out assault by U.S. and allied forces. The Iraqis were driven from Kuwait and forced to accept allied cease-fire terms on March 3rd. The Iraqis lost more than 100,000 men but killed fewer than 100 Americans. Bush was criticized for a delay in aiding thousands of Iraqi Kurds fleeing Saddam Hussein, and the dictator remained in power.
The Secret Service assigned the code name of Timberwolf for President Bush.
George Herbert Walker Bush is the second man in US Presidential history whose son became President. The first being John Adams/John Quincy Adams, and now George W. Bush, 43rd President of the United States.
Copyright © 1993-2022 by John T. Marck. All Rights Reserved. This article and their accompanying pictures, photographs, and line art, may not be resold, reprinted, or redistributed for compensation of any kind without prior written permission from the author. From The Presidents of the United States by John T. Marck.