RICHARD MILHOUS NIXON
by John T. Marck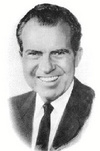 37th President
Term- January 20, 1969 to August 8, 1974
Republican Party
Birth: Yorba Linda, California, January 9, 1913.
Ancestry: Welsh, Scottish, Irish, English.
Marriage: Riverside, California, June 21, 1940 to Thelma ("Pat") Catherine Ryan, who was born in Ely, Nevada, March 16, 1912. Pat died in Park Ridge, N.J. on June 22, 1993 and is buried in Yorba Linda, California. Children: Patricia (1946- ); Julie (1948- ).
Home: San Clemente, California, Key Biscayne, Florida and Park Ridge, New Jersey.
Education: Whittier High School; Whittier College, Whittier, California, graduated 1934; L.L.B. Duke University Law School, Durham, North Carolina, graduated 1937.
Religion: Society of Friends (Quaker). Occupation before Presidency: Lawyer
Military Service: Lieutenant (J.G.); Lieutenant Commander, U.S. Navy; Commander U.S. Naval Reserve (Active 1942-1946).
Pre-Presidential Offices: Member of the House of Representatives and U.S. Senate; Vice President. Age at Inauguration: 56
First Administration: Vice President: Spiro T. Agnew of Maryland, Inauguration January 20, 1969, The Capital, Washington, D.C.
Second Administration: Vice President: Spiro T. Agnew of Maryland (Agnew resigned October 10, 1973, charged with bribery), Inauguration January 20, 1973, The Capital, Washington, D.C., Second Vice President: Gerald R. Ford of Michigan, December 6, 1973.
Occupation after Presidency: Statesman; Author, (wrote nine books).
Death: April 22, 1994, New York Hospital-Cornell Medical Center, New York, N.Y.
Cause of Death: Stroke at Park Ridge home at age 81.
Place of Burial: Yorba Linda, California, with his wife Pat, at the Richard M. Nixon Presidential Library and Museum.
Interesting Facts:
Nixon was the first President to visit Communist China and Soviet Russia, in 1972, and was the first U.S. President to address the Russian people on their on television network.
During his Presidency, the first man walked on the moon, 1969 (NASA).
In 1973, Nixon and his aides were accused of encouraging the burglary of Democratic party headquarters in the Watergate office complex. In July 1974, Congress voted for his impeachment, however the next month, before he could be questioned, Nixon resigned, August 9th, 1974, becoming the first President ever to resign his office.
Upon the Secretary of State receiving Nixon's resignation, Gerald Ford was sworn in as President twenty-eight minutes later.