JOHN FITZGERALD KENNEDY
by John T. Marck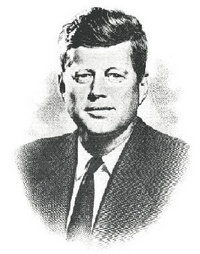 35th President
Term- January 20, 1961 to November 22, 1963
Democratic Party
Birth: Brookline, Massachusetts, May 29, 1917.
Ancestry: Irish
Marriage: Newport, Rhode Island, September 12, 1953 to Jacqueline Lee Bouvier, who was born in Southampton, New York, July 28, 1929.
Children: Caroline Bouvier (1957- ); John Fitzgerald, Jr. (1960-1999 ); Patrick Bouvier (1963-1963).
Home: Kennedy Compound, Hyannis Port, Massachusetts.
Education: Attended the Choate School; London School of Economics; Princeton University; graduated from Harvard University (1940); Stanford University.
Religion: Roman Catholic
Occupation before Presidency: Author
Military Service: Ensign; lieutenant (J.G.); lieutenant; U.S. Naval Reserve (served active duty, 1941-1945)
Pre-Presidential Offices: Member of U.S. House of Representatives and U.S. Senate.
Age at Inauguration: 43
Kennedy Administration: Vice President: Lyndon B. Johnson of Texas, Inauguration January 20, 1961, The Capital, Washington, D.C.
Death: Dallas, Texas, November 22, 1963.
Cause of Death: Assassination at age 46. November 22, 1963, shot by Lee Harvey Oswald, while riding in a motorcade in Dallas, Texas.
Place of Burial: Arlington National Cemetery, Arlington, Virginia.
Interesting Facts:
Kennedy was the youngest elected President in history and also the first Roman Catholic.
Kennedy's favorite seat in The White House was his rocking chair.
Kennedy approved the disastrous Bay of Pigs invasion of Cuba in 1961, and stepped up military aid to South Vietnam. In 1962, he went to the edge of war, blocking Havana harbor until the Soviets removed nuclear missiles from Cuban bases.
John F. Kennedy was the only President to have been survived by both his parents.
Kennedy was a big fan of James Bond and read all of Ian Fleming's books.
On November 22, 1963, the day President Kennedy was assassinated, the Secret Service used the following code names: President Kennedy: Lancer /First Lady Jacqueline Kennedy: Lace / Lyndon Johnson: Volunteer / Lady Bird Johnson: Victoria / The White House: Castle /Air Force One: Angel
Copyright © 1993-2022 by John T. Marck. All Rights Reserved. This article and their accompanying pictures, photographs, and line art, may not be resold, reprinted, or redistributed for compensation of any kind without prior written permission from the author. From The Presidents of the United States by John T. Marck.