WILLIAM HOWARD TAFT
by John T. Marck

27th President
Term- March 4, 1909 to March 4, 1913
Republican Party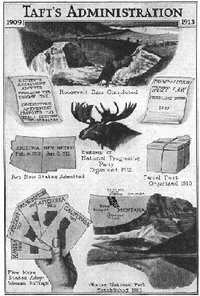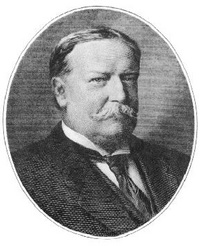 Birth: Cincinnati, Ohio, September 15, 1857.
Ancestry: English, Scotch- Irish
Marriage: Cincinnati, Ohio, June 19, 1886 to Helen (Nellie) Herron, who was born in Cincinnati, Ohio, January 2, 1861. Helen died in Washington, D.C., May 22, 1943, and is buried in Arlington National Cemetery, Arlington, Virginia.
Children: Robert Alphonso (1889-1953); Helen (1891-1987); Charles Phelps II (1897-1917).
Home: "The Quarry", Cincinnati, Ohio.
Education: Woodward Hill School, Cincinnati, Ohio; B.A. from Yale University; Cincinnati Law School.
Religion: Unitarian
Occupation before Presidency: Lawyer, judge.
Pre-Presidential Offices: Assistant Prosecuting Attorney, Hamilton County, Ohio; Ohio Superior Court Judge; U.S. Solicitor General; Federal Circuit Court Judge; Civil Governor of Philippines; Secretary of War.
Age at Inauguration: 51
Taft Administration: Vice President: James S. Sherman of New York, Inauguration March 4, 1909, House of Representatives, Washington, D.C.
Occupation after Presidency: Kent professor of Constitutional law, Yale University; joint chairman of National War Labor Board; Chief Justice of U.S. Supreme Court.
Death: Washington, D.C., March 8, 1930
Cause of Death: Debility at age 72.
Place of Burial: Arlington National Cemetery, Arlington, Virginia.
Interesting Facts:
In 1910, President Taft began the tradition of tossing out the first ball of the major league baseball season, at Griffith Stadium, Washington, D.C.
Taft was such a massive man that extra-large chairs and an outsize bathtub were brought for him during his residence at the White House.
The first motion picture studio was set up in Hollywood during Taft's Presidency, in 1911.
Taft referred to the White House as "the loneliest place in the world."
Copyright © 1993-2022 by John T. Marck. All Rights Reserved. This article and their accompanying pictures, photographs, and line art, may not be resold, reprinted, or redistributed for compensation of any kind without prior written permission from the author. From The Presidents of the United States by John T. Marck.