19th President
Term- March 4, 1877 to March 4, 1881
Republican Party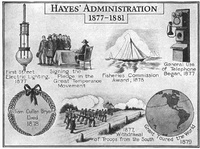 Birth: Delaware, Ohio, October 4, 1822.
Ancestry: English, Scotch
Marriage: Cincinnati, Ohio, December 30, 1852 to Lucy Ware Webb who was born in Chillicothe, Ohio, August 28, 1831. Lucy died in Fremont, Ohio, June 25, 1889 and is buried in "Spiegel Grove", Fremont, Ohio.
Children: Birchard Austin (1853-1926); Webb Cook (1856-1934); Rutherford Plat (1858-1927); Joseph (1861-1863); George Crook (1864-1866); Fanny (1867-1950); Scott (1871-1923); Manning (1873-1874).
Home: Spiegel Grove, Fremont, Ohio.
Education: Academy at Norwalk, Ohio; Isaac Webb's school at Middletown, Connecticut; Kenyon College, Gambier, Ohio; Harvard Law School.
Religion: No specific denomination. Attended Methodist.
Occupation before Presidency: Lawyer, soldier, politician.
Military Service: Commissioned major in 13th Ohio Volunteers (1861); resigned as major general in June 1865.
Pre-Presidential Offices: City Solicitor of Cincinnati, Ohio; U.S. Congressman; Governor of Ohio.
Age at Inauguration: 54
Hayes Administration: Vice President: William A. Wheeler of New York, Inauguration
March 3, 1877, The White House (private ceremony); March 5, 1877, The Capital, Washington, D.C.
NOTE- Hayes was the third President who postponed their oath taking ceremonies to Monday because March 4th fell on a Sunday. However, because the election had been so vigorously disputed, he had taken the oath privately in the White House, Saturday, March 3, 1877. The election/electoral vote was Hayes 185; Tilden 184.
Occupation after Presidency: Philanthropist; President of National Prison Association.
Death: Fremont, Ohio, January 17, 1893.
Cause of Death: Heart Attack at age 70.
Place of Burial: Spiegel Grove State Park, Fremont, Ohio.
Interesting Facts:
He was the first President to start the annual Easter-egg hunt on the White House lawn.
Of the Presidents that fought during the Civil War, Hayes was the only one who was wounded.