ANDREW JOHNSON
by John T. Marck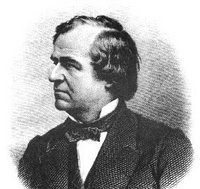 17th President
Term- April 15, 1865 to March 4, 1869
Democratic Party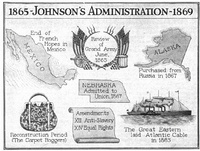 Birth: Raleigh, North Carolina, December 29, 1808.
Ancestry: Scotch-Irish and English.
Marriage: Greeneville, Tennessee, May 5, 1827 to Eliza McCardle, who was born in Leesburg, Tennessee, October 4, 1810. Eliza died in Greene County, Tennessee, January 15, 1876 and is buried at Andrew Johnson National Cemetery, Greeneville, Tennessee.
Children: Martha (1828-1901); Charles (1830-1863); Mary (1832-1883); Robert (1834-1869); Andrew (1852-1879).
Home: Greeneville, Tennessee.
Education: Self-taught
Religion: No specific denomination, however admired the Baptist principles of church government.
Occupation before Presidency: Tailor, legislator.
Pre-Presidential Offices: Alderman; Mayor; Member of Tennessee Legislature; Member of U.S. House of Representatives and U.S. Senate; Governor of Tennessee; Vice President.
Age at Inauguration: 56
Johnson Administration: Vice President: None, Inauguration April 15, 1865, Kirkwood House, Washington, D.C.
Occupation after Presidency: Senator
Death: Carter County, Tennessee, July 31, 1875.
Cause of Death: Stroke at age 66.
Place of Burial: Andrew Johnson National Cemetery, Greeneville, Tennessee.
Interesting Facts:
Johnson was the third Vice President who succeeded to the Presidency because of the death of his predecessor, Abraham Lincoln.
Johnson was the only President to serve as a U.S. Senator after being President. He was elected to the Senate in 1875.
Johnson was the first President of the United States to be impeached. The Senate tried him for "High crimes and misdemeanors", however he won his case by a single vote.
This one vote was cast by Republican Senator Edmund G. Ross from Kansas.
Copyright © 1993-2022 by John T. Marck. All Rights Reserved. This article and their accompanying pictures, photographs, and line art, may not be resold, reprinted, or redistributed for compensation of any kind without prior written permission from the author. From The Presidents of the United States by John T. Marck.