by John T. Marck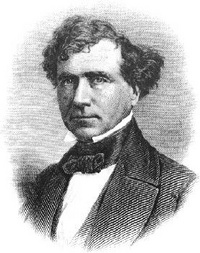 14th President
Term- March 4, 1853 to March 4, 1857
Democratic Party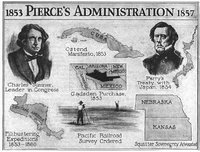 Birth: Hillsboro, New Hampshire, November 23, 1804.
Ancestry: English
Marriage: Amherst, New Hampshire, November 19, 1834 to Jane Means Appleton, who was born in Hampton, New Hampshire, March 12, 1806. Jane died in Andover, Massachusetts, December 2, 1863, and is buried in Old North Cemetery, Concord, New Hampshire.
Children: Franklin (1836-1836); Frank Robert (1839-1843); Benjamin (1841-1853).
Home: Pierce Homestead, Hillsboro Upper Village, New Hampshire.
Education: Attended public school and Hancock Academy; Graduated from Bowdoin College (1824).
Religion: Episcopalian
Occupation before Presidency: Lawyer, politician, soldier.
Military Service: Brigadier general in U.S. Army (1847-1848).
Pre-Presidential Offices: Member and Speaker of New Hampshire Legislature; Member of U.S. House of Representatives and U.S. Senate; President of New Hampshire Constitutional Convention.
Age at Inauguration: 48
Pierce Administration: Vice President: William R. King of Alabama (died April 18, 1853), Inauguration March 4, 1853, The Capital, Washington, D.C.
Occupation after Presidency: Retired
Death: Concord, New Hampshire, October 8, 1869
Cause of Death: Stomach inflammation at the age of 64.
Place of Burial: Old North Cemetery, Concord, New Hampshire.
Interesting Facts:
Pierce tried to please those for slavery and those against it, and as a result was rejected by his party in 1856.
In 1853, Commodore Matthew Perry anchored four U.S. ships in Tokyo Bay, which was forbidden to foreigners. His visit and actions opened Japan to trade with the west.