WILLIAM HENRY HARRISON
by John T. Marck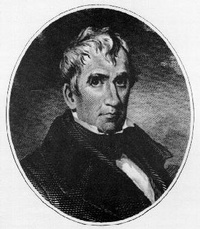 9th President
Term- March 4, 1841 to April 4, 1841
Whig Party
Birth: "Berkeley Plantation", Charles City County, Virginia, February 9, 1773.
Ancestry: English
Marriage: North Bend, Ohio, November 25, 1795 to Anna Tuthill Symmes, who was born in Morristown, New Jersey, July 25, 1775. Anna died in North Bend, Ohio, February 25, 1864 and is buried at William Henry Harrison State Park, North Bend, Ohio.
Children: Elizabeth Bassett (1796-1846); John Cleves Symmes (1798-1830); Lucy Singleton (1800-1826); William Henry (1802-1838); John Scott (1804-1878); Benjamin (1806-1840); Mary Symmes (1809-1842); Carter Bassett (1811-1839); Anna Tuthill (1813-1845); James Findlay (1814-1817).
Home: Grouseland, Vincennes, Indiana.
Education: Private tutoring; attended Hampden Sidney College.
Religion: Episcopalian
Occupation before Presidency: Soldier, politician.
Military Service: U.S. Army (1791-1798); Governor of Indiana Territory, (fought Indians at Tippecanoe, 1811); Major general of Kentucky Militia (1812); Major general U.S. Army (1812-1814).
Pre-Presidential Offices: Secretary of Northwest Territory; U.S. Representative and Senator; Governor of Indiana Territory and Superintendent of Indian Affairs; Ohio State Senator; Minister of Colombia.
Age at Inauguration: 68
Harrison Administration: Vice-President: John Tyler of Virginia, Inauguration, March 4, 1841, The Capital, Washington D.C.
Death: Washington, D.C., April 4, 1841
Cause of Death: Pleurisy, pneumonia at age 68.
Place of Burial: William Henry Harrison State Park, North Bend, Ohio.
Interesting Facts:
Harrison was 68 when he won his short-lived presidency. Only Ronald Reagan in 1980, was older when elected president. Harrison gave his long inaugural address outdoors, on a wet winter's day, catching cold, and one month later dying of pneumonia.
Copyright © 1990-2022 by John T. Marck. All Rights Reserved. This article and their accompanying pictures, photographs, and line art, may not be resold, reprinted, or redistributed for compensation of any kind without prior written permission from the author. From The Presidents of the United States by John T. Marck.