His life, Family, and Writings
By John T. Marck
"Well, I don't see why I oughtn't to like it.
Does a boy get a chance to whitewash a fence everyday?"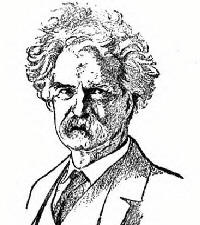 He was born prematurely on November 30, 1835 in Florida, Missouri; the fifth surviving child of John and Jane Lampton Clemens. Samuel Langhorne Clemens, later known to the world as Mark Twain, was born during the year that Halley's Comet was still visible in the sky.

Samuel's Family and Home Life

At the time of his birth, his family lived in a rented house on South Mill Street, and his father operated a store in partnership with John Adams Quarles, the husband of his mother's sister, Martha Ann "Patsy" Quarles. Twain's grandparents, Samuel and Pamelia Clemens were slave-holding farmers in Campbell County, Virginia, before moving to the southern bank of the Ohio River in Mason County, Virginia, now a part of West Virginia, about 1803.

Upon his grandfather's death in 1805, his grandmother, Pamelia, moved the family to Adair County, Kentucky where they lived with her brother, and in 1809, Pamelia married Simon Hancock. In 1812, Mark Twain's father John was working in a Lynchburg ironworks factory, and did well for himself. When his father's estate was finally settled in 1821, and after paying back borrowed money to their stepfather (Hancock), John Clemens' share included three slaves. Interested in the study of law, John worked with Cyrus Walker in Columbia, Kentucky and received his license to practice in 1822. One year later in 1823, John married Jane Lampton, who was born in Columbia and was a descendant of early English and Irish settlers in Kentucky, and the daughter of Benjamin and Margaret Casey Lampton, and a cousin of Walker's wife.

Upon their marriage, Twain's parents moved to Gainesboro, then Jamestown, Tennessee, where they built a large house, and where John continued to practice law. His parents also operated a store, and purchased 75,000 acres of uncleared land before moving to Three Forks of Wolf River where they bought 200 acres of farmland and built a log cabin. By June 1835, the Clemens' family, along with their one remaining slave named Jenny, to Florida, Missouri on the Salt River. It would be here that John acquired 120 aces of government land and built a home for three-hundred dollars, where their son, Samuel (Mark Twain) would be born.

At the age of one year, Samuel was oftentimes sick, to the extent that his mother was constantly worried that he may not live. This same year, 1836, his father John bought a house in town that was owned by Jane's grandfather. That next year, her grandfather died, and John dissolved his partnership with Quarles and started his own store. In 1838, Samuel and his family move into a new house.

In 1839, Samuel is plagued by frequently walking in his sleep, which continued for several years. On August 17, this same year, Samuel's sister Margaret died of "bilious fever." Following her death, John earned $5000 from a land sale and used this money to purchase $7000 worth of property in Hannibal, Missouri. At this time Hannibal was a quickly growing port town with about one thousand residents on the Mississippi River. Hannibal is located about thirty miles from Florida (Mo.), and about one hundred-thirty miles from St. Louis by water. That November, John moved his family here, and it would be along the Mississippi River that Samuel experienced his carefree boyhood adventures that would later be the basis for his classic writings and fictional character's Tom Sawyer and Huckleberry Finn.

In 1840, Samuel entered school and was taught by Elizabeth Horr and Mary Ann Newcomb. As he progressed, Samuel attended three other schools in Hannibal. On May 12, 1842, Samuel's brother Benjamin died following just a few days illness, and his brother Orion moved to St. Louis to work as a printer. Samuel's propensity to be sickly continued, and this time his doctor treated him with castor oil, calomel, rhubarb, jalap, and poultices, which were socks full of hot ashes, as well as various other water treatments. He continues to have recurring nightmares (no wonder) and still walks in his sleep. Also this same year, John sold Jenny to another owner. In 1844, during a spring epidemic, one of Samuel's closest friends, Will Bowen contracted the measles, and Samuel deliberately caught it from him, and nearly died.

While walking along the streets of Hannibal one day in 1845, Samuel watched in horror as a man dies after being shot by a Hannibal merchant named William Owsley, who was arrested and later acquitted of all charges. Having financial problems, the Clemens family takes in paying guests for meals, then is forced to sell off their furniture to pay their bills, and finally moves in with a pharmacist named Orville Grant who exchanges meals for rent. On March 24, 1847, Samuel's father John died of pneumonia and by sneaking around, Samuel watched through a keyhole as Dr. Meredith performed a postmortem examination.

Samuel's First Journalism Experience and First Writings

That next year at the age of fifteen, Samuel began working at the Missouri Courier as what was described as a chore boy and printer's devil. One day after work Samuel and a friend named Tom Nash went ice skating, and the ice broke, and Samuel barely made it to shore safely, but Tom fell through, but was able to get back to shore, but as a result suffered an illness that eventually caused him to go deaf.

In 1850 Samuel joined the "Cadets of Tennessee," and in doing so gave up smoking in deference to chewing tobacco, and with the cadets marched in many parades. His brother Orion returned to Hannibal and began publishing a weekly newspaper known as the Western Union. In doing so, Samuel left the Missouri Courier and started to work for his brother as a typesetter and editorial assistant. Even though Orion promised Samuel $3.50 per week in wages, there was never any money available to pay him. On January 16, Samuel had his first sketch published in the Western Union called "The Gallant Fireman."

That September, Orion purchased the Hannibal Journal , but a fire destroyed the office in 1852, so Orion rented new office space and keep the paper going. Samuel now was beginning to write more humorous sketches and his, The Dandy Frightening the Squatter," was published in the Boston Carpet-Bag, and another writing titled "Hannibal, Missouri," was published in the Philadelphia American Courier that May. That September 9, Samuel signed a sketch, "W. Epaminon-das Adrastus Perkins," which was his first known use of a pseudonym.

His Writings Continues, and His Steamboat Pilot Life

Samuel continues his writings, and in 1856, moves to Cincinnati where he worked as a typesetter, while continuing his writings, "Thomas Jefferson Snodgrass," that were published in the Cincinnati Post. The next year Clemens left Cincinnati in April by steamboat bound for New Orleans, whereby he had intended to continue to travel to South American where he believed he could find fame and fortune. Instead, he became a riverboat pilot, working under Horace Bixby for an apprentice fee of $300. Clemens worked on several boats and learned the Mississippi River quite well between New Orleans and St. Louis. While still working as an apprentice "cub" pilot, Clemens served on the riverboat Pennsylvania under the pilot William Brown, whom Clemens believed to be a despot, and whom he hated. Samuel then arranged for a job for his brother Henry on the riverboat as a purser's assistant or "mud clerk." It would be here that Samuel met and fell in love with Laura M. Wright, who was the fourteen-year-old daughter of a Missouri judge. However, her family does not approve of the relationship, and intercepts the many letters Samuel wrote to her. After the pilot, Brown, struck Henry one day, Samuel hit him in defense of Henry, resulting in Brown leaving temporarily. This caused Samuel to leave the Pennsylvania, because no replacement pilot was found for Brown, and Samuel as an apprentice need to work under a licensed pilot. Some time passed and Brown returned to the riverboat, while Henry remained with the crew. On June 13, while below Memphis on the Mississippi, a boiler exploded, badly injuring Henry and killing Brown. On June 15, Samuel arrived in Memphis and was with his brother when he died on June 21. Samuel, blaming himself for not being with Henry on board the Pennsylvania is grazed with grief and guilt. Samuel buried Henry in Hannibal on June 25, then he returned to resume his apprenticeship steering for two of his friends, Bart and Sam Bowen from Hannibal.

On April 9, 1859, Samuel finally received his pilot's license and became steadily employed and was paid well. Working between New Orleans and St. Louis, and quite at home in these areas along the Mississippi, Samuel also continued his studies, learning French. In may, 1859, he published a satire of a senior pilot named Isaiah Sellers, on which later Clemens claimed he first used the pen name of "Mark Twain." The name or phrase "Mark Twain," was a riverman's call meaning two fathoms deep or water that was safe for navigation.

Samuel and the Civil War - Less Than Heroic

In 1861, with the outbreak of the Civil War, the river traffic was greatly disrupted. Clemens, not wanting to be mistaken by the Union as a gunboat, returned to Hannibal and helped form the Marion Rangers, which was a group of Confederate volunteers comprised of many of his old Hannibal schoolmates.

While on the Mississippi, Clemens's loyalties changed back and forth, whereby he settled supporting the South. When Governor Claiborne F. Jackson called for a militia to be formed, Clemens answered the call, and he and fourteen others formed the Marion Rangers. Although Clemens was made a 2nd lieutenant, his rank and that of the others was basically meaningless to this groups of boys who had grown up together.

The Marion Rangers we not exactly heroes by and stretch. Whenever a rumor surfaced that mentioned the Union troops may be coming, they assumed a retreating posture. Clemens later wrote that the rangers were "were hopeless material for war." He was pleased and surprised though how helpful and friendly the local farmers were to them. Clemens said of this that the farmers

"were as hospitably kind and courteous to us as if we had deserved it." In less than one month after the rangers were formed, Clemens and his men learned that a Union regiment was moving their way. Clemens said, "Our boys went apart and consulted, then we went back and told the other companies present that the war was a disappointment to us, and we were going to disband."

Upon learning of the disbandment plan, the Rangers were urged to reconsider, as reinforcements under Confederate General Tom Harris were on their way to them. Half of the Rangers decided to stay and joined other regiments and served until the end of the war. However, Samuel and the others would hear nothing of staying. Clemens later wrote that, I knew more about retreating than the man that invented retreating."

Later in life, Clemens, now sing his pen name of Mary Twain, wrote about his short war experiences in an amusing short story titled, "The Private History of a Campaign That Failed." His story told of the confusion within the Rangers, and how inexperienced the young boys were, who actually had no clue what war was about, or really where they loyalties lay.

While The War Raged

With the Civil War continuing in earnest, Clemens traveled to Carson City in January 1962, then to Aurora that April. In Nevada he dabbled in mining all the while continuing his writings.

In February, 1863, Clemens wrote three articles and sent them to the Carson City Enterprise, that were published on the third, fifth and seventh. These articles were signed Mark Twain, the first known use of the name.

Later that year, Twain wrote for the San Francisco Morning Call, as well as the Virginia City Enterprise. Published in the Enterprise was an article was called "A Bloody Massacre Near Carson," which was a fictional hoax about a man killing his family. Other papers picked up the story, then discovered that is was a hoax, and were furious, refusing to continue to reprint news stories from the Enterprise. Twain offered to resign, but the editors, Goodman and De Quille did not accept his resignation saying that the anger will blow over, although at the same time, the story will be remembered, favorable from a writing aspect for Twain.

By late 1864, Twain became writing for a newly established literary magazine calked the Californian. In 1865, he was writing articles for the Californian, Golden Era, and the Enterprise. It would be during this time that he wrote and had published "Jim Smiley and His Jumping Frog," that first appeared in the Saturday Press, and subsequently was reprinted in all parts of the country.

After the Civil War - His Writings Continue

In the years that followed the end of the Civil War, Mark Twain continued his writings and published many articles and books.

These include:

The Celebrated Jumping Frog of Calaveras County

The Innocents Abroad

Mark Twain's Autobiography and First Romance

Roughing It

The Gilded Age

By July 1875, Twain completed one of his masterpieces, The Adventures of Tom Sawyer, and in early 1876, made necessary rewrites and revisions to it. Later that summer, Tom Sawyer was published in England by Chatto & Windus. Twain then began work on another of his classics, Huckleberry Finn. On December 8, 1876, the American version of Tom Sawyer is published by the American Publishing Company.

Meanwhile, between 1878 and 1880, Twain began working on "The Prince and the Pauper," while putting "Huckleberry Finn," to the side, while also starting another book, A Tramp Abroad.

Over the next few years, The Prince and the Pauper is published in December 1881; he began writing "Life on the Mississippi," in 1882, which was published in May 1883; and "Huckleberry Finn," is first published in three parts in 1885 by Century Magazine, then is published in complete book form in the United States on February16, 1885 by Webster & Co. By March 14, slightly more than one month later, it sold 39,000 copies.

By the early nineteen hundreds, Mark Twain had traveled the world, had given numerous talks and lectures, and had written the best of the best in literature.

Having traveled to Bermuda numerous times, he returned there in 1908 where he met and became friends with several schoolgirls, who were the daughters of friends. He called them his "angelfish," and thought of the idea of forming a club called the "Aquarium."

On April 11 this same year, he returned to New York, and commissioned Tiffany and Co., to make enamel angelfish, and send one to each of these girls. In 1909, he traveled to Baltimore, Maryland an gave a talk to the graduation class from St. Timothy's School. With his health failing, from here he returned to Bermuda, then went on to Europe. While there Twain wrote very little if anything for publication, but did continue his work on "Letters from the Earth," and "The Turning Point of My Life," which was published in Harper's Bazar in February 1910.

On January 5, 1910, Twain returned to Bermuda, where he stayed at the Bay House, in Hamilton, which was the home of the American vice-consul, William H. Allen, whose daughter was one of his "angelfish." Now aged 74, Twain, although bothered by often severe chest pains at times, played golf with Woodrow Wilson, who at this time the president of Princeton University.

With his health and chest pains increasing in frequency and annoyance, Twain returned to New York on April 12, 1910 in severe pain. Twain took notice that Halley's Comet was again visible in the sky, as it was the day of his birth.

On April 21, 1910 at 6:30 p.m., Samuel Clemens, the beloved Mark Twain, died at Stormfield. His funeral was held at the Brick Presbyterian Church, New York, and Henry Van Dyke gave a short sermon. Mark Twain was buried in Elmira, New York on April 24, in a family plot.

The genius of his wit entertained the world not only through his literature, but through his very popular lecture series. He would always appear elegantly clad in his trademark white suit that complemented his white mustache and distinctive hair, along with his cigar.

A man of serious thinking, this native American never strayed from his homespun humor and down to earth style and manners.