Learn all about the life of this very determined a great American, whose dedication was responsible for helping thousands of people, and who was the organizer and founder of the American Red Cross.
Clara Barton
Her Life and Fight for Humanity and the American Red Cross
By John T. Marck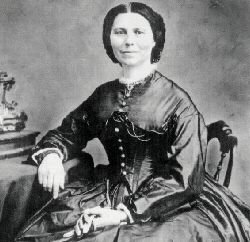 The youngest of five children in a middle-class family, Clara Barton was born on Christmas Day 1821 in Oxford, Massachusetts. Although she was educated at home, Clara began teaching school herself at the age of fifteen in various elementary schools in Massachusetts and New Jersey between the years 1836 and 1854. Prior to the Civil War, Clara's most noteworthy achievement was the establishment of a free public school in Bordentown, New Jersey. Additionally, her only medical experience prior to the war was when she cared for her invalid brother David for two years.
At the outbreak of the Civil War, Clara lived in Washington, D.C., where she worked at the U.S. Patent Office. Following the Baltimore Riots, upon the 6th Massachusetts Regiment arriving in Washington, it was Clara who organized a relief program for the soldiers, starting her lifelong career as a nurse and humanitarian.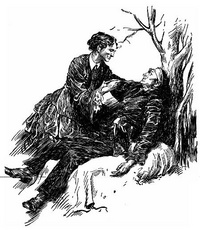 After the First Battle of Bull Run at the start of the Civil War, Clara soon learned that many of the wounded soldiers had suffered from a lack of medical supplies. Devoting herself to correcting this problem, she advertised for donations to buy supplies in Worcester, Massachusetts and began her own operation to distribute these supplies. Her operation a success, she was soon given a general pass by the U.S. Surgeon General, William Hammond, to travel with army ambulances.
For the next three years Barton traveled along with the army operations throughout Virginia and South Carolina, especially in the area of Charleston. Following the Battle of the Wilderness, she cared for the wounded at Fredericksburg, Virginia, so well that she attracted national attention. From this point she then served as superintendent of nurses in Major General Benjamin Butler's command. In addition to nursing, Clara also formed a program at Camp Parole, Maryland, whereby she attempted to locate any soldier who was listed as missing in action. In order to carry out this program, she generally talked with Union soldiers who had returned from Southern prisons, and in doing so, often was able to determine the status of the missing and would then notify their families.
Upon war's end in 1865, Clara established an information center which served war-torn families, as well as aided in locating missing soldiers, and identifying and marking thousands of graves. Meanwhile, Clara lectured quite frequently, and as a result of her varying responsibilities, three years later in 1868, she suffered a breakdown, brought on by exhaustion, and went to Switzerland to recover.
While in Switzerland during her recuperation, she became aware of the International Red Cross that had been established there in 1864. It's Treaty, founded in Geneva, guaranteed neutrality of hospitals in all future wars, and thus was ratified by eleven counties, but the United States could not take part. This was because the Monroe Doctrine prohibited international treaties. Barton, knowing that the US would benefit greatly by having a Red Cross, returned home and began a crusade to establish the Red Cross in America. She worked tirelessly, traveling to Washington for support, and gave speeches and wrote articles in an attempt to solicit the support of the public. In doing so, she reminded the public at large, as well as the politicians, that the Red Cross was not only functional during times of war, but was also invaluable in peacetime, providing relief to victims of droughts, floods, and other disasters. This seemed to get the attention of both the public and the politicians, and thus the American Association of the Red Cross was founded in 1881.
Clara Barton was the organization's president, and in this role, she directed and presided over it with a firm hand. One of the first examples of help the Red Cross provided not long after it began was when it provided relief to people in Michigan as a result of a forest fire, and other case was due to a hurricane that hit the East Coast of the United States. In its early years of operation, it even reached as far as Russia, helping victims of a famine.
The American Red Cross was offered government funding, but Clara refused citing the fear of political control. Consequently, she relied on donations from private citizens. Additionally, it was also the private sect that donated food, medical supplies, clothing and tools and various materials for rehabilitation activities.
Clara, the strong-willed, determined lady that she was even rode a mule wagon at the age of seventy-seven during the Spanish-American War, handing out various provisions and providing medical care.
Because of her personal devotion and strict participation, combined with her informal methods, her small group of helpers could not keep up with the demand, and became ineffective. This saddened Clara, and as times in America changed and progressed, her small group could not provide adequate care and response. Consequently, in 1904, with some feelings of bitterness, she resigned as head of the Red Cross. Others felt that although Barton was truly a great and compassionate woman, who processed a big heart, she had stayed too long. It seemed that she was a better organizer and founder than a manager.
Upon her resignation, she retired to her home in Glen Echo, Maryland, where she died on April 12, 1912.
Clara Barton was truly a great American who dedicated her life to humanity.