Here you can learn about the man who is more well known as the alleged inventor of baseball, than his exploits during the Civil War. Abner is shown here pictured with his wife.
Abner Doubleday
By John T. Marck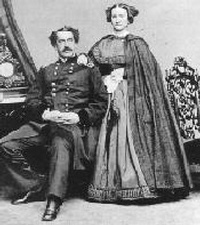 The man who is more well known as the alleged inventor of the game of baseball, than his exploits during the Civil War was born in Ballston Spa, New York on June 26, 1819. Although for years, Doubleday was credited with having invented baseball; this notion has since been refuted.
At the age of nineteen, in 1838, Abner entered the U.S. Military Academy, graduating in 1842, twenty-forth in his class. During the Mexican War, he served in the artillery under General Zachary Taylor. Before the Civil War, between 1847 and 1861, Doubleday served as a first lieutenant in the army, fought Indians in Texas, served in the Seminole Wars in Florida, and again in Atlantic Coast Ports.
When the war began, how a captain, he was station ed at Fort Sumter. It is Doubleday who is credited by most as the person who fired the first shot for the Union in the fort's defense. Soon Doubleday was promoted to major in the 17th Infantry, and by February 1862, was made a brigadier general. In this position he commanded a brigade under General Irvin McDowell and served at the Battle of Second Bull Run. At Gettysburg, Doubleday arrived on the field almost at the moment that Union General John F. Reynolds was killed. Stringing into action to replace him, he maintained the corps position, repulsing the Confederates. For this and the action that immediately followed, his previous nickname of "forty-eight hours Doubleday," was invalidated.
Although he served well and with distinction at Gettysburg, General George G. Meade still doubted his ability to command in an efficient manner, thus Meade placed General John Newton in command rather than retaining Doubleday in this position. Embarrassed and disgraced by this decision, Doubleday returned to his previous command, and after the Battle of Gettysburg ended, he returned to Washington, D.C. In Washington, he tried to exonerate himself from Meade's decision by writing the longest battle report of the Union army in Civil War history.
Never returning to command for the remainder of the war, he did stay in the regular army until 1873. Abner Doubleday died in Mendham, New Jersey on January 26, 1893.
Copyright © 1993-2022 by John T. Marck. All Rights Reserved. This article and their accompanying pictures, photographs, and line art, may not be resold, reprinted, or redistributed for compensation of any kind without prior written permission from the author.