Here you can learn all about the life and death of the greatest fighting general on either side during the Civil War.

Thomas Jonathan "Stonewall" Jackson
By John T. Marck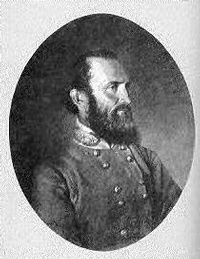 One of the greatest fighting generals in the Confederacy, and known best by his nickname of "Stonewall," Jackson was born in Clarksburg, Virginia on January 21, 1824. Raised of Scottish-Irish ancestry, his parents died in poverty, and Thomas was raised by his uncle. Although Jackson never had the opportunity to be formally enlightened for higher education, he did have the privilege of entering West Point in July 1842. Although his grades were not great the first year, he applied himself and they improved with each year, whereby he graduated seventeenth in his class of fifty-nine in 1846. During the Mexican War, Jackson served in an exemplary manner at Vera Cruz, Cerro Gordo and Chapultepec. Eighteen months after joining the army, he was promoted to major, receiving acclaim from General Winfield Scott. In the late 1840s, Jackson served at Forts in New York and Florida.
In 1851, Jackson became a professor of artillery and natural philosophy at the Virginia Military Institute (V.M.I.) in Lexington, while still a member of the army, but resigned his commission a short time later. When John Brown was hanged on December 2, 1859, Jackson was the commander of the V.M.I. Cadet Corps, who were present.
Jackson, now a major in the Virginia Militia, was ordered to go to Richmond on April 21, 1861 at the beginning of the Civil War. Upon his arrival, although he was not well known, he was made a colonel of the Confederate Infantry and assigned to Harpers Ferry. Several weeks later on June 17, he was promoted to brigadier general and assigned to the army of General Joseph Johnston. During the Battle of First Bull Run, Jackson was a defiant figure on the field of battle, and when observed by Brigadier General Barnard E. Bee, he said, "There is Jackson standing like a stone wall." Consequently, his nickname of "Stonewall" was born. Again, his actions so great at this battle, he was promoted to major general on October 1, 1861.
Less than one month later, on November 5, 1861, Stonewall was placed in command of the Shenandoah Valley, which was a district of the Department of Northern Virginia. As winter was approaching, Jackson was condemned when he assigned men under the command of Brigadier General William Loring to man outposts in the bitter cold. This upset Loring, yet Jackson's proven ability to move his men quickly made him a champion in the Confederacy. Jackson left his headquarters at Winchester, Virginia in March 1862, upon learning that General Johnston had withdrawn from Manassas on March 8 and 9. This would begin Jackson's Shenandoah Valley Campaign of 1862. Originally, at Kernstown, Jackson, who took the offensive, suffered heavy losses, but in the process, skillfully managed to sidetrack three Union armies. This afforded Jackson praise, as by doing this, he kept a determining number of Union troops in the area, that might have otherwise been sent to aid General McClellan's unsuccessful advance on Richmond.
In the early spring of 1862, from April 17 to May 12, Stonewall began working closely with General Robert E. Lee on a plan to attack Brigadier General Nathaniel Banks and his Union army. This planned attack was designed to prevent Banks from joining with Union General Irvin McDowell in his plight toward Fredericksburg. On May 8, while General McClellan was moving toward Richmond, Jackson first attacked Union Major General John C. Fremont and his troops west of Staunton, Virginia. Meanwhile, General Johnston, Jackson's commander, believed that Union General Banks and his army was too strong and ordered Jackson not to attack him as they had previously planned. However, Jackson believed that he could defeat Banks, so he appealed to Richmond for permission. General Robert E. Lee, knowing of the plan he had discussed earlier with Jackson, gave him the approval to attack. On May 23, 1862, Jackson ordered his attack on Banks at Front Royal, Virginia, and in doing so, drove Banks and his army back across the Potomac River. Jackson and Lee's plan was a success. So good was Jackson that many historians site this maneuver in the Shenandoah Valley as the finest example of military strategy and deployment.
This same month in 1862, General Jackson was wounded at the Battle of Seven Pines, and while he was recovering, General Lee assumed his command around Richmond. In doing so, Lee reorganized the forces into the Army of Northern Virginia. Following several small engagements, Lee and Jackson met again to plan an attack against Union Major General John Pope at Manassas Junction. Jackson, with 20,000 men, traveled fifty-one miles in two days, destroying the base of Pope on August 27, 1862. Jackson and his army then regrouped at Groveton, about six miles from Manassas Junction. Ferocious fighting began on August 28 and 29, yet Jackson held the Union forces off. Then, as a result of excellent maneuvering by Jackson, he slowly deployed his reserve forces and thus was able to withstand the Union attacks. This facilitated in driving General Pope and his Union army back to Washington following their defeat at the Battle of Second Bull Run. Then on September 15, 1862, Jackson and his army attacked Harpers Ferry where they were successful in capturing more than 12,000 Union prisoners. Two days later at the Battle of Antietam, upon traveling quickly to get there, Jackson and his force arrived in time to save General Lee from disaster from an unexpectedly massive Union force. On October 10, 1862, Jackson was promoted to lieutenant general and given the command of the II Corps in the Army of Northern Virginia. In this role, he effectively defeated the Union forces on December 13, 1862 at the Battle of Fredericksburg.
During the winter of 1862 and early 1863, Jackson and his army spent these months at Moss Neck on the Rappahannock River, not far from Fredericksburg. During this time, Jackson took leave to visit his wife and to see his infant daughter for the first time. On April 29, 1863, Jackson received word that 134,000 Union troops were crossing the Rappahannock River on both sides of Fredericksburg. Consequently, his leave was interrupted.
These Union forces were under the command of Major Generals John Sedgwick and Joseph Hooker. Jackson sent a small force to defend against Sedgwick, while taking the bulk of his army into the Wilderness near Spotsylvania on April 30, where he joined General Lee in the hopes of stopping General Hooker. On May 1, they were able to stop Hooker's advance down the Rappahannock River toward Fredericksburg, and in doing so, drove them back toward Chancellorsville. That evening, Lee and Jackson met and decided to split their army again. Lee was to stay at Chancellorsville to take on Hooker's front lines, while Jackson would make a sweep around Hooker, and attack him from the rear. On the morning of May 2, Jackson was successful, completely overwhelming the Union XI Corps.
This was one of Jackson's most sensational victories during the war, only to be marred by tragedy. As dusk began to fall, while Jackson was riding on his horse, several of his own men mistakenly fired at him, believing him to be the enemy. Hit and badly injured, he was taken to a nearby house, where doctors had to amputate his left arm. Soon thereafter, it appeared that his condition was improving. However, it then suddenly worsened, and was now complicated by pneumonia.
Thomas Jonathan "Stonewall" Jackson, easily one of the finest generals in the war on both sides, died on May 10, 1863. With his death, General Lee had lost one whom he considered his "right arm" after only twenty-months of war.
Copyright © 1993-2022 by John T. Marck. All Rights Reserved. This article and their accompanying pictures, photographs, and line art, may not be resold, reprinted, or redistributed for compensation of any kind without prior written permission from the author.