Of all the nurses who served during the Civil War, Bickerdyke was easily the most outspoken. Affectionally known as "mother" by the troops, she was indeed one of the best known, most resourceful, and colorful of all the nurses who served.
Mary Bickerdyke
By John T. Marck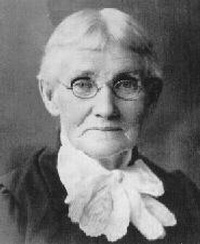 Mary Bickerdyke was born on July 19, 1817 in Knox County, Ohio. She was a very outspoken, independent woman, who almost always disregarded the red tape and military procedures of the army, running over anyone who stood in the way of her self-appointed duties. Performing the duties of a nurse, she cared for the soldiers under the command of Generals Ulysses S. Grant and William T. Sherman, who she affectionately called her "boys." The soldiers, in turn, referred to her as "Mother" Bickerdyke. When the staff officers under the command of Sherman complained about her, Sherman threw up his hands, and merely replied that there was nothing he could do, as she "outranked" him. When surgeons would question her authority, Mary replied, "On the authority of Lord God Almighty, have you anything that outranks that?"
During the war, there is no question that Bickerdyke became the best known, most colorful and most resourceful nurse. Two years before the war, her husband died, and consequently she needed to work. To support her two sons, she began practicing as a "botanic physician" in Galesburg, Illinois.
When the war began, a Union volunteer physician from Galesburg wrote home explaining about the terrible, filthy military conditions at Cairo, Illinois where he was working. In response, the citizens of Galesburg collected more than five-hundred dollars worth of medical supplies and selected Bickerdyke to deliver them to him. Once in Cairo, Illinois, she stayed on as a nurse, and through tireless work, organized the hospital improving the conditions, and at the same time, gained the respect of General Grant.
Sanctioning her endeavors, Grant, upon moving his army down the Mississippi River, granted Bickerdyke permission to go with them. Along the way, she set up hospitals wherever they were needed. In time, she also traveled with General Sherman and his western armies. General Sherman grew fond of Ms. Bickerdyke, and it is said that she is the only woman he would allow in his camp.
By war's end, she had helped the United States Sanitary Commission, had built three-hundred hospitals, and tended to the wounded on nineteen battlefields. She became so loved by the army that the soldiers would cheer her, much in the same manner they would an arriving general, whenever she appeared in their camp. To honor her, General Sherman requested that she ride at the head of his XV Corps in the Grand Review in Washington, D.C. Mary Ann Ball Bickerdyke died on November 8, 1901.
Copyright © 1993-2022 by John T. Marck. All Rights Reserved. This article and their accompanying pictures, photographs, and line art, may not be resold, reprinted, or redistributed for compensation of any kind without prior written permission from the author.