Here we take a look at the life of Dorothea Dix, who worked tirelessly for reform of mental hospitals and the treatment of patients and prisoners. She was directly responsible for historic changes, as well as served as the Superintendent of Nurses during the Civil War.

Dorothea Lynde Dix
By John T. Marck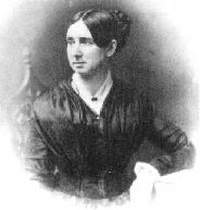 Dorothea Dix was born on April 4, 1802, in Hampden, Maine, and raised by an invalid mother, followed by a strict grandmother, then a kind aunt. She received social and moral direction from a Unitarian minister friend named William Ellery Channing.
Self-educated, and by the time she was thirty-five-years-old, she had already been a teacher, having her own school for girls in Boston, and consequently became quite wealthy. She also wrote books geared toward children, which was a digest of facts and a collection of hymns. Dorothea was a woman who committed herself totally toward her work, and as a result, suffered from exhaustion, which led to various illnesses. In 1836 she became seriously ill and traveled to England to recuperate, staying on the estate of William Rathbone, a friend of Reverend Channing. She recovered, and eighteen months later, returned to the United States.
On March 28, 1841, while serving as a substitute teacher for Sunday-school at the East Cambridge, Massachusetts jail, she discovered that so called "lunatics," were housed, and locked down in vile unheated cages. As she continued to tour the facility, she was outraged at the conditions and treatment of the prisoners, as well as the fact that mental patients were housed with prisoners. She then spoke with Horace Mann about the problem, but he told her that repeated attempts to correct the problems had gone ignored. Dix now more than ever was determined to correct the problems, but first needed to conduct a survey. Over the next eighteen months she traveled to every jail in the state, and conducted a very thorough survey, documenting the various conditions.
Armed with this information, she appealed to the state's legislature, whereby she wrote, "I call your attention to the present state of Insane Persons confined within this Commonwealth, in cages, closets, cellars, stalls, and pens; chained, naked, beaten with rods, and lashed into obedience!"
The legislative assembly was shocked by these facts, yet questioned the authenticity of the facts, then denounced her for interfering in the state's business. Eventually, she did get the attention of reformers, and support from doctors, resulting in a bill finally being passed. Dix then spent the next twenty years working tirelessly investigating prison and asylum conditions and successfully campaigned for reform from state to state, as well as Canada and Europe. In 1841 there were only eleven mental hospitals in the United States. Thanks to her efforts, by 1880, this number rose to 123.
In 1861, following the fall of Fort Sumter, she volunteered her services to the Union, and was appointed Superintendent of nurses by Secretary of War Simon Cameron. Although nurses had been first used in the Crimean War, this practice was new in the United States. As a result, Dorothea faced opposition from many doctors. Regardless of this opposition, she overcame the many obstacles, and working without pay, developed a very efficient operation of tending to the sick and injured, relieving their suffering. Having total authority over all nurses, she proposed a strict criterion in selecting them. All nurses were required to be at least age thirty, plain looking, with drab dress, having no adornments such as a curl or jewels. Given these rules, thousands of young women, who were eager to serve, were turned away because they were either too pretty, too young, or too anxious. Her assistants, believing her to be high-handed, labeled her "Dragon Dix."
During the war years, Dorothea was not in the best health, as she had contracted tuberculosis before the war began. As she never married, after the war she gave up her crusading and spent most of her last years traveling. Throughout the United States and the world, in each mental hospital that she helped, was set aside an apartment for her use whenever she should visit. She lived the last five years of her life staying in such an apartment in the state hospital in Trenton, New Jersey. Dorothea Lynde Dix died there on July 17, 1887.
Copyright © 1993-2022 by John T. Marck. All Rights Reserved. This article and their accompanying pictures, photographs, and line art, may not be resold, reprinted, or redistributed for compensation of any kind without prior written permission from the author.