Take a look at the actress turned Union spy during the Civil War, and who for her gallant efforts, was made a part of the Union army with the honorary rank of major.

Pauline Cushman
By John T. Marck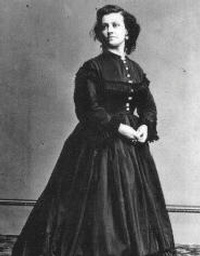 Throughout the Civil War, many of the spies were slaves who were desperate for the North to win, and thus secure their freedom. These slaves, both men and women, risked their lives passing information on to the Union army. In addition to the slaves, there was also a great deal of spying being done by well-to-do white women. Women spying for either the North or the South used their large hoop skirts to hide weapons, secret documents and other contraband, as well as other means.
Pauline Cushman was an actress who turned Union spy. Born in New Orleans on June 10, 1833, she moved with her family at a very early age to Grand Rapids, Michigan. When she turned eighteen, Pauline ran away to New York to pursue a career in acting.
While appearing in a show in Union occupied Louisville, Kentucky, she was approached by two Confederate officers who offered her three hundred dollars to personally give a toast to Jefferson Davis. Being loyal to the Union, she first asked permission to do so from Union officials. They agreed to permit the toast on the basis that by doing so, it would appear that Cushman was loyal to the secessionist movement, and would endear her to the Confederates, making her later useful as a Union spy. Upon making the toast, the theatre manager fired her, and she was then removed from the Union lines. She then began following the Confederate soldiers on the excuse that she was looking for her brother. Soon she was considered a trusted favorite of the Confederate troops, and through this relationship, was able to obtain important intelligence information.
Eventually, Confederate General Braxton Bragg found her in possession of papers containing crucial information at his headquarters in Shelbyville, Kentucky. She was tried, found guilty and sentenced to hang in ten days. Fortunately for her, Union troops invaded Shelbyville before her sentence was carried out and freed her. Her knowledge was of great importance to the Union troops. For her gallant efforts, Union General William Rosecrans and President Abraham Lincoln made her part of the Union army with the honorary rank of major.
Because of her notoriety, she was unable to continue as a spy. Wearing her honorary major's uniform, she traveled the country lecturing about her experiences as a spy. At war's end she returned to acting in San Francisco. In 1893 she became ill and began taking opium for her illness. Addicted, she took her own life on December 2, 1893. She was buried with honors in the military cemetery of the San Francisco Grand Army of the Republic.
Copyright © 1993-2022 by John T. Marck. All Rights Reserved. This article and their accompanying pictures, photographs, and line art, may not be resold, reprinted, or redistributed for compensation of any kind without prior written permission from the author.