The Life of Wolfgang Amadeus Mozart
by John T. Marck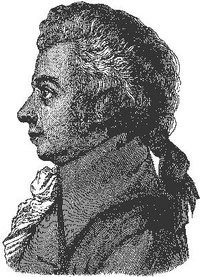 Wolfgang Amadeus Mozart was born on January 27, 1756 in Salzburg, Austria. His given name at birth was Johann Chrysostom Wolfgang Theophilus. The name "Theophilus" means Gottlieb in German, and Amadeus in Latin. Consequently, he used Wolfgang and Amadeus in his signature, thus he is generally known by these two names.

He was the seventh, but only the second surviving child to Leopold Mozart and his wife Anna Maria Pertl; his father being a composer, musical author and violinist

. Their other surviving child, a daughter was Maria-Anna Mozart, (1751-1829) who was called Nannerl. She too was a gifted pianist.

Mozart displayed a remarkable musical gift, whereby he could play the keyboard with total confidence at the age of four, and who composed his first pieces at age five, and who at this time, quickly mastered the violin.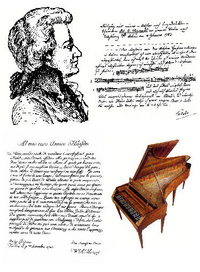 Leopold was quick to present his son's extraordinary talent, as well a those of his daughter. When Mozart was only six years old, he accompanied them on a series of tours across Europe. On January 12, 1762, Mozart and his sister, aged six and ten respectively, played in Munich before the Elector of Bavaria. That same year, they again played for the Empress Maria Theresa, her husband Francis I, and their daughter Maria Antonia, the future Queen Marie-Antoinette of France, at the Schonbrunn Palace in Vienna. On December 31, Mozart and his family returned to Salzburg.

In 1767, Mozart and his family returned to Vienna for five months where he wrote an opera

buffa (a comical play) for the Emperor titled La finta semplice (the Pretend Simpleton) and another titled Singspiel, which is a German language opera containing spoken dialogue. In 1769, he wrote Bastien und Bastienne, which was commissioned by Dr. Franz Anton Mesmer. But, Mozart had problems in Vienna because the musicians at court, that included the composer Antonio Salieri, made it very difficult for him to produce his operas. Mozart then left Vienna and returned to Salzburg. Here he was appointed honorary Konzertmeister to Archbishop Sigismund von Schrattenbach.

Between the years 1770 and 1772, he traveled to Italy with his father where he gained renowned, especially with his dramatic music. By the end of 1772, Mozart had written twenty-five symphonies and his first quartets. In 1773, upon traveling again to Vienna, he finished additional symphonies and first quartets. In 1775 and 1776, he composed two more operas;

La finya giardiniera, which translated means The Lady Who Disguised Herself as a Gardener, and ll re pastore, which means The Shepherd King. He also completed five violin concertos and masses for the Salzburg Court Chapel. During this time period he was influenced though the music of Bach, Haydn, and Handel.

At the death of Sigismund, and the appointment of Archbishop Colloredo of Salzburg, who remember was quite dissonant, Mozart was disillusioned, leaving his service in 1777. Mozart then traveled with his mother in search for employment elsewhere. Staying at Mannheim, Mozart composed a few piano concertos , and met and fell in love with a singer, a coloratura soprano (skilled in elaborate ornamentation of a vocal melody) named Aloysia Weber.

In 1778, in Paris, his mother died. That same year Mozart composed the Paris symphony, after which, his father convinced him to return to Salzburg. On his trip back home, he stopped by to visit Aloysia, but she had forgotten all about him.

Now back in Salzburg in 1779, he composed the

Coronation Mass, while also accepting an appointment as court organist, although reluctantly. The next year he received a very important commission from Munich, that of opera seria (meaning serious opera) idomeneo, In 1781, Colloredo, whom Mozart did not like, summoned him to Vienna for the coronation of Emperor Joseph II, of which Mozart complied. But, once again he left the archbishop's service, this time after a violent argument. Mozart did however remain in Vienna, which would become his home, for what would be the remainder of his very short life.

Mozart's former love interest, Aloysia had married a court actor whom he knew, and through whom it met Aloysia's sister Constanze. They fell in love and married in 1782, the same year of his Singspiel, Die Entfuhrung aus dem Serail (The Abduction from the Harem).
Mozart's marriage was a happy one, but he was in trouble financially, so Mozart tried to make ends meet by teaching. Together he and his wife would have six children, of which only two survived. In 1784 Mozart became a Freemason and during this year wrote six piano concertos. Using his unbelievable talent, he wrote and additional six more in 1785 and 1786.

Mozart went on to write three Italian masterpieces, that of

Le nozze di Figaro (The Marriage of Figaro); Don Giovanni and Cosi fan tutte (Thus All Women).

The last years of his life were quite sad, and he reflected his sadness in writings to his fellow Masons, outlining his problems with money and his health. He had hoped for a new commission appointment or perhaps a court post upon the accession of Emperor Leopold II, but none was offered.

Mozart last completed works were

The Magic Flute in 1791, and the Mercy of Tito, also this same year. Not long before his death, Mozart was commissioned by a stranger (unknown) to compose The Requiem Mass. In doing so, Mozart became obsessed that he was writing it for his own death, but died before he could finish it, at fifty-five minutes past midnight on December 5, 1791. after being ill with a fever for three weeks. There is still no convincing evidence as to why or from what he actually died. Very deeply in debt at the time of his death, he did not live to see the financial success of The Magic Flute. Mozart was unceremoniously buried unattended in a pauper's grave.

In 1825, Sophie, a sister to Mozart's wife Constanze, wrote the following reflection concerning the night he died:
I went into the kitchen; the fire had gone out. I had to light a candle and make a fire. I was thinking of Mozart constantly. The coffee was ready and the candle was still burning...I stared right at it and thought to myself, 'I wonder how Mozart is?', and while I was thinking this and staring at the candle, it went out, as if it had never been alight....I shivered, ran to our mother and told her everything.
She said, 'Very well, take off your good clothes and go into town, but come back straight away and tell me how he is. Don't be long.' I went as fast as I could. Oh how frightened I was when my sister, who was almost in despair, but trying to keep control, came out and said, 'Thank God you've come, dear Sophie. He was so ill last night that I didn't think that he would still be alive this morning. Stay with me today, for if he has another bad turn he will not survive the night. Go and see him for a little while, and see how he is.'
I tried to keep control of myself...and went to his bed. He called to me at once and said, 'Oh, dear Sophie, how good of you to come. You must stay tonight and see me die.' I tried hard to be strong and assure him of the contrary, but he replied to all my efforts, 'Already I have the taste of death on my tongue.' Also, 'If you don't stay, who will take care of my dearest Constanze?' Yes, dear Mozart, but first I must go and tell our mother that you would like me to stay with you, otherwise she will think that some misfortune has happened.' 'Yes, do that,' said Mozart, 'but come back soon.'
Oh God, how terrible I felt! My poor sister came with me to the door and asked me for Heaven's sake to go to the priests of St. Peter's and ask one of them to come, as if by chance. I did, but...I had a lot of difficulty in getting one of those inhuman priests to go. Then I hurried off to my mother who was waiting anxiously for me...Poor soul, how upset she was!
I got her to go and spend the night with her eldest daughter....I ran back to my distraught sister as fast as I could. Sussmayer was there at Mozart's bedside; the famous Requiem was on the quilt and Mozart was explaining to him how he thought he ought to finish it after his death. He also told his wife to keep his death a secret until she had told Albrechtsberger, for the post (at St. Stephen's), should be his.
They searched for Dr. Glosset, whom they found at the theatre, but who had to wait until the play was over. He came and prescribed cold poultices for Mozart's burning head, but they were such a shock to his system that he fell unconscious and remained in that state until he died.
The last thing he did was to try and mouth the drum passages in the Requiem. I can still hear that.
Wolfgang Amadeus Mozart was a master of grace and polish. He processed an innate

sense of phrasing, with a gift of beautiful melodies. He used his wonderful abilities to create critical characters by his music in operas, and his command of form and his rich harmonies all contributed to his greatness.

In 1862, his entire works were catalogued by Ludwig Kochel, and are referred to by their numbers in his catalog.
Copyright © 1990-2022 by John T. Marck. All Rights Reserved. This article and their accompanying pictures, photographs, and line art, may not be resold, reprinted, or redistributed for compensation of any kind without prior written permission from the author.